How to Become an Art Therapist: Your Complete Guide to Degrees & Career Paths
<!- mfunc search_box_body ->
<!- /mfunc search_box_body ->
<!- mfunc feat_school ->
Featured Programs:
Sponsored School(s)
<!- /mfunc feat_school ->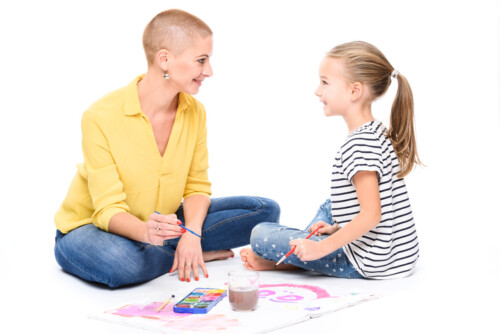 Art therapists often have an uphill battle for respect in the world of psychotherapy. Anything with a hint of fun in it is often discounted by more serious schools of therapeutic thought. Not everyone takes the field seriously, even the clients who could benefit from it the most.
But fun and individual expression are critical parts of who your patients are. Therapies that don't tap into the creativity and imagination are leaving valuable tools on the table. Those are tools that art therapy picks up and splashes on the canvas of therapy like a Jackson Pollock piece, unlocking critical pieces of thought and experience that can bring people through some of their most terrible moments.
And just because it's fun doesn't mean it isn't serious. The journals of art therapy are filled with titles such as "Art Therapy With Grieving Children: Effect on Affect in the Dual-Process Model" or "Understanding Symbol Repetition in Art Therapy." It's serious research with proven outcomes.
Art therapy is becoming a popular alternative to traditional talk therapy.
In this method of therapy, art becomes a medium to help the individual process emotions, reflect on, and share their feelings and thoughts. Art therapists sometimes combine art therapy with traditional psychotherapy methods.
If you want to become an expert in the field of art therapy, you have to master two different kinds of specialties.
<!- mfunc search_btn -> <!- /mfunc search_btn ->
Not only do you have to go through the demanding training and experiential learning required of licensed therapists or counselors, but you also have to have the creative background of an artist. Even more challenging, you have to learn how to apply that creativity to your therapy work, and learn how to decipher artistic expression as a way to unravel the innermost damage of clients.
What is Art Therapy?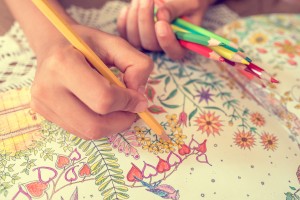 Art therapy allows patients to visually communicate thoughts and feelings that are too painful to put into words. Through the use of art media, the creative process, and the resulting artwork art therapy helps clients of all ages express themselves in ways that conventional therapies may not.
In art therapy, individuals use creative expression to produce various types of media, which helps them explore their innermost emotions and thoughts, reconcile conflicts, manage stress and anxiety, develop self-awareness, manage addiction and self-deprecating behaviors, and increase their sense of self-esteem. Most frequently introduced alongside more traditional forms of mental health counseling, art therapy also can take place independent of other therapeutic methods.
The primary goal of art therapy is to improve an individual's personal sense of well-being by encouraging exploration into creative development. While some background knowledge of the artistic process is not typically necessary, this form of therapy is recommended for individuals at all creative levels, from novice to expert.
Being successful in treatment doesn't take any previous experience with art, or even any natural artistic ability. Apart from an interest in engaging in creative activities, there's really no restrictions on who could potentially benefit from art therapy. Art therapy is often offered in clinical settings, providing an additional resource for individuals coping with psychological trauma or disorders.
You may see art therapy practiced in:
Hospitals
Psychiatric rehabilitation centers
Crisis centers
Halfway houses and addiction rehabilitation centers
Domestic abuse shelters
Community organizations
Senior communities
What Does an Art Therapist Do?
Art therapists are trained to use both formal and informal assessment when developing individualized treatment plans. Their experience allows them to make choices about a particular form of art to use in therapy. That can be based not only on their client's preferences and comfort levels, but also the medium that the therapist feels would be most expressive for the patient's diagnosis.
Therapists not only guide the creative process for their clients, but often assist with the artwork as well.
Like any kind of collaborative creation, therapists help guide the process and interpret the creative results to get to the heart of the trouble.
Research shows that art therapy benefits diverse client populations, and can be effective in a variety of formats. Art therapy has been a particularly strong technique in certain situations where traditional talk therapy has proven difficult, such as:
Patients who struggle with frightening memories or trauma resulting from combat or abuse
Patients with medical conditions or disabilities which prevent or limit their verbal expression
Couples counseling where a collaborative work offers opportunities to come together in a mutually enjoyable project rather than discussing disputes
Art therapy can be conducted as a stand-alone exercise or in concert with more traditional therapeutic techniques. Most art therapists have the training and skills to offer multiple types of counseling to their patients.
How do you become an art therapist?
Art therapy is not a distinct profession, but instead a style of therapy. That means there is not just one path to becoming an art therapist. You will first have to become a licensed professional counselor, a licensed marriage and family therapist, or, more rarely, a licensed clinical psychologist. Each of those requires an advanced college education plus on-the-job practical training. A specialized college program with a concentration in art therapy is almost always recommended, though not required.
How many years does it take to become an art therapist?
Art therapists are expected to have at least a master's degree level of education. That typically requires six years of college education, four in a bachelor's program, and two earning the master's degree. After earning a degree, most counseling and therapy licenses in the United States also require some amount of supervised post-graduate field experience, often for a year or more. So your total amount of time to become an art therapist will be at least seven and possibly eight or more years.
Is it hard to become an art therapist?
Exactly what it's like to be a therapist is a different experience for everyone. So it's not easy to say whether or not that is a hard path for you as an individual. You definitely need to have a lot of empathy as well as some kind of artistic sensibility. You do not have to be a great artist; your goals aren't to produce creative masterworks, but instead to use your skills to interpret and reach your clients. For some people, that will come naturally. For others, it takes great effort.
Art Therapy Degree – What Degree Do You Need to Become an Art Therapist?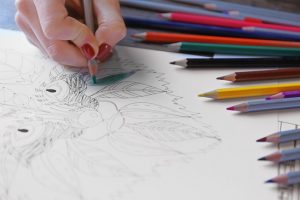 What degree do you need to become an art therapist? It's a tough question, because there isn't just one choice!
Art therapists have to be licensed therapists or counselors in order to work with patients in a clinical capacity. That is, one-on-one treatment of mental health issues, even through art, can only be performed by people with state licenses and the right training and ethical standards.
But counseling and therapy are different professions, with different standards of training and different degree requirements for licensing. Both require master's-level education. To enter either type of degree program, you will need to complete prerequisites in both psychological training and art in your undergraduate degree program.
Art Therapy Education as a Counselor
To become a licensed professional counselor (LPC) offering art therapy, you'll need to pick a master's in counseling program with a concentration in art therapy. These are probably the most common art therapy degrees available. You want to make sure your choice holds a specialty accreditation from CACREP, the Council for Accreditation of Counseling and Related Educational Programs. That ensures you will get a top-quality counseling education and be eligible for state-level licensure as a counselor.
Counselors come at mental health issues from a practical perspective that focuses on the individual and their immediate needs. That's a good fit for art therapy, with adaptability and creativity baked into the therapeutic approach.
Art-therapy concentrations in counseling programs train you through coursework such as:
Human lifespan development
History and development of art therapy
Group counseling process
Diagnosis and treatment of psychopathologies
Crisis intervention techniques
Art-based assessment and art therapy methods in counseling
Art Therapy Education as a Marriage and Family Therapist
Becoming a licensed marriage and family therapist (LMFT) requires earning a master's in marriage and family therapy. Just as with the counseling path, a specialty accreditation is important, but you'll need one from COAMFTE, the Commission on Accreditation in Marriage and Family Therapy Education instead.
LMFTs view mental health issues through the lens of social and relationship connections. They work on tracing trauma and disruption through a patient's relationships, and may work with both the patient and their family members to improve those relationships and the client's overall mental health.
Not all LMFT degrees offer art therapist concentrations, so finding those that do will narrow your choices quickly. In those that do, you'll find coursework such as:
Family origins
Multicultural perspectives in therapy
Counseling individuals in the family system
Group therapy techniques
Psychodiagnostics and treatment planning
Should you consider online MFT programs or online LPC programs for your art therapy career? That's entirely up to you! Online education is becoming more and more common, and you will find plenty of degree options in both counseling and therapy.
These degrees are more challenging for art therapy than more traditional therapy programs, however. So if the flexibility of an online degree sounds appealing, definitely check out the provisions for your required arts courses on top of the more mainstream classes on your schedule.
Ready to enter the world of art therapy? Find an art therapy degree program near you!
Additional Accreditation Considerations for Art Therapists
The American Art Therapy Association (AATA) also has their own approval process for graduate art therapy programs that you should take a look at while choosing a master's program. They accept certain programs that have been accredited by ACATE, the Accreditation Council for Art Therapy Education, which works through the Commission on Accreditation of Allied Health Education Programs (CAAHEP).
CAAHEP is better known for accrediting healthcare degrees such as diagnostic medical sonography and medical assisting. Their programs don't neatly fit into the traditional licensing requirements for therapists or counselors but you can sometimes find dual-accredited programs or different career paths.
Types of Art Therapy
As an artist, you already understand that this subject is a little bit turned around. You don't pick your art, it picks you. So by the time you get to the point of thinking about a career in art therapy, you already have a pretty good idea what inspires you and where your creative process is pointing.
The most-effective form of therapy is the one that is most helpful to the individual. This means that no one definitive form of therapeutic intervention exists that is better than another. Some forms of mental health counseling currently have statistically higher success rates than others, but there is still quite a bit of subjectivity involved in tailoring treatment to the preferences of the individual. Art therapy is no different.
Serving as a popular alternative or addition to traditional talk therapy, art therapy allows any artistic medium to be used as a method for helping people process emotions, reflect, and share their feelings and thoughts:
Painting - Painting can use color and composition to help draw out inner thoughts and emotions from patients.
Sculpting - The physicality of molding clay and shaping forms offers a tactile approach to therapy that works best for some clients.
Drawing - Drawing can offer an insight into details of perspective and expression that allow clients to mix words and visualization in their therapy.
Pottery - There's just something soothing about throwing a pot that is hard to describe, but fun to teach to clients.
Textiles - Weaving, knitting, crochet, and other creative forms of textile art offer a way to embed inner emotions or express aspiration in a useful, wearable form.
Music - Music therapy can be considered its own specialization, with a dedicated group in the American Music Therapy Association that sets standards and techniques for therapy.
Dance and movement - Like music therapy, this field is so highly specialized that it has its own association, the American Dance Therapy Association, and is in some ways more like physical therapy than other kinds of art therapy.
Collage - Collage therapy can be a great choice for clients who do not feel their own artistic pull instinctually since it allows mixing and matching from other sources to help them express themselves.
There's no one right way to do art therapy other than the way that works for your clients.
Even if you don't see something on the list that calls to you, don't be afraid to explore your own types of art therapy.
Art Therapy Career – What You Need to Know to Get Started
You'll need to become licensed no matter what your art therapy specialty is. Becoming an LMFT or LPC (sometimes called LMHC, or licensed mental health counselor) depends on rules set down in each state. You'll have to find the relevant licensing board and see what their standards are before you apply.
They almost always follow a similar pattern, however:
Hold a master's degree from an accredited program in your field
Build a year or more of supervised post-graduate field experience
Pass a national standard test

For therapists, this is the MFT National Examination, a 180-question test to be completed in 4 hours
For counselors, there are several possible exams:

National Counselor Exam, a 200-question test on 8 content areas
National Clinical Mental Health Counselor Examination, a test with 10 simulated cases to assess and treat
Certified Rehabilitation Counselor Examination, a 175-question test covering 12 knowledge areas specific to rehab counseling

Pass a criminal background check
Sometimes take and pass an additional, state-specific jurisprudence examination
Some states have special categories of these licenses for art therapy. Texas, for example, offers an LPC credential with a specialty designation in art therapy. And in eight states, art therapists have their own licensing options:
Connecticut
Delaware
New Jersey
New Mexico
Kentucky
Mississippi
Maryland
Oregon
In most cases, however, these licenses require either a specialty certification from AATA or graduation from an AATA-recognized master's program. They will have state-specific examinations rather than a national standard test, as well.
Do You Need A Specialty Certification to Become an Art Therapist?
Although the number of states that recognize art therapy specialty certification is relatively small, that doesn't mean you don't benefit from becoming certified. AATA's Art Therapy Credentials Board (ATCB) offers four different certifications that could give you a boost with both potential employers and prospective clients.
The ATCB Board Certified Art Therapist (ATR-BC) is the credential with the most weight. To earn it, you have to demonstrate your skills by passing the ATCBE examination. The exam is a comprehensive test of both the theories and clinical skills used in art therapy. It's the same exam that several states use for art therapist licensing, so you can cover both your certification and license in one shot if you time it right.
Art Therapist Salary and Careers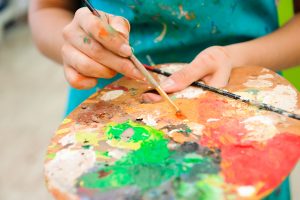 Art therapy is only one of many options that people may choose for mental health counseling. It falls into a broad spectrum of human services that cater to different kinds of clients, in different types of facilities, at different stages of life.
That can make it a hard job to categorize when it comes to career and salary. And since most art therapists are creative, independent individuals, it often comes down to your own vision and motivation for the job to determine how your career is going to unfold.
Having artistic talent is also imperative for any art therapist. Honing that talent, by gaining as much experience and knowledge as possible about the various forms of art, such as pottery, painting, and drawing, will get you headed on the path to landing your dream job and earning a higher salary. Understanding and developing strengths in the behavioral sciences and psychology, as well as interning or volunteering in a related field will also help increase your job prospects.
Where do art therapists work?
Many art therapists are self-employed, working as independent clinicians who set their own hours, do their own marketing, and pick their own clients. But you can also find work as an art therapist in many traditional and non-traditional settings, including:
Hospitals
Psychiatric care facilities
Long-term rehabilitation and care facilities
Schools
Crisis counseling centers
Correctional facilities
Mental health agencies
Do art therapists get paid well?
How much do art therapists make? Well, this is a very natural question for people interested in starting a career in the field, but the answer can include a pretty broad range of salaries. The Bureau of Labor Statistics (BLS) does not specifically track the salary levels of art therapists, however, and because you can get into art therapy through several different professional tracks, how much you make will often depend on other factors.
BLS categorizes art therapists in the larger category for "therapists, all other." For 2022, they earned a median annual salary of $60,800, with the top ten percent bringing in more than $111,800. That's pretty close to the median for marriage and family therapists, which was $56,570, and well above the median for mental health counselors, at $49,710.
2022 US Bureau of Labor Statistics salary figures and job growth projections for therapists, marriage and family therapists, and mental health counselors is based on national data, not school-specific information. Conditions in your area may vary. Data accessed June 2023.