<!- mfunc search_box_body ->
<!- /mfunc search_box_body ->
<!- mfunc feat_school ->
Featured Programs:
Sponsored School(s)
<!- /mfunc feat_school ->
Fashion Psychologist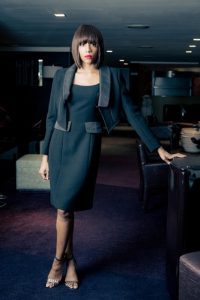 Dawnn Karen, MA, recently made history in two ways. She is the youngest professor to ever educate at the prestigious Fashion Institute of Technology in New York; she is also a pioneer in the field of Fashion Psychology. Dawnn received her Bachelor of Arts in Psychology from Bowling Green State University and her Masters of Arts in Counseling Psychology from Teachers College, Columbia University. She is the founder of the Fashion Psychology Institute in New York as well as the  founder of www.fashionpsychologysuccess.com.
How many hours do you work each week?
As a founder of an academic field, my work never ends unless I am sleeping.
How much time are you able to spend with your family, friends?
I do not get much time to spend with my family and friends. It has been a sacrifice that I have made. Nonetheless, when I do spend time with those closest to me I set aside considerable amounts of time.
Do you have time for hobbies and recreational activities? If yes, how much time?
I love to read, travel, attend Broadway plays, and exercise. I ensure to make time for self-care by doing one of these activities regularly.
What is a day in the life of Dawnn Karen, MA, like?
My day begins at 6:30 a.m.- I check emails to correspond with journalists for upcoming media interviews. 2 hours.
8:30 a.m.-I check media sites to stay up to date to use content for upcoming lectures. 3 hours.
I usually eat breakfast sometime before noon. 1 hour.
1-4 p.m.- I set this time aside for any media interviews.
4-6:30 p.m.- I prepare for my lectures at the Fashion Institute of Technology or at the Fashion Psychology Institute.
9 p.m.- I head home to prepare dinner.
10 p.m. -1a.m.- I write material for my upcoming book.
Please tell us a bit about your life "before psychology."
Throughout my childhood I took extensive classical music voice training by attending The Cleveland School of the Arts. I also studied music theory, dance, and creative writing. Although I attended a performing arts school, academics were paramount. I excelled in both the arts and academics. I remember reviewing magazines and music videos to get inspiration for my outfit for school the next day. I would never wear the same outfit twice. I was that quiet A/B student in the corner, with few friends, that was sometimes bullied but dressed very nice.
<!- mfunc search_btn -> <!- /mfunc search_btn ->
Describe your educational journey from an emotional standpoint--was it exhilarating, rewarding, difficult?
My educational journey was rigorous, yet rewarding. I skipped 6th grade and entered college at 17 years old. I had my first crossed road when I had to decide to attend college for vocal music or psychology. I had always paired the two arts and academia. I decided to pursue psychology. Although I trained extensively in my art, a family member to select a more stable career path dissuaded me. I did receive a full-ride to Bowling Green State University for psychology and another for vocal music for a university that I chose not to mention.  Nonetheless, I selected Bowling Green State University. I excelled in my academics yet again. At the end of my undergraduate year I did numerous speaking engagements on psychology research that I had conducted with mentors. I even wrote an article on one of my research topics that were published in a psychological journal. There was always something missing, this was one of my greatest challenges. It was my art. My creative side was not stimulated as it once was. I suppressed my creative side during my collegiate years. However, while attending Columbia University I realized that I could no longer suppress it. The family member that initially dissuaded me ironically persuaded me to go after my artistic dreams. Soon after I worked as a jewelry designer, a fashion PR girl, a model and a blogger. It unknowingly was the commencement of combining of fashion and psychology. My mentor Dr. Sari Locker pointed out this dichotomy in my resume and led me in the right direction. I am very appreciated of her words to me. She in a way gave me permission to pursue arts and academics thru fashion and psychology.
What were your greatest challenges regarding college?
Again I had an insatiable need to stimulate my left and right brain simultaneously.  I did not know how to combine the two until I received mentorship from Dr. Sari Locker. This was my greatest challenge.
Why did you enter the field of psychology?
I entered the field of psychology to understand those around me and myself. I grew up bi-culturally, which allowed me to see life from different perspectives. I was always curious as to know why people ended up a certain way in life- were we all created equal to have a fighting chance at life?
Why did you choose fashion psychology?
My mentor Dr. Sari Locker help alleviate my challenge by pointing me in the right direction toward fashion psychology.
What characteristics do you think allow someone to thrive in this career field?
Tenacity and resilience as people may not take fashion psychology seriously.
What gets you excited about your job and why?
I love how fashion psychology can impact people. I live for the moment when someone says, "Oh I totally get fashion psychology. Why has this not existed before?"
On a scale from 1-10 how hard was it to get where you are now?  Was it worth the journey?
It was a 3. When I graduated from Columbia University and decided to create an academic field, I had no idea how I would monetize it. I lost my apartment, slept on friends' couches, did not see my family and friends for long stretches of time and sometimes did not eat. I had a dream a vision and I decided to put my blood, sweat and tears into it. I did not have a PR agency or a university backing me when I created this field. I only had mentors that I could call for encouragement, my academic achievements and my clothing. I am relieved now 5 years later I stuck it out. I have a consultancy, an online institution and work as the youngest professor at the fashion institute of technology launching my field. It would have been a 1 if I did not continue to dress for the vision I had in my head. I always practiced that motto "you can have anything in life if you dress for it".
What one thing would you like to see changed in your field?
I would like to grant others the opportunity to continue to help me expand the field of Fashion Psychology. I have had media interviews in 14 countries. I cannot wait to certify other Fashion Psychologists around the world to impact the masses.
What do you hope to have accomplished by the end of your career?
By the end of my career, I would like my field to be recognized just as positive psychology is recognized. I would like to be the female version of Martin Seligman. I want to publish several books on fashion psychology, certify more fashion psychologists through the fashionpsychologyinstitute.com; to work with clients from all walks of life, work on fashion campaigns and maybe even have a reality show on "Creating the field of Fashion Psychology". I want my legacy to be that I was the Mother of Fashion Psychology.
What advice would you give someone who wanted to follow in your footsteps?
I would tell them that an overnight success is a fallacy. Work hard to build a foundation and surround yourself with young and old mentors.
<!- mfunc search_btn -> <!- /mfunc search_btn ->