The Emergence of Fashion Psychology
<!- mfunc search_box_body ->
<!- /mfunc search_box_body ->
<!- mfunc feat_school ->
Featured Programs:
Sponsored School(s)
<!- /mfunc feat_school ->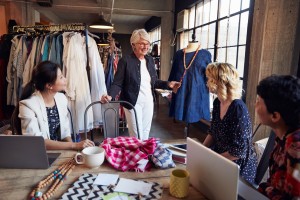 Fashion Psychology is the integration and utilization of the science of psychology and the industry of fashion to create manageable therapeutic tools that ultimately assist in the development of desired results in both clients' perceptions of self, their behaviors, and moods as well as targeted objectives within the business model.
It is important to distinguish the difference between Marketing Psychology and Fashion Psychology. Although both seek to influence behavior and often overlap; in the former, psychological principles are used by marketing strategists to predict, determine and influence consumer groups; in the latter, fashion abstractions are integrated and used by psychologists to solve problems and effectuate the desired growth and development of a specified client or business.
When Did Fashion Psychology Emerge?
While one might assume Fashion Psychology emerged in the 20th century, its roots actually reach back to the 19th century. Henry James, born in 1841, was the first American psychologist to illuminate the notion of Fashion Psychology in both lectures and writings. James graduated from medical school in 1869 but chose not to practice medicine; he became instead, a Harvard University lecturer. In 1890 he wrote "The Principles of Psychology" a masterwork in the field.
In an article, "THE SARTORIAL SELF: William James's Philosophy of Dress" published by the US National Library of Medicine, National Institutes of Health (NCBI), author and Yale professor Cecelia Watson, Ph.d., says; "William James placed great importance on clothing, and this emphasis on apparel is reflected in his writings on psychology, in his letters, and in his own style of dress." She continues, "James's interest in the self-expressive aspects of clothing was reflected in his attire, his descriptions of colleagues' clothing, his account book, and his chairmanship of Harvard's Committee on Academic Dress."
As Dr. Watson points out, James was not alone in his beliefs. In fact his work was inspired by an article written by German physician, philosopher and scientific psychologist, Rudolph Hermann Lotze in- "Microcosmus: An Essay Concerning Man and His Relation to the World." The essay asserted that everything man puts on his body, every element, becomes a part of him; almost as if the "look" created by the attire melds into the essence of the person.
Fashion Psychology Today
While much has transpired in the fashion world as well as in the field of psychology since the 1800's when James and Lotze penned their writings; the field of Fashion Psychology, is still considered to be in its pioneer stages. Notably, there are currently varying approaches within the field as well as distinctions to be made regarding those offering "Fashion Psychology" services. For example, there are experts (those with a Master's or Ph.D. in Psychology) who have Fashion Psychology-related businesses and private practices; some work as university professors and in other consulting capacities.
On the other hand there are individuals who have backgrounds in areas other than psychology, who provide various fashion-related services albeit branded and presented as "Fashion Psychology." At present, it is up to the consumer to distinguish between psychology services provided by academically trained experts and those services identifying as psychology-based but being applied by non-specialists.
Two Experts
Below are the stories of two women who are changing the world of psychology from opposite ends of the world. Professor at the Fashion Institute of Technology in New York, Dawnn Karen, MA, decided early in her career to take her background as a fashion model and New York socialite and marry it to her Ivy League Master's Degree in Counseling Psychology. She spent close to a year traveling the world researching and acquiring case studies, all the while receiving international accolades and recognition. Upon returning to the US, however, she quickly learned implementing an actual degree in Fashion Psychology at established institutions was a bit too revolutionary, even for New York. Ambitious about her research findings and unique cognitive applications, she founded the "Fashion Psychology Institute" of New York.
Dr. Carolyn Mair is a Cognitive Psychologist, a Chartered Psychologist, a Fellow of the Higher Education and a Reader in Psychology at the University of the Arts London. Dr. Mair recently made history in the world of psychology by developing and implementing the world's first master's degree program in Fashion Psychology at the world-renowned London College of Fashion, University of the Arts London. The MA in Psychology for Fashion Professionals and MSc Applied Psychology in Fashion are academic degree-granting programs that successfully apply the science of evidenced-based psychology to the full-spectrum of the fashion realm.
Another frontier Dr. Mair is blazing is that of "sustainable fashion." While she has commented that hitherto the phrase would be considered an oxymoron, she is making strides to transform industry attitudes into ones that are environmentally conscious and mindful of sustainability issues.
<!- mfunc search_btn -> <!- /mfunc search_btn ->
Exciting Developments in London: Dr. Carolyn Mair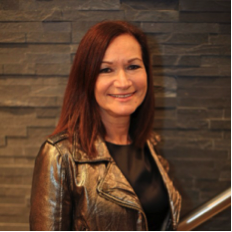 CareersInPsychology.org was fortunate enough to speak with Dr. Mair, and we asked the following questions about her work:
As a Cognitive Psychologist, how did you become interested in applying psychology principles to fashion?
"Cognitive neuroscience is concerned with understanding the brain processes involved in cognition. Of course, this is fascinating, but understanding how these processes manifest in behavior in a specific context is especially interesting. I was drawn to the context of fashion through my interest in creativity and aesthetics. I worked as a graphic designer when I left school and supplemented my income by painting portraits and murals and designing and making clothes. I went to University to study for a BSc in Applied Psychology and Computing as a mature student and was hooked! After this I completed an MSc in Research Methods. This gave me the opportunity to take up part-time positions as a Research Assistant and a Research Methods lecturer in the Computing department. After a year my first journal publication, I was offered the opportunity to start a PhD in Computational Neuroscience. This fascinating topic taught me a great deal, and enabled me to study for a short period at the Centre for Cognitive Neuroscience at SISSA, Trieste, Italy. It was during this time, that my PhD evolved from Computational to Cognitive Neuroscience. The thesis was theoretical and I longed for a practical application. I turned to Cognitive Psychology and realized that this sub-discipline can be applied in any context in which humans are involved. Because of my background designing and making clothes, I had always wanted to visit the London College of Fashion and through a chance meeting at a conference, I was invited there to give a paper. My paper, 'The importance of psychology in fashion' was a great success and as a result I was invited to propose how psychology could be introduced to the College."
Dr. Mair, will you tell us about the MA Psychology for Fashion Professionals and MSc Applied Psychology in Fashion programs? For example, what do students learn? What kinds of jobs do they pursue with the degree?
Fashion is about people! It involves perception, attention, memory, creativity and communication and social interaction. Fashion designers, producers, retailers and consumers, reason, make decisions and solve problems. Fashion is psychology! Although it has been interpreted anecdotally in psychological terms for centuries, applying psychological science to fashion is new. The common understanding of psychology applied to fashion is an interpretation of what our clothes say about us, but psychology matters far beyond this. People are involved in every aspect of fashion from design, through production, manufacture, advertising and marketing, visual merchandising, retail, consumption and disposal. Therefore taking a scientific approach enables us to understand human behavior in the context of fashion. The ultimate impact and value of applying psychology to fashion goes beyond what we wear. The fashion industry is an important global industry worth more than 26 billion pounds ( 38 billion US dollars) in the UK alone. It employs millions of people worldwide and ultimately involves us all. Although fashion is an exciting, creative and dynamic industry, it has many problems. Applying psychology to solve these enables us to predict and ultimately change behavior for the better.
I developed the MSc Applied Psychology in Fashion and the MA Psychology for Fashion Professionals with the intention of developing graduates with the skills, knowledge and aptitude to make a positive difference in the context of fashion. The 1st class graduated October 2, 2015; the 2nd class is now enrolled. To be offered a place on either program, students are required to submit an essay on the importance of psychology in fashion and an outline research proposal of a study they would conduct should they be offered a place. The idea of this is to recruit bright, curious students who are able to apply psychological concepts from one context to another.
The MSc is accredited by the British Psychological Society (BPS) which is a benchmark of quality and in addition to many other benefits, also confers graduates who achieve 50% or above the Graduate basis for Charter ship. Because of this, the students study and are assessed on all the core areas determined by the BPS. These are Cognitive, Social, Biological, and Developmental Psychology, Personality and Individual Differences and Research Methods. These areas are integrated across the program in units such as Cognition and Creativity and Social Cognition and Lifespan Development. All assessments are related to the student's own area of interest as identified in their application. The MSc was designed to enable generalization from the findings using quantitative methods and statistical analysis. MA was designed to adopt a more qualitative approach in which deep and rich findings are used to understand phenomena from a more individual perspective.
Students on the MA study the same content as those on the MSc, but rather than Personality and Individual Differences, they study Design Matters which is concerned with the psychological aspects of design. In addition to the 6 units at 20 credits each, students must pass the independent research project to be awarded the MSc or MA. Because the course is very new and the 1st cohort graduated only 2 months ago, there is little data on destination. However, 2 graduates became lectures as soon as they graduated; another works for the luxury brand Lulu Guinness as a buyer and another for high end Dover Street Market. Four students applied to undertake PhD study while others are considering starting their own businesses. Given the novel application of psychology, it is very unlikely there will be jobs advertised for psychologists working in fashion. Because of this, graduates are encouraged to exploit their psychological literacy to achieve their job-seeking ambition.
It sounds as if the fashion industry, via these graduates, will gradually be infused with scientific psychological methodologies inherently capable of using the power of fashion to nurture and create realistic and healthy perceptions of what is beautiful!
"An area I am particularly interested in is that of the 'beauty' industry. Since the 60s, the fashion industry has promoted an increasingly very narrow stereotype of 'beauty' which has now become the 'norm' through the ubiquity of web and mobile technology. With the increase in exposure to such images, comes an increase in appearance and body dissatisfaction across the lifespan which can be addressed by psychologists. In addition, psychologists can challenge the status quo and promote a more inclusive and diverse representation of what is 'beautiful' by empirically demonstrating the benefits such an approach would bring. The narrow stereotype of beauty is reinforced through the multibillion-pound cosmetic industry. The repercussions of this can be seen in the increase in demand for cosmetic procedures many of which are unregulated and conducted by unqualified practitioners on vulnerable individuals. The impact of such practice is yet to be fully realized, but psychologists are concerned at the lack of regulation and client counseling that currently exists.
I'm also concerned about the fashion industry's poor reputation in terms of the environment and sustainability. In fact, sustainable fashion can be considered an oxymoron. However, it is possible to have a sustainable fashion industry which considers the environment and consumers who care more about what they buy and in doing so buy less. Working alongside fashion professionals, the role of psychology in addressing these issues is education. "
In order to share this new approach to psychology graduate studies and to emphasize the importance of applying psychology in the context of fashion; Dr. Mair makes a conscious effort to be available for all who might have questions about this exciting new academic field in psychology.
Read more about Dr. Mair in our fashion psychology interview.
Exciting Developments in New York: Dawnn Karen, MA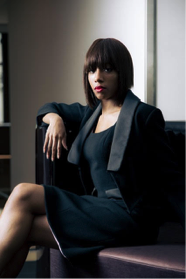 With an experiential background in fashion and an academic education in psychology, Dawnn Karen is a passionate believer in a cognitive approach to Fashion Psychology. She is an Ivy League graduate having earned a Master's in Counseling Psychology from Columbia University; an international media personality; Founder of "Fashion Psychology Success" as well as the "Fashion Psychology Institute." Notably, Ms. Karen is also the youngest university professor at the prestigious Fashion Institute of Technology (FIT) in New York.
We asked Ms. Karen to discuss her beginnings in her emerging field.
"I attended Colu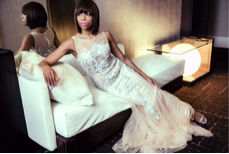 mbia University for my MA in Counseling Psychology, and also worked as a model in the fashion industry. I found when I was involved in the fashion aspect of my life be it as a model, dealing with PR or design elements, I couldn't program my brain to turn off my analytic mind. It was then I realized I wanted to do something revolutionary in the world of fashion, but with a scholarly approach. Fashion is typically seen as being very surface, so I challenged myself to go deeper with research, topics and integrating my experiences in the industry."
How did you do that?
I decided to merge the two (psychology and fashion) and began to examine concepts, terminologies; I asked 'Why do we do the things we do?' For example, why do we go to our closets and say over and over, 'I have nothing to wear?' I began to create constructs which I submitted to magazines for publication. Midway through that process, I was approached by a media outlet in Australia and did my first television interview. From there it took off. I traveled to the Middle East and parts of Asia to do case studies. The people were very warm and welcoming and actually understood the concept of fashion psychology more than Americans did.
I spent 9 months overseas doing research and meeting with clientele in Dubai, Kuwait, Malaysia, Thailand and Singapore. There was a lot of media exposure; I went from one interview in Australia to a plethora of media interviews in 14 different countries.
What happened next?
When I came back to the United States, I presented the field of Fashion Psychology to the Social Sciences Department at the Fashion Institute of Technology (FIT), here in New York. I taught a trial run Fashion Psychology class under another course and the students were extremely receptive. I dealt with all ages, from 20 years old to 70. At this same time, I was being contacted from individuals from around the world asking if there was any way for me to be their instructor. They were following me on social media and very excited about what I could teach them.
At that point I had nothing to offer these people in terms of providing formal education; I had encountered many obstacles and red tape in establishing a brand new degree program at a US college. In addition to this being a new field, I am young and also encountered many issues related to age-in spite of my Ivy League education and extensive research. I realized at that point it would take a long time for any American college to launch this field and so I created the Fashion Psychology Institute.
Please tell us about the Fashion Psychology Institute
The school is for those who have psychology degrees: bachelor's, master's or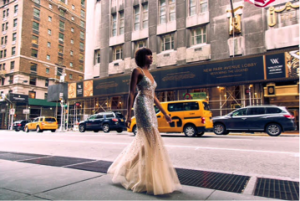 doctorate, and they can take my course(s) online. The Institute is certified by the US Department of Education; although the it cannot confer degrees nor give college credit, students can earn Continuing Education Units (CEUs) per quarter and obtain Certification. We currently have our first generation of students at the Fashion Psychology Institute and prospective next generation from 8 different countries.
I also still have my consulting firm, "Fashion Psychology Success" where I work with all types of clients around the world from New York to Singapore; these are executives, politicians, comedians, entrepreneurs and even a country's royalty. A lot of my work is international with both the Fashion Psychology Institute and Fashion Psychology Success.
In your opinion, what is the definition Fashion Psychology?
I define it as the study of how color, fashion and shape effects human behavior, while adjusting for cultural norms and cultural sensitivities. I add the cultural component because as I traveled the world I realized how the western world has a very 'one track mind,' is individualistic, and how we apply our western ideas to the rest of the world. The cultural component is necessary so we do not leave anyone out and are mindful of the norms of other cultures. For example, we must be mindful of a religion where individuals cover themselves but are fashionable underneath. We have to ask, 'What does that mean?'
It is fascinating how far back in history the concept of fashion affecting the psyche goes.
Yes, yes! I will tell you that when I do speaking engagements at universities, workshops etc. I preface it and make clear that I didn't create this, the information is already out there in different forms, for example; the psychology of dress, the psychology of image, the psychology of style, image consulting-this is already out there. What I did and do differently is create in the U.S. an academic approach-Fashion Psychology. You know, some things are hidden in plain sight; they are just waiting for someone to put a name on it.
This approach seems so different than one which predicts or incites someone to buy certain styles or fashion..
What you are talking about is consumer behavior, and yes, it can be applied to that. But I am a traditional therapist who applies psychology to solve problems. Take for example the "make-over ideology" which has elements of psychology at its foundation. My motto is: We are styling from the inside out. We don't just give you a make-over and say "Voilá you are healed. We actually start from the internal and work our way out. We ask questions like, "Why do you wear that? What is your favorite color?" Some people are stuck in a certain decade and only wear things from that time period. We ask them "Why do you wear things from the 80's? Was that when you felt at your peak? What experience are you having?"
<!- mfunc search_btn -> <!- /mfunc search_btn ->
If a person wears something horribly out of style, but they feel like a million dollars in it, which rules-what the person feels or what others think about the person?
I gave you first the motto "Styling from the inside out;" the second part to that is styling from the inside out by bridging the gap between perception and reality. Your perception is your reality; the person wearing the 80's outfit feels awesome, they feel great. But the perception of others is also a reality. They will say, "…you are way behind the times, this fad is over!" So what we do is take your perception of yourself as well as the perceptions of others; we encompass both and balance the two. Neither one is wrong or right. The goal is not to have someone not care at all about what others think whatsoever-that is an imbalance; as is the reverse when someone only cares about what others are thinking about them and behave accordingly. What I do is create the balance. I bridge the gap between the internal and the external.
Summary
We thank both of our experts for sharing their work and research with us. This is an exciting period it time: it seems psychology is the latest fashion, and fashion is officially psychological.