Employment Outlook & Career Guidance for Military Psychologists
<!- mfunc search_box_body ->
<!- /mfunc search_box_body ->
<!- mfunc feat_school ->
Featured Programs:
Sponsored School(s)
<!- /mfunc feat_school ->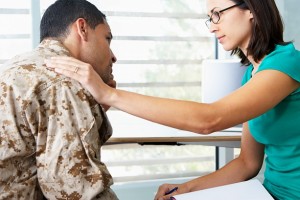 Military psychology falls under the category of "industrial-organizational psychology," and according to the Bureau of Labor Statistics, is the fastest growing area of psychology. It is projected to grow 53% between 2012 and 2022; much faster than the national average for all other occupations. These professionals provide assessment, diagnosis, and treatment for military members and families, but they may also perform studies, research, consultations, and more in a military setting. As the awareness grows surrounding the need for adequate psychological care for current military members and veterans, so does the demand for highly qualified military psychologists.
According to Michael D. Matthews, PhD, the Deputy Head and Professor of Engineering Psychology at the US Military Academy, "Psychologists are building the science of personal resilience and growth, and developing evidence-based strategies to train soldiers to be more resilient in the face of combat stress. Done well, this will yield dividends to the soldiers, not just during their service, but for the rest of their lives."
Learn more about how to become a military psychologist.
What Type of Positions Can Military Psychologists Hold?
Military psychologists can hold positions in a wide range of settings, including hospitals and clinics, research facilities, military bases, military schools, in facilities that serve veterans, operation centers, colleges and universities, and more. There are many places in the workforce for these professionals, including but not limited to:
Military Recruitment
Research Positions
Assessing and Diagnosing Mental and Cognitive Disorders of Military Personnel
Military Personnel Screening
Teaching Positions
<!- mfunc search_btn -> <!- /mfunc search_btn ->
The type of job available to a military psychologist may depend upon the degree he or she has obtained.
"There are no graduate programs in military psychology, per se. The best plan is to obtain the best graduate education one can and try to formulate the research questions/dissertations that are military relevant." – Michael D. Matthews, PhD
Military psychologists can also find employment within a:
Private Practice – Many military psychologists open their own private practices to help military members, veterans, and their families overcome various issues and illnesses, including readjusting to civilian life after serving in the military, dealing with post-traumatic stress disorder, coping with the loss of a loved one who served in the military, and more.
Legal Setting – Many of these professionals provide services within a legal setting such as assessing the psychological health of those convicted of a crime, those who have been victims of a crime, etc.
Educational Setting – A number of military psychologists move into teaching as professors or educators in school settings like colleges and universities.
Rehabilitation Facilities – These professionals work with men and women who are overcoming various conditions and illnesses to help integrate them back into society where they will live normal lives.
Sponsored Military Psychology Degree Program
<!- mfunc feat_school ->
Featured Programs:
Sponsored School(s)

<!- /mfunc feat_school ->
Ways for Military Psychologists to Increase Desirability as a Job Candidate
Different employers may place a higher value on different types of attributes or skills, so it's important for the military psychologist to be aware of what a specific employer is looking for. Dr. Michael Matthews suggests that applicants have:
"A strong foundation in whatever area of psychology that interests them the most. Military psychology includes every single sub-discipline of the field. A strong base in research design and statistics is crucial to allow psychologists of any sort – clinical, social, industrial, engineering, etc. – to not just deliver services, but to improve the science and practice of psychology as applied to the military as well." - Michael D. Matthews, PhD
Other attributes of military psychologists valued by employers include:
Being an active member of military and psychological associations such as the APA
Having published academic, research, or other works displaying specialized knowledge of the industry
Displaying people skills that assist the professionals in working with a variety of different individuals
Problem-solving skills
Displaying great analytical skills and the ability to communicate well
Ways for a Military Psychologist to Increase His or Her Salary
Most often, the best ways for a military psychologists to increase his or her salary is to increase their skills and knowledge of a particular branch of psychology which leads to promotions or increased pay. In a legal setting, employers often look at the military psychologists' knowledge and experience with law and ethics as well as specialized knowledge. Psychologists who have completed courses in conflict resolution and negotiation, assessment of evidence, or judgment and decision-making capabilities may have a higher worth to an employer in a legal setting and may have cause for a salary increase.
Advanced training would also be beneficial in an educational setting or healthcare setting. Professionals who seek out certification will obtain credentials that can increase their value as an employee. The American Board of Professional Psychology (ABPP) offers numerous certification specialty areas, including rehabilitation psychology, counseling psychology and more.
Networking Opportunities and Organizations
There are many different opportunities for military psychologists to network, including at conferences, workshops, and seminars. Those who actively seek out these environments can benefit significantly. Aside from these, there are organizations considered especially beneficial by military psychologists and psychologists in general.
"Clearly, the biggest resource is the Society for Military Psychology, Division 19 of the APA." – Michael D. Matthews, PhD.
Becoming a member of other psychological associations, such as the Society for General Psychology, the Association for Psychological Science, or regional psychological associations are all great ways to network and find opportunity within the psychology field.
Continuing Education Sources
The best source for continuing education sources is the American Psychological Association. They offer a variety of courses, all of which are approved by most states requiring continuing education, and each one offers credits that will count against required continued education.
<!- mfunc search_btn -> <!- /mfunc search_btn ->