Your Guide to Transitioning to Online-Only Psychology Courses:
<!- mfunc search_box_body ->
<!- /mfunc search_box_body ->
<!- mfunc feat_school ->
Featured Programs:
Sponsored School(s)
<!- /mfunc feat_school ->
The Six Things You Can't Live Without When COVID-19 Forces Your Psychology Program to Go Online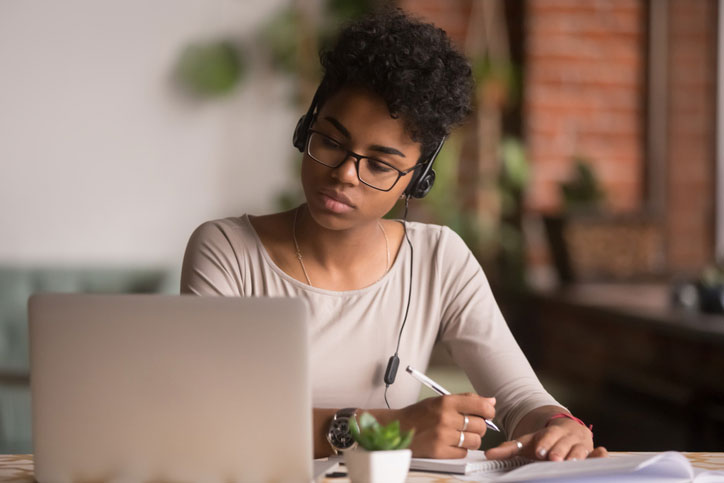 With all the chaos that COVID-19 is unleashing on the world, the plight of college students in traditional psychology programs who suddenly find themselves going exclusively online isn't something that's exactly grabbing headlines.
Still, we get it— the waves it's making in your life are suddenly becoming very real, and faced with the situation it's only natural that you're going to feel a little frantic and bewildered. These feelings are only compounded by the very real fears and anxieties we're all experiencing right now in the midst of this pandemic.
Fortunately, you're living in a world where people have been making these kinds of adjustments for many years – going online for school and work, and as part of the growing telehealth movement, which has been extremely successful in putting healthcare and psychology professionals in touch with remote patients and clients.
It may be coming at you all at once, but try to see it for the opportunity it is. Making the transition to online courses gives you the chance to get familiar with some of the very same technology and methods that are being used to make psychological services more accessible. It's not a stretch to say that this kind of thing is likely to become a routine part of your job in the years ahead. So there's something vital to be learned here – even beyond the psychology course content you're taking in.
There's Nothing New About Studying Psychology Online
Although it's a new situation for you, you're not exactly breaking new ground here; online degrees in psychology and related fields have been enormously popular for a lot of years.
With online psychology degrees already widely available, we can only assume that you specifically chose not to enroll in one because you prefer the traditional campus experience.
Of course, you can't completely recreate the on-campus experience in the virtual environment, but you can come close, with all the vital components of academia in place. Till the day comes that you're able to strap on VR goggles and experience the sights and sounds of strolling across campus in early October with leaves crunching beneath your feet, this will have to do.
The good news is a lot of the basic problems of delivering a complete psychology education through distance learning have already been solved. The challenge for you will be to adapt to those solutions quickly.
1 – Get Up to Speed on the Basics of How Online Classes Work
2 – Learning Management Systems Push All the Same Course Content Through Broadband
3 – Hardware and Connectivity Upgrades Worth Considering When Going All-in Online
4 – The Software You'll Need When Your Classroom Goes Virtual
5 – Take Advantage of Your School's Online Resources
6 – Deal with the Psychological Implications of Isolation Proactively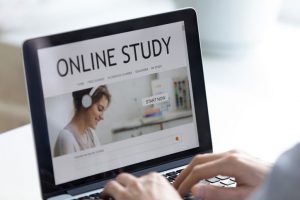 1 – Get Up to Speed on the Basics of How Online Classes Work
There are basically two ways that online classes are conducted and delivered:
Synchronously – Courses delivered synchronously are the closest thing to the traditional, sit-down education of the old-school variety you can get online. These classes take place in real time, with the professor delivering the lecture via video or audio stream. Usually, students will have some mechanism for raising their virtual hands and asking questions during the lecture. Depending on the sophistication of your school's learning management system, you may be able to see other students, chat during the presentation, or see a virtual whiteboard and other audiovisual supports.
Asynchronously - These classes are more flexible and allow you to access course content any time you choose to tackle it, day or night. Asynchronous courses may involve a video or audio stream of a previously recorded lecture or lesson, as well as reading assignments, or even practical exercises in online applications. There are typically chatrooms or forums in which you can interact with other students and the instructor to discuss course topics, but the work itself is usually self-paced with broader timelines for completion.
Your coursework is typically submitted directly through the learning management system your school uses. For classes that require some sort of in-class presentation, don't think you're getting out of it just because you're staying home now… most of these systems support student audio and video streaming as well.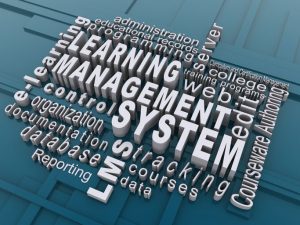 2 – Learning Management Systems Push All the Same Course Content Through Broadband
Even if you enrolled in a campus-based program, it's very possible the exact courses you're taking are also offered through an online version of a similar program. Even if not, it's almost certain that your school offers online courses for some other program and already has a sophisticated Learning Management System, or LMS, in place.
LMS is a general term for the proprietary third-party education software schools use as online learning platforms, and as the portal for sending and receiving documents and communications.
Typical LMS capabilities include:
Online forums and chat
Assignment systems and submission portal
Videoconferencing and streaming
Quizzing and testing
As a campus-based student scrambling to make the transition, you may never have had any reason to access your school's LMS. But don't worry—schools are scrambling too, so you can expect to receive an email with login credentials that will direct you to your school's website for detailed instructions on how to download the software or access a web-based version.
Many modern LMS systems even have mobile apps you can download to your device.
Your school might run any of the following systems:
But there are dozens of others.
In the very unlikely event that your school doesn't have a well-tested and fully-functioning LMS already in place, it may not be reasonable for them to put it all together on the fly. In those cases, you are likely going to be finishing your semester in what amounts to an e-mail based correspondence course—just like the days of yore, assignments will be e-mailed to you, you will complete them and e-mail them back.
<!- mfunc search_btn -> <!- /mfunc search_btn ->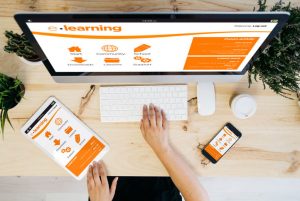 3 – Hardware and Connectivity Upgrades Worth Considering When Going All-in Online
Of course, all of that online magic really starts to come to life if you have the hardware and internet connection it takes to get the most from the experience. But chances are pretty good that if you made a point of avoiding online classes in the first place, you may not be into spending lavishly on the latest and greatest in computer hardware.
That's ok. The good news is that modern LMS systems have pretty relaxed requirements. They'll usually work with even slightly older Windows and Mac hardware and operating systems, and frequently even with mobile devices if you don't own a computer.
If you can manage it, though, you'll find a few things that will make the most of your online learning experience:
Auxiliary monitors - The content may be the same as you would get in the classroom, but the 13 inch screen on your laptop is no match for a Mark I eyeball in a lecture hall. If you can upgrade to get more screen real estate, either with a large monitor or an array of two or more, your eyes, and brain, will thank you for it.
Laptop/tablets - While reading whiteboard notes and dealing with a pile of documents and open browser windows while working on a research paper is best performed on a big monitor, there is something to be said for portability and the freedom to get your work done remotely. Although this has always been one of the benefits of taking classes online, you're not likely to be leaving the house to do your reading at the neighborhood coffeeshop during the COVID-19 lockdown. Still, having a mobile device or laptop to take your work to whatever corner of your apartment suits you best is an advantage – even if only a psychological one.
Broadband - A high-speed internet connection will also help you out a lot. Although on the download side there isn't likely to be intense demands on your bandwidth, uploading data-heavy assignments like video presentations can take forever without decent broadband speeds. Many schools are working on solutions to enable all students to get online with adequate connectivity speeds, with some schools even distributing mobile hotspots where necessary.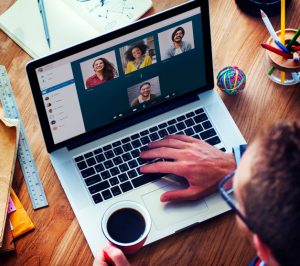 4 – The Software You'll Need When Your Classroom Goes Virtual
Your software needs can run the gamut. Schools that have a lot of experience with online course delivery won't likely require you to source any software on your own, since all the functionality you need will be wrapped right into the learning management system the school uses. Still, it's pretty normal for you to need some basic word processing capabilities, like you'd find in the standard suite of Microsoft Office products. Chances are if you have a computer at all, you will already have these basics covered.
There is software you can pick up to help you make the most of online learning, though. You might benefit from mindmapping or note-taking software…
And if your school doesn't provide videoconferencing software as part of the LMS, there's always Skype, and the increasingly popular, and arguably more capable, Zoom.
And since it's the internet, where online distractions are baked right in, many students find a website blocker useful to temporarily turn off the fun stuff to force you to focus…
Your college may already have a dedicated resource page for online learners; find it, bookmark it, use it. The tech experts there have fielded all of the most common questions and compiled the results that work best with their systems, so trust them first.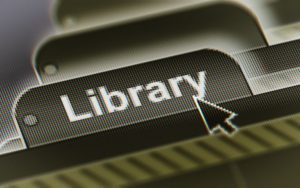 5 – Take Advantage of Your School's Online Resources
It's not just classes that you have to deal with when going online; it's the entire college experience. If you were relying on the campus clinic, the library, social services, tutoring help, or any of the other hundreds of resources a modern college campus can offer, you're going to need to find new ways to deal with those needs.
Fortunately, many colleges are already forging ahead with finding ways to offer all types of student services online. It's common to find writing workshops and tutoring resource centers that use the same collaborative online tools as your courses.
Many schools have already digitized much of their libraries and original research publications. Many also offer students free, remote access to online journals, letting you stay current through The International Journal of Psychology, American Psychologist, Psychological Science, Psychological Review, American Journal of Psychology, Frontiers in Psychology, and dozens of others.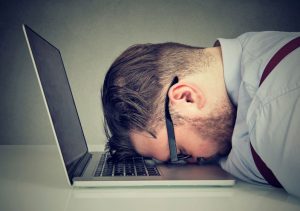 6 – Deal with the Psychological Implications of Isolation Proactively
The psychological implications of having to abruptly swap the predictability and camaraderie that comes with meeting up with classmates and instructors at the same time and place every day, for the somewhat isolated experience of attending class online, is also going to require you to make some adjustments.
Even in the best of times, many students face challenges adapting to online classes, struggling with everything from taking the initiative to participate in discussions and staying motivated, to simple computer literacy and time management issues.
In the background, every day brings the news of more cities and entire states going into lockdown, amid an exponential growth in the number of COVID-19 cases and more untimely deaths. On top of adapting to an entirely different learning experience, you are dealing with the uncertainty of what the future will bring, all the while in isolation, perhaps even from members of your own family.
That rules out a lot of the conventional advice about adapting to the online learning environment. They tell you to get out of the house, spend some time socializing, meet up with classmates in study groups… all the things that give you the sense that you are having a shared experience with likeminded people are essentially off limits in the era of COVID-19.
But there are some advantages you have as a student of psychology– you already have a sense of how adaptable and resilient people can be. Now is the time to dig deep and apply those concepts in your own life to the best of your ability.
Everyone is under pressure right now, so you might think it's a bit much to ask your instructors or classmates for a little support. They are dealing with their own problems, right? Well, that's probably true, but you might actually be doing them a solid by giving your peers an opportunity to help. Keep in mind that you are all going into the field to help people. It's time to start practicing close to home. Ask for assistance when you need it, and offer it whenever you can.
The intuitive response to a perceived threat is often to withdraw, to conserve your mental strength for your own welfare. But the science is clear that the opposite response can actually bring you back from the brink. Giving of yourself is what creates happiness, confidence and a sense of meaning in life.
Take this opportunity to reach out—engage your altruism and try to help others. Instead of sapping your mental reserves, you'll find yourself energized by acts of selflessness and kindness. Even small gestures could mean a lot to those within your circle of influence right now.
You may not have all the answers in your new online courses, but if you help out your classmates with the bits you figure out first, you'll find yourself forging a valuable and mutually beneficial connection.
<!- mfunc search_btn -> <!- /mfunc search_btn ->
None of us can control the outside events in our lives, but we can all master our own reactions. You and your classmates went into this program together. And together, you will all come out on the other side —not only with a degree in psychology, but also with the kind of powerful opportunities for personal growth and introspection that only a life experience like the one we're all sharing right now can provide.