<!- mfunc search_box_body ->
<!- /mfunc search_box_body ->
<!- mfunc feat_school ->
Featured Programs:
Sponsored School(s)
<!- /mfunc feat_school ->
Behavioral Health Consultant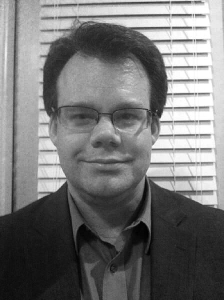 Keith Lisenbee is a highly respected Social Worker with years of experience under his belt. He currently runs his own company and works as a behavioural health consultant. While he was at school one of Keith's classmates suffered with severe depression, from that moment he knew he wanted to help her and others like her. After initially thinking of becoming a therapist he decided on becoming a social worker, finding a resonance of his own beliefs within the social work disciplines.
Being a social worker can be classed as one of the most challenging and yet rewarding careers. Social workers seek to improve the quality of life and wellbeing of a person, or a group or community through building relationships with them, finding out their needs and working with them to develop the best solution. This is an important, crucial and often difficult journey that takes the utmost compassion and dedication from the social worker.
How did you first become interested in Social Work?  Was there any particular inspiration or motivation that influenced your career path?
I became interested in being a therapist when I was in high school.  I met a classmate who was coping with severe depression and I wanted to help her and others like her.  I entered social work after I learned about the fundamentals of the discipline and it fit my beliefs about people.
Tell us about your educational path.  What schools did you attend?  How long did it take you to become licensed as a social worker?
I actually went to a military school in high school.  I went to Virginia Commonwealth University for both degrees.  It took me a little over two years after my Master's degree to be licensed.
 What training was most critical to your career success?  How much of your development can be attributed to "on-the-job training"?
To me, the on-the-job training was most significant in helping me in my career in management and administration.  I was very blessed to have two supervisors who nurtured my development and provided the on-the job training and supervision that has helped me to succeed.
What was the most challenging aspect of your education?  Were their any setbacks or hurdles along the way?  What advice can you provide a student about the challenges they will experience?
I had a difficult second year field placement in my second year in graduate school.  I decided that it was not the best placement for me and left due to difficulties with the supervisor.  My biggest advice to students is to make sure you have someone in the department at your school that is supportive and can be an advocate.
<!- mfunc search_btn ->
Once you started practicing social work on the clinical level, was it everything you expected it to be?  Describe your first two years in the field.
Nothing is ever what one expects it to be.  I realized that there was so much I needed more to learn and that no matter how good my class room learning was it does not even measure up to learning from real-life experience in clinical practice that I needed.  My first two years were spent at a small community mental health center working with children, adolescents, and their families that had behavioral health and/or substance abuse issues.  I provided assessments and interventions to assist the child and family reach their goals and objectives.  There is nothing better than real-life clinical experience.  It was my on-the-job training and supervision as a clinician and as an administrator that has helped me become the professional person that I have become.
At what point did you decide to start your own company?  How did the opportunity emerge?
I made a decision that after years of executive and management experience working for someone else that I wanted to work for myself.  I felt like that I had the experience and concept to start a consulting company based on sound business and philosophical principles.
Describe the day-to-day activities of someone in your field.   What service does a behavioral health consultant provide an organization or business?
Each day is different which is the fun part.  Each day is spent in contact with clients advising, counseling, and supporting them in their efforts to reach their goals.  I will have one to three different clients that I will be in contact with during the day.  I also will spend some part of the day making contacts on behalf of my clients consistent with the client's goals.
What advice can you give an individual interested in pursuing social work as a career?  Are there any aspects of the job that aspiring social workers may not want to hear, but should know?
Social work is an emotionally taxing profession and also very rewarding at the same time.  Biggest advice I have is be as self-aware as possible in regards to the emotional impact that working with clients has on you and utilizing supervision appropriately when issues occur.  Another piece of advice would be to always listen to your gut.  If your gut is telling you something is wrong, it probably is.
What is the most rewarding part of your work?  Give an example of some of the successes you've experienced.
The greatest reward for me is to see a clinical service program or organization that I am working with go from being good to great.  I have been involved in multiple projects where the organization or service was in deep trouble and watching it turn around.  I worked with an organization's medical detox program that lost its license to operate and guided them to the point that not only did they get their license back, but they also became one of the best programs in the state.  This was incredibly rewarding for me.  I was able to see a program that was helping no one to a program where there was quantitative evidence that it was helping the majority of those individuals that were being served.
Is there any additional advice or experience that you would like to share?  Please feel free to provide any additional insights that you find important.
The social work profession is incredibly rewarding from an intrinsic standpoint. It is important to be self-aware, to take care of yourself, and to focus on what you know rationally is the right thing to do.
<!- mfunc search_btn ->