Employment Outlook & Career Guidance for Child/Pediatric Social Workers
<!- mfunc search_box_body ->
<!- /mfunc search_box_body ->
<!- mfunc feat_school ->
Featured Programs:
Sponsored School(s)
<!- /mfunc feat_school ->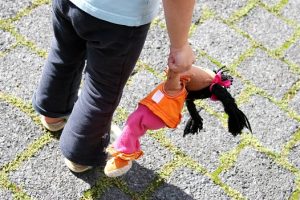 According to the Bureau of Labor Statistics (BLS), nearly 50% of the 708,100 social workers in the US are child, family, and school social workers, making them the single largest subgroup in the broader field of social work.
Child/Pediatric social workers are professionals who strive to improve the lives of children.  Among the many social issues a child/pediatric social worker may focus on include :
Abuse - either physical or emotional
Homelessness - as a family, or as a child because of abuse, neglect, poverty or emigration
Poverty - whether caused by a loss of job, or some other unforeseeable misfortune
Discrimination – at school, at home or in public
Illness – helping families cope, before birth, during birth or later in life
Adoption or foster care – may finalize an adoption or remove a child from a bad foster care situation
The BLS expects employment for child/pediatric social workers to increase by 8% between 2021 and 2031. This means that as many as 29,100 new jobs will be created for child/pediatric social workers during the next decade. However, although child/pediatric social workers may be in demand in the school environment, budget cuts by the government may limit job growth in this sector.
The annual median salary for social workers who specialize in children and family welfare was $50,820 in 2022 according to the BLS. The most experienced, and individuals with a graduate degree in child/pediatric social work made as much as $81,920, while individuals just beginning their careers in social work made an annual salary of approximately $36,380.
School systems offer some of the best salaries in this field. Specialty, psychiatric, and substance abuse hospitals also pay very well.
Learn more about becoming a child/pediatric social worker.
What Types of Positions Can a Child / Pediatric Social Worker Hold?
"The field of child/pediatric social work is a competitive field and is growing with opportunities for social work graduates.  There will always be a need for social workers.  Pediatric social workers can work in all different types of settings: hospitals, schools, state jobs, and private practice.  There is a real need for good, competent social workers who specialize in children and adolescents." - Jennifer D. Cunningham, LMFT out of Madison, CT
Individuals, who wish to pursue a career as a child/pediatric social worker must enjoy working with children and adolescents. Depending on the level of practice, social workers must earn a bachelor's or master's degree in social work.  Although there are a variety of settings a child/pediatric social worker might work, there are four main areas of practice, which include:
School Social Worker – Typically, a school social worker will be a member of an educational team, which may consist of psychologists, guidance counselors, and teachers. They focus on removing barriers to learning and help students work through social, emotional, psychological and adjustment problems, by providing individual or group counseling, assessments, family consultation, and if necessary, referrals.School social workers must earn a bachelor's degree in social work. Most states, however, require a master's degree and certification, according to the National Association of State Boards of Education.
Child Therapist – Clinical social workers provide play therapy and psychotherapy to children and adolescents. They are often referred to as Child Therapists, and work in a variety of sectors, including:

Mental health clinics
Community services agencies
Hospitals and clinics
Private practice
Government agencies

They may focus on a number of psychological, social and emotional disorders, such as anxiety, anger, and depression. A clinical social worker must earn at least a master's degree in social work, but many have earned doctorates or hold certificates from psychoanalytic institutes.  If a clinical social worker chooses to work in private practice, they must hold state licensure.

Child Welfare Social Worker – As a rule, child welfare social workers help neglected and/or abused children and adolescents, and their families by providing:

Assessments
Resource consultation
Advocacy
Referrals
Counseling

They conduct home visits to determine the safety of children, and if they must be removed and placed in temporary custody with foster families, or if a child can be returned back to his or her family.  

A child welfare social worker must have a bachelor's degree in social work, but many have earned master's degrees in social work. Depending on work setting, they may need certification and/or licensure.

Hospital Social Worker – Hospital social workers who specialize in working with children may advocate for families who need help obtaining benefits or other types of social services, they may provide counseling, educate children and their families about illnesses, discuss grief issues, and offer crisis intervention in a hospital setting.Typically, hospital social workers hold a master's degree in social work. Most hospitals require social workers hold state licensure. 
<!- mfunc search_btn ->
Ways a Child/Pediatric Social Worker can Increase Desirability as a Job Candidate and Increase His or Her Salary
Child/Pediatric social workers must have formal training and education.  It is possible to enter this field with a bachelor's degree in social work by a program accredited by the Council on Social Work Education (CSWE) – a non-profit national association recognized as the sole accrediting agency for social work education in the country by the Council for Higher Education Accreditation. 
"In social work, you can have a bachelors degree and/or a master's degree.  I would recommend shadowing social workers in the field to get a feel of what the work is about.  There are a lot of different areas of social work a student can go into, so having some idea of what a person wants to specialize in, and having some experience in that area, is a way to set oneself a part from the rest of the applicants."  - Jennifer D. Cunningham, LMFT
Although employment for child/pediatric social workers is on the rise, it is imperative that students enroll in an accredited program to ensure their place ahead of the competition.  Accreditation ensures the very highest level of professional development, and enhances the quality of social work education.
Quick fact: The Pew Research Center states that workers with bachelor's degrees often earn significantly more than their colleagues without one.
Individual's who have earned a bachelor's degree can begin their career as a caseworker or mental health assistant.  Coursework in sociology, economics, psychology, social work and political science will be useful on the job.  A bachelor's degree in general social work may be acceptable for most positions, but to increase desirability as a job candidate, prospective child/pediatric social workers may want to enter programs that offer concentrations in child welfare.
Employment in health care, clinical work, or in a school setting generally requires a master's degree in social work.  Many states also require a minimum number of supervised hours in the field and an internship, and all states require licensure to practice as a child/pediatric social worker.
"I absolutely encourage bachelor level students to go on to get their master's.  Social work is a field that requires education and experience.  The more educated and experienced an applicant is, the more appealing one is to a possible employer." - Jennifer D. Cunningham, LMFT
Other ways to ensure desirability as a job candidate include:
Students can participate in training programs to develop skills, and earn continuing education credits (CEU) to expand their knowledge.
Build networks through volunteering, attending local events or fundraisers, through social media, or through relationships with professors and peers.
Aspiring child/pediatric social workers should research what is of value to various organizations, and format their resume to reflect those values.
For clinical child/pediatric social workers, licensure and certification are very important. When applying for a position, be sure to add Licensed Clinical Social Worker (LCSW) or states equivalent, and Academy of Certified Social Worker's (ACSW) credential, if appropriate.
Related Social Work Education Guides
Attributes Employers Often Look For When Hiring a Child/Pediatric Social Worker
According to Jennifer D. Cunningham, LMFT, "New graduates should go into work with very clear boundaries and expectations.  It is very easy to get overwhelmed and burnt out in this field, so it is important to set personal limits and realistic goals for the work.  In addition, I cannot emphasize enough the importance of utilizing supervision for support and guidance." 
Social work, in general is a competitive field. Although the field is growing at a faster-than-average rate, there are a number of attributes employers take into account when hiring a child/pediatric social worker, including:
Training and knowledge. Degree programs in social work are offered at all levels; from Associate degree to PhD. A good education, with emphasis in social work is imperative to succeed in this field.
Social work in general, and working with children specifically takes patience and assurance.  Child/pediatric social work can take place in high-stress environments, so fortitude is an essential characteristic.
Empathy. Without a doubt, compassion is a must-have for all child/pediatric social workers.
Handling the many case files, medical records, family records and paperwork can be daunting, so it is important that child/pediatric social workers are organized.
It is not uncommon that social workers work odd hours; on-call and after hours, so flexibility is essential.
Respect for diversity. Child/pediatric social workers work with children and families from all walks of life. A respectful attitude is necessary.
Responsible and ethical behavior. Child/pediatric social workers oversee confidential and sensitive information. Keeping personal information secure is compulsory.
<!- mfunc search_btn ->
Networking Opportunities and Organizations for Child/Pediatric Social Workers
There are any number of opportunities, organizations, and associations for Child/Pediatric social workers to take advantage of, including:
Social media, such as LinkedIn, Plaxo and Academy
The Council on Social Work Education (CSWE) and the National Association of Social Workers (NASW).
Various conferences and tradeshows
Distance learning conferences
Take advantage of mentors or relationships made in college.
Volunteering
Additional Resources and Further Reading
2022 US Bureau of Labor Statistics job market trends and salary figures for child, family, and school social workers are based on national data, not school-specific information. Conditions in your area may vary. Data accessed July 2023.