Employment Outlook & Career Guidance for Probation Officers
<!- mfunc search_box_body ->
<!- /mfunc search_box_body ->
<!- mfunc feat_school ->
Featured Programs:
Sponsored School(s)
<!- /mfunc feat_school ->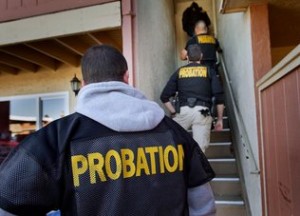 Although it is widely thought that the job of a parole officer and probation officer are alike, there is one main difference. A probation officer is in charge of people who have committed lesser crimes, but do not go to prison. Instead offenders fulfill their sentence(s) outside of prison, whereas a parole officer is in charge of people who have committed a crime(s) and served time in prison, and then are discharged and on parole for a period of time.
There are usually two areas of employment for probation officers – those who work with adults and those who work with juveniles. Occasionally, a probation officer with work with both juveniles and adults.
Probation Officer Education & Career Options
Prerequisites required to become a probation officer, wishing to work with adults and/or juveniles, vary by state, and by employer. According to the US Bureau of Labor Statistics (BLS), most states require applicants to be at least 21-years of age, but be no older than 37-years of age. All applicants must pass a criminal background check, and typically must also pass a drug test. Applicants must also be US citizens, have a valid driver's license, and no felony convictions.
Most states require that an individual earn at least a bachelor's degree in criminal justice, or a human service-related field, such as social work, criminal justice, psychology, sociology or criminology. Many of these programs can be completed on-campus or on-line, or in a hybrid situation, which combines online coursework and in-class study. After completing a degree program, individuals will likely be required to attend a training program that introduces them to basic procedures and skills in order to become a probation officer in the state in which they wish to work. Some states require candidates complete certification programs, which are sponsored by the state or federal government. It is also typical for probation officers to have some law enforcement training prior to gaining employment.
If an individual wishes to enter a specialized probation officer education program, such as becoming a juvenile probation officer, he or she will typically complete additional coursework (over and above what is offered at the bachelor's degree level), including:

Juvenile processes
Probation terminology
Information gathering
Adult criminal justice
Case law
Interviewing and counseling
Fines and restitution
Gang affiliation indicators
Court reports and presentation
In a few states, such as California and Florida, aspiring candidates who wish to work with juveniles are required to graduate from a training academy before being hired.
Many employers may require prior experience and advanced knowledge in areas, such as:
Knowledge of state and federal laws
Strong writing and computer skills
Experience in parole, corrections, and/or probation programs
Knowledge of substance abuse treatment
Knowledge of criminal investigations, counseling and social work
<!- mfunc search_btn ->
Aspiring probation officers must also complete a number of written and oral exams and pass extensive psychological and physical examinations prior to gaining employment. The Probation Officer Exam is designed to assess the skill and knowledge of potential probation officers. This test covers:
Law
Reading comprehension
Probation officer situational awareness
Investigative problems
Officer case scenarios
Grammar and punctuation
Preparing and interpreting written material
Working with charts and graphs
Probation theories and concepts
Establishing relationships and probationers
In some states and judicial districts, probation officers may be required to complete peace officer training. These programs are often held in state police academies, may be up to six months in length, and will typically include rigorous academic and physical training, which may include:
Constitutional law
Self-defense tactics
Report writing
Firearms training
Investigations
Typical Employment Settings for a Probation Officer
Although probation officers work with offenders who have committed a crime and do not go to prison and instead fulfill their sentence outside of outside of jail, they most often work within the local, state, and federal prison systems. Probation officers, whether they work with adults or juveniles, also work with law enforcement, and with judges and attorneys in the court system. Because of these work settings, there is a good measure of job security, wages, and benefits. Yet, there is also a good measure of risk, as probation officers work with clients who may be dangerous. This is especially true when a probation officer must track an offender who has fled the system.
Job Growth & Salary Estimates for Probation Officers
According to the BLS, the probation officer field has just over 86,000 active employees, who earn an average yearly salary of $52,910 (2013). The top 10 percent earn nearly $85,000 per year, and officers just entering the field earn, on average, $32,000, annually. Salary range will vary depending on geographic location, employer, education level and experience. This field is expected to grow by 18 percent between 2012 and 2022, which is faster than average for all jobs in the US.
How to Advance Your Career as a Probation Officer
If a probation officer wishes to increase his or her salary, and better compete for management positions within the criminal justice system, completing a master's degree is the path to choose. At the master's level, coursework (in addition to what was learned at the bachelor's degree level) will include:
Organizational administration
Professional ethics
Budget planning
Theories of crime prevention
Persons who complete a master's degree may also qualify for employment as a probation supervisor or as a director of a probation services department. Candidates must realize that these positions will typically require more administrative work, and less hands-on work with offenders.
Typical Attributes Sought by Employers
The job of a probation officer can be high stress and high risk. They commonly work full-time, long hours, weekends, and holidays as necessary or in times of emergency. This is why aspiring probation officers must be prepared to handle high-stress situations, be committed, and dependable. Notable other skills that employers often look for when hiring a probation officer, include:
Strong communication and listening skills
Strong writing and computer skills
Excellent interpersonal skills
Substance abuse treatment knowledge
Criminal investigative experience
Counseling techniques
Social work expertise
The ability to build strong relationships
Critical thinker
Ability to motivate and encourage
Ability to work with people from all walks of life
Aspiring probation officers can also gain valuable experience by serving as a corrections officer, as a police officer, or as a similar law enforcement agent. Internships in the fields of counseling or social work will also improve knowledge and skills necessary to succeed in this field and get noticed by potential employers.
Resources & Organizations for Probation Officers
There are a number of associations and organizations that provide aspiring probation officers networking opportunities. These include:
There are many organizations that provide information for networking at the state level. Candidates should inquire in the state in which they choose to serve for professional associations that are relevant within the criminal justice community. Probation officers can also find organizations online, through social networking websites, mentoring opportunities while enrolled in college, or during internships.
<!- mfunc search_btn ->
Other national organizations include: