Employment Outlook & Career Guidance for Clinical Social Workers
<!- mfunc search_box_body ->
<!- /mfunc search_box_body ->
<!- mfunc feat_school ->
Featured Programs:
Sponsored School(s)
<!- /mfunc feat_school ->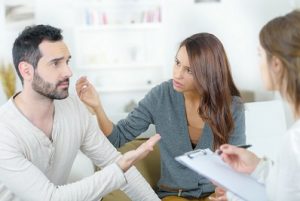 A clinical social worker largely deals with the social aspects of a person's health. Most social workers, and clinical social workers specifically, require an advanced degree, supervised experience and licensure prior to administering care.
Clinical Social Workers advocate for patients. They explain health care policies and resources, offer guidance, and provide treatment to people, to aid in coping with psychosocial issues and problems.
According to the US Bureau of Labor Statistics (BLS), many social workers hired between 2021 and 2031 will work with senior citizens and the elderly, largely due to an aging Baby Boomer generation. Employment in this sector is set to spike by 9% which equates to an average of about 74,700 social work job openings every year.
What Type of Positions/Specializations Can a Clinical Social Worker Hold?
There any number of areas in which a Clinical Social Worker can specialize.
These include:
Substance Abuse
Public Health
Marriage Counseling
Children and Family Therapy
Mental Health Issues
Research
Policymaking
Administrative
Career Options and Salary Available to Clinical Social Workers
Amber Holt, a Licensed Clinical Social Worker (LCSW) and Certified Alcohol and Drug Counselor (CADC) in the state of Oregon, states,  "The first step is obtaining a master's degree in social work. Social work programs usually have various tracks, such as direct service, community based, administrative, etc. If you are interested in doing clinical social work, you will be best served taking the direct service (or equivalent) track.
During MSW school, you will have field placements/internships in your chosen track. So, if you have chosen a clinical track, you will have a placement where you work with clients directly (one field placement example might be providing mental health therapy in a community mental health center).
After completing your MSW, you must obtain 100 hours of clinical supervision (individual or a combination of group/individual) while working in the field. Usually, you receive one hour of supervision for every 40 hours worked. Thus, by the end of your 100 hours in supervision, you will have worked at least 4000 hours in the field.
Once these hours are complete, you must pass the national licensing exam for clinical social work. Usually states also have additional testing requirements (such as ethics for your state).  After you pass the test, you apply (and of course pay!) for your license. In order to maintain your license, you must complete 40 hours of continuing education credits every two years."
The BLS reports that social workers, all other (a group that includes specialists like clinical social workers), received an annual median salary of $61,420 in 2022. The highest earning social workers in this group made approximately $95,560, while the lowest-paid earned approximately $37,500. Location, education, and work environment all pay a part in how much a clinical social worker can make.
<!- mfunc search_btn ->
Typical Employment Settings for a Clinical Social Worker
The BLS states that Clinical Social Workers can work in a wide variety of sectors, including:
Hospitals
Community health clinics
Mental health facilities
Secondary schools universities
Substance abuse clinics
Child welfare agencies
Primary care environments
Private practice
Veterans Services
Homeless shelters
Rehabilitation centers
Detention centers
Non-profit groups
Children's homes
Learn more about how to become a clinical social worker.
Ways a Clinical Social Worker can Increase Desirability as a Job Candidate
A clinical social worker who has earned a bachelor's degree (BS) in social work or a closely-related field can begin a career as a case worker or mental health assistant.  However, all clinical social workers must have a master's degree in social work.  All licensed clinical social workers must also acquire approximately 3,000 hours of supervised clinical experience, and pass the Social Work Licensure exam.
According to one source, at Love Magazine, a career in clinical social work requires a master's degree. Although each state varies in licensure requirements, a master's level social worker usually needs to be licensed (LMSW) in order to accrue the client contact hours necessary for clinical exam (LCSW) eligibility. The number of needed hours ranges from 3,000-3,500, which may, depending on work environment, take up to five years to obtain. State regulations, of course, and licensure requirements differ. For example, California requires additional coursework in state law. Detailed information can be found through state licensing boards.
It is also recommended by professionals in the field that aspiring clinical social workers study biology, sociology, and chemistry, as clinical social workers often work with people who have used, or are currently using drugs and other controlled substances, have experienced past trauma, or have mental health issues.
Related Social Work Education Guides
Licensing
Becoming a licensed clinical social worker is not generally required to practice social work within most organizations. However, licensure varies by state, and earning a licensed clinical social work credential often increases opportunities for certain social work positions.  Additionally, a licensed clinical social worker (LCSW) affords more freedom and independence in their job, and is a requirement to enter private practice, work for many government agencies, teach at the university level, or perform research.
It should also be noted that some states grant the title of Licensed Clinical Social Worker (LCSW), while other states may use a different title, including Licensed Independent Clinical Social Worker (LICSW) or Licensed Independent Social Worker (LISW).
Anita Martin, MSSW states, "Clinical social work licensure can be a lengthy process, but worthy of your time and energy if becoming a therapist is your career of choice."
Typical Job Duties of a Clinical Social Worker
The responsibilities of a clinical social worker are varied. This is due in part because of the diversity of this field and the many opportunities for employment.
A few general duties a clinical social work may include:
Proving mental health counseling to individuals or groups
Administering social programs, such as child welfare programs
Building a strong rapport with client/patients and making assessments of their mental or emotional problems
Keeping detailed records of the course of treatment for each patient
Consulting with therapists, physicians or other medical professionals if necessary
Performing clinical research
Acting as an administrator
Quick facts:
Upward mobility and the opportunity to advance in this career:   Average
Flexibility and the opportunity to work flexible hours or off-site:   Average
Stress Level:   High
Job Settings
Anita Martin, MSSW & Creator of Love Magazine, states that clinical social workers who have recently obtained their licenses can work in a broad range of settings. Settings may include hospitals, non-profit organizations, schools, government, or private practice.
Salary expectations vary widely between employers, but fortunately, BLS data indicates that clinical social workers could have more earning potential than many of their colleagues without advanced training. Social work is a demanding profession, so understanding the environment in which one works best is important.
Attributes Employers Often Look for When Hiring a Clinical Social Worker
Social work, in general is a competitive field. Although the field is growing at a faster-than-average rate, there are a number of attributes employers take into account when hiring a clinical social worker, including:
Training and knowledge. Degree programs in social work are offered at all levels; from a bachelor's degree to a PhD. A good education, with emphasis in clinical social work is imperative to succeed in this field.
Clinical social work takes patience and assurance.  Clinical social work can take place in high-stress environments, so fortitude is an essential characteristic.
Empathy. Without a doubt, compassion and empathy is a must-have for all clinical social workers.
Handling the many case files, medical records, family records and paperwork can be daunting, so it is important that clinical social workers are organized.
It is not uncommon that clinical social workers sometimes work odd hours; on-call and after hours, so flexibility is essential.
Respect for diversity. Clinical social workers work with a wide variety of people from many different backgrounds and from all walks of life. A respectful attitude is necessary.
Responsible and ethical behavior. Clinical social workers oversee confidential and sensitive information. Keeping personal information secure is compulsory.
Networking Opportunities and Organizations for Clinical Social Workers
<!- mfunc search_btn ->
Continuing Education (CE) Opportunities for a Clinical Social Worker
The National Association of Social Workers (NASW) views professional development and continuing education (CE) as essential for ensuring superior social work services. A self-directed process, professional development and continuing education requires social workers assume the responsibility for growing their knowledge base.
No matter if an individual is just beginning a career in social work or is a seasoned veteran, social workers are ethically required to stay informed of current research, techniques that guide social work practice, and social work philosophy and doctrines in order to better serve clients, patients, and constituents.
2022 US Bureau of Labor Statistics job market trends and salary figures for social workers and social workers (all other) are based on national data, not school-specific information. Conditions in your area may vary. Data accessed June 2023.