Employment Outlook & Career Guidance for Medical Social Workers
<!- mfunc search_box_body ->
<!- /mfunc search_box_body ->
<!- mfunc feat_school ->
Featured Programs:
Sponsored School(s)
<!- /mfunc feat_school ->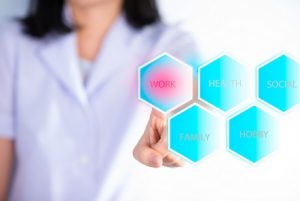 Medical social worker (MedSW) is a sub-discipline of the broad field of social work. A medical social worker is sometimes also referred to as hospital social worker and healthcare social worker.
There are a number of job functions that medical social workers fulfill, such as:
Performs an initial screening and assessment of a patient's emotional, psychosocial, and support needs
Provides information about treatments that may impact a patient's health and wellbeing
Aids in the development of short-term and long-term care plans for patients
Advocates for patient's and families; as an outpatient, inpatient, in the home or in the community
Champions the health care rights of patients at the policy level
Helps oversee crisis intervention
May diagnose underlying mental illness in patients
Arranges for funds and resources that may be needed to finance medications, medical equipment or other support services
Medical Social Workers Work Setting and Career Options
The work setting and day-to-day activities of a medical social worker can vary considerably depending on facility, job duties, and an individual's seniority.  When an individual trains to be a social worker, he or she is trained in all aspects of the profession.  Most social workers will choose to specialize; such as medical social work, however they may have the opportunity to move between different areas.
In a hospital setting, medical social workers will perform psychological assessments, work with physicians and other healthcare professionals to implement discharge plans, arrange home care services, if needed, coordinate transportation, and work with family members to ensure the patient's needs are met.  It is a demanding, but satisfying job working side-by-side other medical personnel.
Medical social workers also perform a number of routine duties, such as:
Provide counseling services to individuals and families
Arrange support groups for patients and caregivers
Collaborate with social services providers
Provide resources for patients and their families
Advocate for patients' rights
Learn more about how to become a medical social worker.
<!- mfunc search_btn ->
Typical Employment Settings for a Medical Social Worker
As of May 2022, the US Bureau of Labor Statistics reports that the median annual salary for healthcare social workers is $60,280.  Medical social workers employed by research and development services report the highest average yearly earnings at $78,270 with those in specialty hospitals, medical and surgical hospitals, and ambulatory health services following closely behind.
The BLS also reports that job growth for all social workers is expected to grow by 9% between 2021 and 2031.  In the same period, job growth for medical social workers is expected to grow by 11%.
An aging baby-boom generation will, in part, fuel the increase and demand for medical social workers as people age and their families require assistance with healthcare and aftercare decisions.
There are a number of sectors that employ medical social workers. However, most individuals are employed in settings, such as:
Hospitals
Public and private healthcare facilities
Hospice
Outpatient clinics
Residential care facilities
Home health care (non-hospice)
Some medical social workers are employed by state agencies, providing psychosocial support and counseling to crime victims, or helping law enforcement in child abuse cases.
Ways a Medical Social Worker Can Increase Desirability as a Job Candidate and Increase His or Her Salary
The minimum qualification to practice as a medical social worker is a bachelor's degree in social work (BSW).  However, a master's degree (MSW) is generally required to work in a hospital, private or pubic healthcare facilities, or for most state / government agencies.   Medical social workers should only enter a program accredited by the Council on Social Work Education (CSWE).
Medical social workers with a BSW will have limited job opportunities.  In order to climb the job ladder, expand employment opportunities into many areas, move into management positions, and earn a higher salary, medical social workers would be wise to intern at a healthcare facility, gain certificates by earning continuing education credits, devote at least 2 years of relevant post-master supervised experience, and become licensed through the Association of Social Work Boards – a requirement in all US jurisdictions at the master's level.
Joining a professional association, such as the National Association of Social Workers, (NASW), or other organizations will also make medical social workers more desirable to employers.
Related Social Work Education Guides
Attributes Employers Often Look For When Hiring a Medical Social Worker
Medical social workers usually view the opportunity to make an immediate and positive impact on the lives of individuals and families as only one of the many unique benefits of this job.
Yet, social work, as a profession, can be very challenging.  Yet, social work can be very rewarding also.  A medical social worker must have emotional and personal maturity to meet the demands of this field. Employers look for workplace readiness skills that usually include much more than a desire to help others.
As with all individuals who choose to enter the field of social work, medical social workers should have a number of key skills, including:
Ability to listen
Organization skills
Problem-solving skills
Time-management skills
Ability to work with people from all walks of life
Compassion
Patience
Dependability
Perceptive to each patient's needs
Objective and Persistent
Flexible to varying work settings and schedules
Resilient and driven
<!- mfunc search_btn ->
Networking Opportunities and Organizations for Medical Social Workers
2022 US Bureau of Labor Statistics job market trends and salary figures for social workers and medical social workers are based on national data, not school-specific information. Conditions in your area may vary. Data accessed June 2023.