Mental Health Counseling Degree Programs & Schools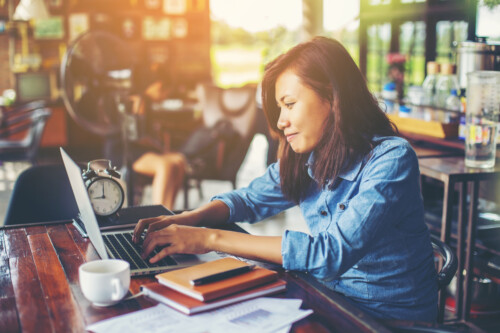 <!- mfunc search_box_body ->
<!- /mfunc search_box_body ->
<!- mfunc feat_school ->
Featured Programs:
Sponsored School(s)
<!- /mfunc feat_school ->
Estimates vary, but most public health sources cite mental illness as occurring in about 1 in 4 or 1 in 5 people. This high rate is a clear indicator of the growing need for mental health counselors both nationally and internationally. For people considering a career in the field, it means that the demand for qualified professionals with specialized skills is expected to remain high, and that employment prospects are expected to be steady for the foreseeable future, if not rising.
Earning a Mental Health Counseling degree online is one of the educational paths you can take to begin a career in this field without delay. Online programs are flexible and fast, but still rigorous, so you can immerse yourself in the field quickly but with authority. Other benefits of an online education include:
Convenience: Online degrees are very accessible, so you can take classes and study from anywhere
Location independence and flexibility: Similarly, you don't have to relocate, or carry on-campus housing expenses to earn your degree
Affordability: Many online programs are more affordable than four-year and even two-year colleges and universities
Improved delivery methods and platforms: Today's online courses are user-friendly and refined, to make learning easy
Availability of hybrid and online programs: Many counseling degrees require clinical hours, but online programs will work with you to find opportunities nearby
Widely accepted by employers: These days, online degrees are highly regarded and widely recognized as equivalent to degrees earned from more traditional institutions
Increased standards and quality of curriculum: More and more distinguished professors are working with online institutions to design and deliver world-class curriculum
Specializations: When taking online classes, you can choose an area of focus that helps you specialize later in your career
When you earn an online degree, you'll find that academic and professional opportunities begin to open for you. These may be in several different fields, including psychology, therapy, counseling, and social work, all of which make use of the knowledge and skills learned when pursuing a degree in mental health. Upon graduation, you will be prepared to work with people experiencing a wide range of mental health challenges, and to offer specialized treatments, utilizing a full repertoire of counseling techniques and therapy.
Program Objectives & Learning Goals
The objective of any mental health counseling program begins with teaching students to respect diversity, culture, and ways that people differ from one another, including sociocultural differences such as gender, ethnicity, race, age, sexual orientation, national identity, and religious affiliation. By emphasizing the importance of multicultural issues in curriculum, mental health counseling programs prepare students to work with people with diverse social identities when they eventually enter psychology practice, or work in a related field.
According to the American Psychological Association, there are several skills-based goals that should guide the key concepts, principles and themes taught in baccalaureate psychology and mental health programs:
Key knowledge of psychological concepts, principles, themes and applications
The ability to use the scientific inquiry process, think critically and innovatively, design experiments and conduct basic research
Respond to the world around you ethically, with a fundamental respect for human diversity
Communicate effectively through writing, speaking and interaction
Continue to enrich your lifelong career through professional development
Additionally, the APA, recommends that all mental health counseling programs should focus on instilling in students:
An appropriate amount of skepticism, devoid of judgment
A thorough understanding of psychology, the mental health field and current theory
The ability to constructively and respectfully collaborate, criticize, persist and challenge both patients and colleagues
Careful and systematic attention to details
Sound logic, intention and precision
Self-direction, self-reliance, resourcefulness and motivation
Intellectual curiosity, open-mindedness, flexible thinking and inventiveness
Firm ethics
Benevolence, generosity, sensitivity, fair-mindedness and tolerance
The ability to deal with complexity and ambiguity with courage, confidence and resilience
Community involvement
Dependability
Sound intuition and an innate trust of instinct coupled with the ability to question assumptions
Overview of Available Mental Health Degrees
Before pursuing a career in mental health counseling, it helps to know what degrees and training options are available to you. A degree is required to practice mental health counseling at all levels of the profession – even the most basic - so it is important to understand what type of degree you will need to meet the standards for employment in the field.
Bachelor of Science in Behavioral Health Counseling (B.S)
<!- mfunc feat_school ->
Featured Programs:
Sponsored School(s)
<!- /mfunc feat_school ->
A Bachelor of Science, or B.S., in Behavioral Health Counseling is the first step for many who wish to enter the counseling profession. The curriculum is geared toward basic competency in the field, which enables you to work under the supervision of licensed professional counselors or mental health practitioners to help treat individuals, families and entire communities.
At this degree level, you will learn a broad range of skills and evidence-based practices, including:
Diagnosis
Assessment and treatment planning
Psychiatric rehabilitation
Recovery from trauma and addiction
Child and family interventions
A range of clinical skills
To succeed in a bachelor's program, you will need to demonstrate proficiency in statistics and science courses, along with a thorough understanding of professional and ethical standards. Curriculum will include classes in theory, psychology practice, experimentation, and communication, with a focus on concepts and principles of addiction, trauma, behavior, psychosocial development, genetics, biology, crisis intervention, types of mental health disorders and more. The goal is to establish a strong foundation in psychological theory and thought.
With this foundation, you will be able to work in a wide range of mental health settings. These include psychiatric rehabilitation centers, family and child support institutions, forensic mental health services, crisis interventions and hotlines, addiction and substance abuse treatment centers and case management.
You will work under the supervision of medical staff, or licensed professionals who have earned a master's or doctoral degree in the field of psychology or mental health. Roles include: providing administrative assistance to staff members, admitting and on-boarding patients, performing administrative tasks, participating in counseling sessions, maintaining a clean and organized environment, and coordinating patient care with administrators. Licensing guidelines will not allow you to enter private practice, but it is realistic to expect employment opportunities with organizations such as schools, hospitals, government institutions and other mental health treatment centers.
Master of Arts in Clinical Mental Health Counseling (M.A.)
<!- mfunc feat_school ->
Featured Programs:
Sponsored School(s)
<!- /mfunc feat_school ->
A Master of Arts, or M.A., in Clinical Mental Health Counseling takes your knowledge and expertise to the next level. All states require applicants to hold a master's degree (and meet experience requirements) to qualify for the licensing examination, which is the legal standard to become a licensed professional counselor and to practice mental health counseling on your own.
A master's program will address the advanced skills, concepts, theory, and technique needed to deal with complex emotional and mental issues, to respond to a variety of traumas and conditions, and to work effectively with clients of all ages. Graduates should enter the field equipped to address issues such as addiction, congenital mental health illness, emotional imbalance, PTSD (post-traumatic stress disorder), rare disorders and more.
An online master's in mental health counseling program will allow students to specialize in an area of their choosing, while also covering foundational learning goals such as:
Developing the competency to practice in alignment with legal, ethical and professional standards in the field
Applying theory and knowledge to the wide range of situations you will encounter
Learning skills to help you navigate the social, cultural, emotional and spiritual backgrounds of a wide array of clients
Promoting optimum wellness in clients of all ages
Diagnosing patients, developing strategies for treatment and providing different types of therapy to help them reach optimal mental health and wellness
Communicating with colleagues and other members of the support team
Evaluating current research, applying it to your own practice and adding to the current body of knowledge where applicable
Identifying opportunities to strengthen communities and organizations through appropriate administering of mental health counseling services
Gathering and analyzing data to inform your approach
Students enrolled in a master's program will learn to work with individuals and groups, to diagnose a wide range of conditions, and to practice preventative therapy, which is designed to help patients avoid further mental health degradation and perhaps identify issues before they become more serious. You will also learn to gather and evaluate data, perform statistical analysis, and conduct research studies.
Typically, online courses require a few visits to campus locations or meeting areas to take part in fieldwork and participate in lectures with instructors. Other activities, such as a clinical internship, are also facilitated in real world settings, rather than taking place strictly online. This, of course, ensures proper skill-building, and prepares the student to transition into professional life.
Doctor of Philosophy in Mental Health Counseling (PhD)
<!- mfunc feat_school ->
Featured Programs:
Sponsored School(s)
<!- /mfunc feat_school ->
A Doctor of Philosophy, or PhD, in Mental Health Counseling is a highly specialized degree. At this level, you will most likely concentrate on a specific area of mental health research and practice. Doctoral programs typically focus on leadership, advanced research roles, expertise in a specific aspect of mental health, or teaching.
You may apply to a doctoral program so long as you hold a master's degree. Depending on the program, your pre-requisite degree may need to be in a related field - check with an admissions advisor to learn more. Note that in many cases, you can find online programs that combine the master's and doctoral degrees, so you can transition seamlessly from one program to the other.
PhD programs focus on advanced theories and methodologies, leadership and advocacy, statistics and research, and research design, as well as deeper dives into psychology, sociology, social justice and more. To earn your PhD, you will need to complete courses related to the above subjects as well as prepare and deliver a dissertation, which is one of the most difficult aspects of any PhD program.
Upon graduation, you will be suited to a wide variety of careers. For instance, you can teach psychology and related courses to students, or supervise their clinical hours in an internship or practicum environment. You can provide research assistance to professors at universities, or become a professor yourself.
You also have the option of entering private practice, and specializing in a chosen area of mental health counseling where you have the proper experience and qualifications. Many counselors who hold PhDs, for instance, will specialize in grief or abuse, helping their clients overcome very difficult experiences and traumas. You can also choose to narrow your focus by working with a specific sociocultural group with issues related to gender, sexual orientation, or religious affiliation. Some professionals choose to work with specific age groups, such as children, adults, or seniors. Still others go into research, to contribute to the academic advancement of the broader community. Many graduates pursue studies and research projects to solve a specific problem, with the intention of sharing (publishing) their findings with the research community.
The Importance of Accreditation
When considering online programs, accreditation is key. If you choose a program that isn't accredited, you not only risk compromising your fundamental knowledge base and skill set, but your "degree" most likely won't be accepted by the board or governing body in your jurisdiction. This means you can't earn the certification and license you need to practice.
Accreditation is a process whereby your institution of higher education meets minimal standards set by the state or another governing body – in the case of mental health counseling, it's the Council for Accreditation of Counseling & Related Educational Programs. It's a simple matter to check whether your program is accredited (you can find the information on their website). If you can't locate an answer on a college or university website, speak to an admissions advisor, and ask if the university program meets the accreditation standards of the CACREP. You can also check with the U.S. Department of Education.
Reasons to Purse a Degree in Mental Health Counseling
Mental health is an ever-expanding field, and that's a good thing. While in past centuries the mentally ill have been disregarded or subjected to inhumane treatment, we now recognize the frequency of mental illness and the need to treat it in kind, productive ways. More and more people are flocking to the field as a result.
Mental health counselors are a critical part of the solution to the growing issue of mental illness across the country. They work with patients to help them through traumas, to deal with common emotions such as grief and anxiety, and to overcome or mitigate the symptoms of congenital mental disorders, developmental delay and more. Through diagnosis and proper treatment, mental health counselors assist their patients in living fuller, more productive and happier lives overall.
If you become a mental health counselor, you can choose to work with individuals, couples, families, groups or even institutions and corporations. You can find employment at a variety of establishments, such as schools and hospitals, or you can go into practice for yourself. And you can rest assured that you will make a difference in someone else' life each and every day.
A few other reasons to join the field of mental health counseling? You can be part of a growing profession, earn the respect of colleagues and patients, work toward increasing diversity, provide a service for your neighborhood, state or country, and reap the rewards and satisfaction of daily challenges and success.
Learn about how to become a mental health counselor.