Substance Abuse Counseling Degree Programs & Schools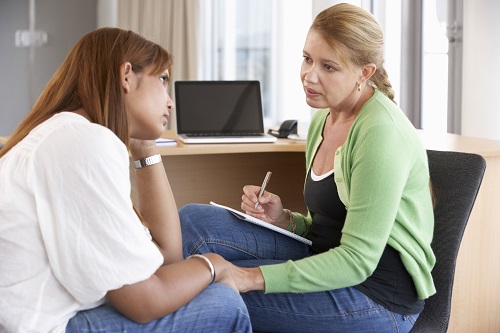 <!- mfunc search_box_body ->
<!- /mfunc search_box_body ->
<!- mfunc feat_school ->
Featured Programs:
Sponsored School(s)
<!- /mfunc feat_school ->
The purpose of substance abuse counseling is to help people overcome an addiction. The work involves evaluating a patient's mental and physical state and devising an appropriate treatment plan. The number of people who need help is vastly greater than the number actually getting it.
According to the National Institute on Drug Abuse, over 23 million people over 12 needed help for treatment of alcohol or illicit drug abuse in 2009. But just over 2.3 million actually received help in a treatment program.
The reasons why people abuse certain substances is complex and individual. This makes substance abuse counseling a very challenging field. In many cases, people are also suffering from mental health problems that contribute to the addiction.
In addition to creating a treatment plan, counselors provide psychological and emotional support to patients. They can educate people about the risk of addiction and help people from relapsing. This is why it is important for substance abuse counselors to seek formal education if only because states now require clinical substance abuse counselors to acquire licenses that require applicants have a graduate degree.
According to the U.S. Bureau Labor Statistics, there are almost 100,000 substance abuse or behavioral counselors spread across the United States. This is clearly not enough professionals to help deter the substance abuse epidemic in the country, but it is a good place to start.
Bachelor's Degree in Substance Abuse Counseling
Generally speaking, there are no Bachelor's degree in Substance Abuse Counseling specifically. They do exist, but most students choose to major in general counseling, psychology, social sciences or something else. That said, Master's degree programs, which are the ones that lead to licensure, usually require applicants to have at least 40 to 60 credits in addiction studies and a supervised internship or field experience. Typical classes in a bachelor's degree curriculum include:
Sociology of addiction
Individual counseling
Group counseling
Chemical dependency diagnosis
Psychological evaluation
Pharmacology and psychopharmacology
Master's Degree in Substance Abuse Counseling
A Master's degree for substance abuse counseling can be an Master of Science, Master of Arts or Master of Social Work. Some Master's programs are available that specialize in substance abuse counseling. Others require that you get a Master's degree in social work or psychology, and later go through a certificate program to qualify as a substance abuse counselor.
Typical programs in a Master's curriculum include:
Orientation to addiction
Human growth and development
Building your ideal private practice
Social and cultural foundations of counseling
Psychopathology and personality disorders
In most states, a Bachelor's degree suffices to get licensed and certified as a counselor in substance abuse. But a Master's degree is usually required for management positions or senior-level placement in drug and alcohol treatment centers and other facilities.
Doctoral Degree in Substance Abuse Counseling
The average time to earn a PhD in substance abuse counseling is four years.
Three common specialties in PhD programs in substance abuse counseling are:
PhD in Rehabilitation Counseling with a concentration in addictions therapy
PhD in Counseling Psychology
PhD in Rehabilitation Counseling with a concentration in substance abuse and clinical counseling
Typical courses in the PhD curriculum include:
Theories of rehabilitation therapy
Diversity training
Prevention strategies
Session therapy
Advanced treatment techniques
Counseling ethics
A PhD is not required for working as a licensed substance abuse counselor. But it is necessary for advanced research positions, teaching at a university and working as a substance abuse program administrator.
Career Outlook for Substance Abuse Counselors
According to the Bureau of Labor Statistics, substance abuse counselors earn an average of $39,980. Those who work in psychiatric and substance abuse hospitals earn more, averaging $45,340. Those working in scientific research and development services earn an average of $67,380, those at junior colleges $72,520 and those at insurance carriers, $54,960.
The job outlook is good, predicted in to increase by 22% through 2024. That is much faster than average for jobs overall.
For people working as medical and health services managers, the average pay is $94,500 a year. This category would include substance abuse counselors with a Master's or PhD who manage treatment programs and facilities. The job outlook is good for this type of work, predicted to increase by 17% through 2024.
Substance abuse counselors can work in a variety of positions, including:
Nursing homes
Hospitals
Halfway houses
Correctional institutions
Mental health treatment centers
Drug and alcohol rehabilitation centers
The major professional organization for this field is The National Association for Alcoholism and Drug Abuse Counselors, NAADAC, which is also called the Association for Addiction Professionals.
Read more about becoming a substance abuse counselor.
Certifications and Licensing for Substance Abuse Counseling
Substance abuse counselors must get licensed by the state where they work. They need to pass the exam administered by the National Board for Certified Counselors in many states.
You can become licensed as a drug or alcohol counselor, behavioral health specialist or mental health counselor with just a Bachelor's degree in many states. Job settings include residential or outpatient facilities, corporate wellness departments and government, medical or commercial clinics.
For national certification, you need a Master's degree in counseling or related field plus practical experience. This includes 3,000 hours working as a counselor, plus 100 hours of supervised work for two years after earning the Master's. Most people at this level become certified as a Master Addiction Counselor through the Association for Addiction Professionals.
Online Substance Abuse Counseling Degrees
There are numerous online options for getting a Bachelor's degree and Master's degree online. Many are entirely online, while others combine in-class and online coursework. Both Bachelor's and Master's programs require a supervised internship. Master's degree programs also require a practicum.
Like most areas of study, there are few online programs for earning a PhD in substance abuse counseling. However, in many programs some parts of the curriculum may be available online.
Three schools that do offer online PhD programs in substance abuse are Capella University, Liberty University and Walden University.