Crisis Intervention Specialist Careers
<!- mfunc search_box_body ->
<!- /mfunc search_box_body ->
<!- mfunc feat_school ->
Featured Programs:
Sponsored School(s)
<!- /mfunc feat_school ->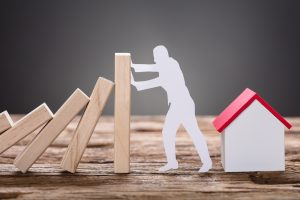 The word "crisis" pops up in the media everywhere today, from internet news to television broadcasts, on the headlines of newspapers to the home next door. While research reports that most people consider themselves happy, unfortunately, many people do not lead balanced lives. When crisis strikes – either mental, physical, or social – people are sometimes pushed past their threshold of endurance. They may lack the tools and/or the abilities to handle a situation in which they find themselves.
It's when these unfortunate events occur that a crisis intervention specialist steps in. Those who specialize in crisis intervention are tasked with providing assistance and resources for people who cannot provide for themselves during a critical event. It's a noble, fulfilling career, but students considering crisis intervention as a job should decide carefully whether it's for them. It's a high-intensity job with the potential for working long hours, encountering difficult situations, and running the risk of significant burnout.
Before you decide, take into account a number of factors, including the job description and the type of knowledge necessary to perform it successfully. An understanding of both salary and hiring prospects, as well as the specific educational requirements necessary to earn a degree to obtain employment in in this field, will also help in making the best decision.
What Is Crisis Intervention?
To understand the role of a crisis intervention specialist, it's essential to know exactly what constitutes a crisis. Certified Trauma Specialist Jeffrey T. Mitchell, Ph.D., explains that a crisis is an "acute emotional reaction to a powerful stimulus or demand. A state of emotional turmoil. Three characteristics of crisis: The usual balance between thinking and emotions is disturbed; the usual coping mechanisms fail; there is evidence of impairment in the individual or group involved in the crisis."
Moreover, crisis is not merely an external incident. If an individual experiences difficult circumstances but is able to respond effectively to them, it's not considered a crisis. On the other hand, if a person undergoes a traumatic event – death, war, injury, or a significant emotional disturbance, for example – but cannot deal with it, and, as a direct outcome, demonstrates psychological unbalance, this person has experienced a crisis.
Crisis intervention is when someone steps in to provide immediate assistance to help remedy a crisis situation. Typically, crisis intervention addresses the underlying emotional and psychological elements that caused the event in an attempt to help affected individuals restore their equilibrium and return to a state in which they have the ability to cope. In some situations, the crisis requires a physical response as well; for example, if someone suffers a severe physical injury or experiences a natural disaster in which aid relief is critical, intervention calls for a physical reaction. However, the primary focus in crisis intervention is a response to an emotional occurrence.
<!- mfunc search_btn -> <!- /mfunc search_btn ->
What Does a Crisis Intervention Specialist Do?
A crisis intervention specialist's is a type of counselor and their primary role is to help a patient's psychological response to a specific situation. Crises are typically short-term in nature, usually lasting no longer than a month, but during those four weeks, the individual will need a higher level of care during the acute period, which usually gradually tapers off. That does not mean, however, that the effects of the crisis do not persist, which is why crisis intervention counselors require specific training to help minimize the long-term emotional damage.
A crisis intervention specialist may consult with clients in their own personal offices or travel to schools, offices, or areas in which a traumatic event has occurred to help affected people respond to a crisis. They may also train others in crisis intervention and coordination of services to help individuals receive the care they need. When necessary, they may refer affected individuals for long-term counseling if it's clear that a brief amount of counseling will not be enough to address the emotional trauma.
A crisis intervention specialist needs an array of knowledge types and abilities to perform successfully in this role. These include, but are not limited, to:
Understanding the typical effects of grief and loss
Knowing which social services are available to different individuals
Coordinating services with multiple government or aid organizations
Compassionate listening skills
Ability to guide a patient in a calm, professional manner toward making healthier choices without rendering judgment
Understanding of the progression of the emotional states following trauma
Assessing a crisis effectively in the earliest, most-critical stages
Maintaining a network of other specialists to whom you can refer the patient for ongoing care once the immediate crisis has passed
Organizational skills
"People" skills – the ability to relate to a variety of personality types in people from all walks of life
Willingness to work long and/or difficult hours
Understanding how environment impacts a person's emotional state
Recognizing emotional disturbance versus true crisis
Handling multiple cases at once
Communicating information and ideas to others effectively
Performing assessments
Many events or experiences can cause a trauma. Individuals with severe depression, anxiety, or stress may be suicidal. In other cases, the person may need assistance in moving past a severe medical incident or mental breakdown. In all instances, the crisis intervention specialist must have the ability to tailor his services to meet the specific crisis of the individual in need.
Specialists must be aware of the typical responses to trauma, including guilt, disorientation, uncertainty, poor concentration, physical symptoms (sweat, heart rate, vomiting), apathy and depression, hypersensitivity, and more. Some individuals may stop eating or sleeping, while others will appear normal, but experience difficulty in processing and expressing their emotions.
Principles of Crisis Intervention
A number of principles form the bedrock of crisis intervention theories and practices. One of the most important, explains G.S. Everly, Jr., is to avoid attempting an intervention too early: "Premature intervention may not only waste valuable intervention resources, but may serve to interfere with the natural recovery mechanisms of some victims. Crisis intervention services should complement and augment natural recovery and restorative mechanisms, not interfere with such mechanisms."
Other principles on which a successful crisis intervention response should include are as follows:
Simplicity: The response should be as simple as possible to avoid exacerbating the situation.
Brevity: The response should be brief, keeping the intervention within a one-month window or less.
Innovation: When necessary, the intervention must adapt to the surroundings.
Pragmatism: The response should be based on a common-sense attitude.
Proximity: The response should take place within the vicinity of the crisis, not from a remote office or facility.
Immediacy: Gathering resources and meeting with affected individuals should occur quickly.
Reliability: Those in crisis should feel as though their needs will not only be addressed immediately, but also on an ongoing basis while the crisis runs its course.
Understanding: The individual in crisis should receive help in understanding what's happening, why it's happening, and what to do about it.
Problem-solving: The specialist should provide the patient with the tools necessary to help him cope on his own once the crisis has passed.
Crisis Intervention Specialist Salary & Employment Outlook
A crisis intervention specialist is classified as a "social and human services worker." Average salary, according to the U.S. Bureau of Labor Statistics, is $41,600 per year, which translates to roughly $20.00 per hour. However, the BLS lists a high-school diploma as the minimum degree necessary to enter the field; however, crisis intervention specialists typically need at least a bachelor's degree (discussed in more detail below). An advanced degree, combined with a rise in wages with tenure in the field, means a degree-holding crisis intervention specialist with several years in the field will likely earn a higher salary.
Job outlook for professionals in this field shows positive growth. Jobs are increasing at a rate of 12%, which is much faster than average. Between 2021 and 2031, the BLS projects available jobs to increase by an additional 52,400 positions.
Crisis Intervention Jobs & Job Description
Crisis intervention specialists may work in a variety of settings, including schools, workplaces, refugee camps, mental hospitals, medical hospitals, clinics, in their own office – or in multiple settings on a rotating basis. State agencies and nonprofit organizations often employ crisis counselors, though these positions typically require a higher level of education than others.
Jobs in the crisis intervention field include telephone crisis specialists; counselors who work specifically with government institutions (FEMA, for example); domestic abuse counselors; counselors at police departments; sexual assault intervention specialists; and more.
In any type of position, as a crisis intervention specialist, your role is to help people in crisis who have experienced difficulties in navigating the challenges they will face in the days, weeks, and months to come. Duties include counseling one-on-one with patients, documenting their situation and progress, working with other professionals involved in the case, helping procure services by working with other agencies, and more.
The typical duties and responsibilities of a crisis intervention specialist include:
Providing critical resources and support to individuals in crisis
Collecting data and using it to make informed decisions regarding individuals and populations
Coordinating legal intervention, outreach, referrals, services, and more
Assessing patients to determine their needs
Providing crisis management services during the acute stage, then tapering off as the individual, as a result of counseling, learns coping mechanisms and regains control of her life
Following up as required
Maintaining communication with family members, medical providers, government agencies, and other stakeholders
Handling time-sensitive calls and emails, even during off-hours
Analyzing data from surveys and notes
Maintaining financial records
Organizing patient data and maintaining files
Communicating, both orally and in written form, with other members of a team to improve program efficiency or overall crisis intervention success
Disseminating information to others who need it
Adding to the overall discourse in the field with research, reports, publications, and more
Providing individuals in crisis, family members, and the surrounding communities with information as to the nature of the crisis, why it's happening, and what it means for them
Conducting briefings and workshops
Training and licensing others in the field
Before accepting a position, prospective crisis intervention specialists should ask in-depth, detailed questions as to what the job entails. Some people are able to deal with long hours in difficult environments; others are not. Similarly, witnessing abuse and helping the individuals involved may evoke a compassionate response in some, but horrify someone else to such a manner that he becomes incapacitated and ineffective. It's important that the candidate understands his own nature and abilities and have a clear idea as to what each job requires before accepting the job. Otherwise, the result may be rapid burnout or worse.
In any case, it's crucial that the intervention specialist plans time off to rest, relax and recharge. Even those who love their jobs may burn out in such a demanding field. It's much easier to avoid rapid burnout by making time for an appropriate amount of self-care and downtime.
Crisis Intervention Specialist Degrees & Education
The first step in obtaining a good position in crisis intervention is to earn a bachelor's degree. Typically, students choose majors such as psychology, sociology, women's and gender studies, social work, or education. With a bachelor's degree, you can work in the field of crisis intervention, but you will not able to work one-on-one with patients. Individual intervention counseling requires a master's degree in psychology or social work.
After obtaining a bachelor's degree, you may wish to earn a master's in counseling or psychology, both of which will enable you to work with patients on an individual basis. An advanced degree also enables you to work on more interesting cases in a wider variety of settings. As a specific major, crisis counseling is typically offered at the master's level (and sometimes at the bachelor's level), a degree that provides a firm foundation for becoming a crisis intervention specialist.
Some specialists may choose to earn a Ph.D., which requires not only that they understand the basic tenets of the field, but that they meaningfully contribute to the overall body of knowledge in some way through publication in peer-reviewed journals and the like. A doctorate can advance your career even further and make it easier to obtain employment as a crisis intervention-training instructor or in academia.
Crisis Intervention Licensing & Certification
No formal licensing or training requirements exist to become a crisis intervention specialist other than those normally required for licensure to work in the field. For instance, if you plan to find employment in a facility that offers therapy, in a larger organization, or work out of your own office to provide individual crisis management sessions, you must first obtain a license.
However, because very few schools offer a program or degree dedicated solely to crisis intervention, many specialists choose to earn certifications, which also help them advance in their careers. A certification proves that the candidate possesses an additional level of expertise beyond an existing, more general degree. Crisis intervention specialists may earn certifications in intervention assessment and treatment, clinical stress management, nonviolent crisis intervention, crisis and trauma counseling, intervention theory, treatment planning, and more.
<!- mfunc search_btn -> <!- /mfunc search_btn ->
Many jobs offered through nonprofits, the government, and the private sector offer opportunities for continuing education, which is an ideal time to earn extra certifications and expand future opportunities.
See the AIHCP website for further information on certification options.
2022 US Bureau of Labor Statistics job market trends and salary figures for social and human service assistants are based on national data, not school-specific information. Conditions in your area may vary. Data accessed July 2023.