Licensed Professional Counseling Careers
<!- mfunc search_box_body ->
<!- /mfunc search_box_body ->
<!- mfunc feat_school ->
Featured Programs:
Sponsored School(s)
<!- /mfunc feat_school ->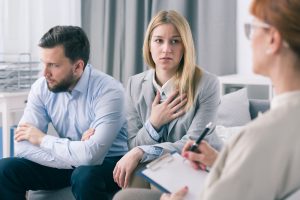 Counseling is a time-honored profession. While people used to receive it from the village shaman or neighborhood wise woman, though, it is now a professional career in which you have the opportunity to help people from a wide variety of backgrounds, populations and ages.
If you've spent your life looking for ways to help people better theirs, counseling might be the profession for you. It requires patience, kindness and a whole lot of listening, but it also offers the opportunity to constantly increase your skills, deepen your compassion, learn more about people and – let's be honest, this is important as well – make a pretty good paycheck.
Before you dive headfirst into a counseling program, however, it's important to make sure it's the career for you. Learning more about what a professional counselor is, does, and experiences on a day to day basis can help you make a much more informed decision. If you're ready to learn more about your next possible career, sit down, and let's get started.
What Is a Licensed Professional Counselor?
Licensed professional counselors – which may also be referred to as licensed mental health counselors or licensed clinical professional counselors – are trained to work with groups, families and individual people in a clinical setting or private practice. They may address mental, emotional, social or behavioral issues, all with an eye towards helping people find better alternatives to unhealthy ways of dealing with the challenges of daily living.
While there are many different professions with the same basic goal, licensed professional counselors make up the bulk of the expert population when it comes to treating these issues.
Licensed professional counselors may serve any number of roles in any number of organizations or institutions. They may focus on mental health in children, adolescents, adults or the elderly. They may work in private practice, in hospitals, in schools, with veterans or with the military, both at home or abroad. They may be employed by corporations or non-profits, and a wide variety of other health centers, agencies and organizations.
At the most basic level, however, licensed professional counselors help people get better, wherever possible. They help them move past trauma, deal with grief, learn to engage with other people in a healthy manner, heal from addiction and live full lives even with mental illness. They provide therapy, encourage families and couples to work together as teams and essentially … they counsel.
What Does a Licensed Professional Counselor Do?
Licensed professional counselors may work as mental health service providers, whose main role is to assess people for disorders and provide courses of treatment. They may also help treat people or families for specific, already known conditions: congenital disorders, shared traumas, or even simple differences of opinion that make living together and communicating difficult.
Counselors are frequently engaged by hospitals or clinics, and are usually covered by managed care organizations and health plans, making their services affordable and accessible to a wide range of populations.
Typically, counselors spend most their time engaging in talk therapy. They provide counseling to married couples to help them strengthen their relationship, and to provide a more stable home environment for their children. They consult with companies and organizations to assist with change management, differing opinions, buyouts and mergers, and other difficult situations. They also help with children, teenagers, adults and the elderly deal with cognitive-behavioral, interpersonal and mental health issues. In doing all this, they may simultaneously gather information for research.
<!- mfunc search_btn -> <!- /mfunc search_btn ->
Counselors may be responsible for one, multiple, or all of the following duties:
Assessing mental health conditions and disorders
Providing psychotherapy, which is therapy based on the workings of the mind rather than on medical approaches
Suggesting courses of treatment, help adjust them as necessary and review results
Offering brief courses of targeted treatment for a single issue, such as the death of a loved one or an assault
Helping to manage crises, like suicide attempts, war or other traumas
Diagnosing tough cases and advance psychopathology, or the scientific understanding of mental disorders
Providing counseling to a wide variety of groups
Furthering the understanding of human growth and development
Performing research and evaluations to gather data, inform decision-making or assist larger groups or communities in making positive change
Helping people improve their lives, careers and family situations
Helping parents revamp their homes and lifestyles to regain control of children who may have been removed by the state
Creating safe social and cultural communities in which children, adolescents, adults and the elderly can take part
Supervising the practicums and internships of new counselors
Managing paperwork
Billing insurance
Submitting career information and data to help inform government agencies or professional groups about the field
… and so much more. It is important to note, that before you can perform any of these duties and services for the people in your community, you must meet strict minimum requirements to be deemed qualified.
Licensed Professional Counselor Qualifications
Licensed professional counselors must meet several qualifications before working, and using the title "Licensed Professional Counselor":
A master's or doctoral degree in counseling from an accredited institution, as determined by the governing body in your jurisdiction
Qualifying internship during school
Completion of 3,000 hours' clinical work supervised by a currently practicing licensed professional counselor
Passage of the National Counselor Examination (NCE) or an equivalent exam
Continuing education to maintain licensure in the following years, including courses regarding theory as well as ethics, reporting and more
Adherence to a code of ethics, as established by the governing body in your jurisdiction
Typical Work Environment & Occupational Challenges
Licensed professional counselors may take on a wide variety of more specific roles, which will influence their work environments and typical challenges. For instance, about 65,300 people are engaged in marriage and family therapy, and the numbers are growing all the time. Many of these practice individual and family services, while others provide care in state and local government institutions. They may work in outpatient centers or nursing homes, schools and hospitals, or residential care facilities and foster homes.
Mental health counselors provide similar services, but with a stronger focus specifically on mental health disorders. They too can be found practicing individual and family services, frequently work in outpatient mental health and substance abuse centers, help people overcome intellectual and developmental disability – often in mental health or substance abuse facilities – and can even work in advisory roles in the private sector.
Frequently, counselors work in private practice. They lease their own offices, then see people on an individual, couples, or family basis. In this setting, they use talk therapy to help individuals deal with issues in life, ranging from abuse to mental health disorders to relationship problems. They may sometimes travel to meet patients, or even work with them over electronic media, such as Skype.
In a self-employment role, counselors will have to do their own marketing, which can be one of their main challenges. This is not necessary when working for institutions. However, no matter what role you take on, you will frequently have to deal with the emotional weight of difficult situations: abuse and neglect of children or the elderly, domestic violence and even the distressing outcomes of war.
Plus, most counselors work full time, and put in lots of hours in the evenings and on weekends to accommodate client schedules. This can lead to burnout and overwhelm if you aren't careful, as can the sometimes-burdensome takes of working with insurance companies to get paid. Make sure, if you become a counselor, that you plan plenty of rest and balance into your schedule to avoid this occurring.
Licensed Professional Counselor Salary & Job Outlook
While titles vary by state, institution and more, licensed professional counselors generally fall under the heading of mental health counselors. The Bureau of Labor Statistics (BLS) reports that the median income for mental health counselors is $49,710 as of May 2022. While this may not seem like much, keep in mind that the growing field is bringing overall averages down, because so many counselors currently in practice are young and at the beginning of their careers. Over time, you may increase your salary. According to the BLS, the top 10% of mental health counselors make around $82,710 and up.
More good news? The field is also growing: at a rate of 22%, to be exact, which is much faster than average. If you go to school for a degree in counseling, you may very well enjoy a long career in this rapidly expanding field.
Licensed Professional Counselor Jobs & Job Description
Depending on the specific role, the specific populations with which they work, and the institutions they may be employed by, a counselor's role may vary quite a bit. Some may work with specific populations, such as college students or the elderly. Others may address specific issues, such as grief, terminal illness, anxiety and depression, suicidal tendencies or serious traumas.
Many mental health counselors use cognitive therapy, which helps people address how they think about various issues. They may also use behavioral therapy, which addresses the connection between thoughts and behaviors with the goal of curbing unhealthy behaviors and substituting healthier ones. Other counselors help ensure that patients who have been put on a medical treatment plan have been responding well. Still others gather information and diagnoses to report to health care teams.
Counselors are always responsible for reporting any cases of suspected abuse, neglect or violence. In any cases where they suspect a person may harm themselves or others, they are also required by law and the professional code of ethics to report it to the proper authorities as soon as possible.
Licensed professional counselors must possess a range of important skills and knowledge. Their scope of duty requires that they:
Understand common mental health disorders
Know the effects of different medications, their interactions, their side effects and other salient information so they can "keep an eye" on patients who are taking them
Have a good bedside manner and earn the trust of patients easily, which makes counseling more effective more quickly
Help people make good decisions without forcing anything or giving their own opinion more weight than their clients'
Assist people in adjusting to very difficult changes, such as layoffs or divorce
Refer people to other resources in their communities
Be able to manage paperwork, business records and financial documents
Help people manage disorders through the best practices techniques in their fields, ranging from psychotherapy to cognitive behavioral therapy and more
Work well with other members of health care teams, including doctors, nurses, specialists, psychologists and social workers
Licensed Professional Counselor Degrees & Education
Every state in America, as well as federal institutions and most organizations abroad, require a license to practice counseling services. While the specific requirements vary by jurisdiction, most roles also require you to have a master's degree – especially if you plan to go into private practice. The program from which you earn your degree must be approved by the Council for Accreditation of Counseling and Related Educational Programs, or an equivalent organization.
After earning your degree, you must obtain residency or undergo an apprenticeship. This is a period during which you are overseen by a licensed, practicing counselor to help you hone your technique, internalize the code of ethics and amass the skills you need to assume the role on your own. After this, you will take your licensing exam so that you can become a full member of the profession.
<!- mfunc search_btn -> <!- /mfunc search_btn ->
Counselors help people, plain and simple. Yes, the road to private practice or a good job at with an organization can be long, but if your goal is to better the world and the lives of the people around you, there's no better way to do it than this.
<!- mfunc feat_school ->
Featured Programs:
Sponsored School(s)

<!- /mfunc feat_school ->
Learn more about online counseling degrees and counseling schools.
2022 US Bureau of Labor Statistics job market trends and salary figures for marriage and family therapists and mental health counselors are based on national data, not school-specific information. Conditions in your area may vary. Data accessed July 2023.