Pastoral Counseling Degree Programs & Schools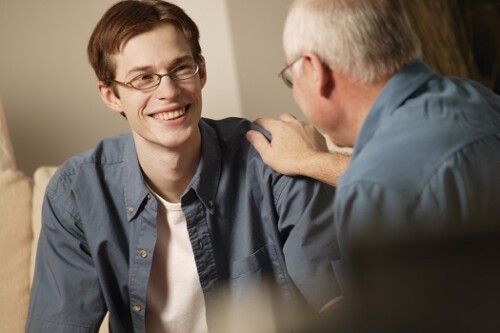 <!- mfunc search_box_body ->
<!- /mfunc search_box_body ->
<!- mfunc feat_school ->
Featured Programs:
Sponsored School(s)
<!- /mfunc feat_school ->
Pastoral Counseling is where theology and psychology meet. Counselors use insights from their belief system in conjunction with standard psychological methods to bring comfort and support to those in stressful situations. As trained mental health professionals, they have the skills to provide spiritual guidance as well as psychological therapy.
The aim is to help their clients, usually members of their parish or religious group, use their beliefs in a way that helps them successfully meet the challenges in their daily lives and to increase their spiritual awareness.
According to the Association for Clinical Pastoral Education, formerly the American Association of Pastoral Counselors, not only is the practice growing (it apparently accounts for three million hours of treatment annually) but also still an under-represented group. Less than 13 percent of clergy members have any formal training in substance abuse issues according to the National Center in Addiction and Substance Abuse yet nearly 25 percent of those seeking treatment for the issue are serviced at least in part by a faith leader.
Because pastoral counselors weave religious beliefs into practical therapy, they need a strong grounding in both theology and psychology. They must be fully conversant with the belief systems of their religious group.
Bachelor's Degree in Pastoral Counseling
<!- mfunc feat_school ->
Featured Programs:
Sponsored School(s)
<!- /mfunc feat_school ->
Pastoral Counseling is still very much a niche subject and employment field, there is no specific Bachelor's degree in the subject. Several majors can lead to a degree in Pastoral Counseling, including theology, religious studies, psychology or another degree in the field of human services. A counseling degree will also do the trick. Many students choose a school that that has a major in pastoral ministry with a concentration in counseling. Most students plan to get a Master's degree after successfully completing the BA.
At the undergraduate level, the pastoral counseling curriculum is broad and generalized. It can include business management and administration, in addition to classes that are related to theology and counseling.
Typical courses leading to a Bachelor's degree include:
Crisis counseling
Christian apologetics
Reconciliation
Developmental psychology
Theology
Master's Degrees in Pastoral Counseling
The average time to earn a Master's degree in Pastoral Counseling is three years, which includes time as a clinical counselor supervised by a licensed professional.
Many students who work within a religious group choose to get a Masters of Divinity degree, with a concentration in theology or pastoral counseling. They must also take classes to help them with counseling and most require that a supervised internship. These are predominantly offered by theological seminaries, but those seminaries aren't the only schools offering graduate degree specifically in Pastoral Counseling. Other schools like Loyola University of Chicago and Fordham University offer the degree both on-campus and online.
Students accepted into a Pastoral Counseling Master's degree program need a BA, but it can be in almost any major. Typical classes for a Master's degree include:
Prayer
Scripture
Christian ethics
Couples therapy
Psychopathology
Doctoral Degree in Pastoral Counseling
The average time to complete a Doctor of Philosophy degree in Pastoral Counseling or Doctor of Theology degree is four to six years. This includes completing a dissertation or supervised clinical work.
Students accepted into a doctoral program for Pastoral Counseling usually have a Master's in the field or experience in the ministry. These programs give students a chance for advanced study and clinical work. The goal is to be able to offer mature, emotionally grounded support, both psychological and theological, for members of their religious group who seek help with issues. With a doctorate, counselors can teach or do research.
Typical courses at the doctoral level include:
Christian history
Ecclesiology
Interpersonal communication
Psychotherapy
Ethics
Empirical research
Practical theology
Career Outlook for Pastoral Counseling
According to the Bureau of Labor Statistics, Marriage and family therapists and mental health counselors are in demand. (These are the closest matches that the BLS gets to a Pastoral Counseling specialty.) The demand is predicted to increase by 19 percent through 2024. Marriage and family therapists average $48,600 and mental health counselors average $43,190.
People with Master's degrees can work as church administrators, outreach directors, youth ministers, liturgical ministers or editors and other leaders in a parish. Graduates of a program can serve as
Advanced level clinicians,
Counselor educators,
Clinical supervisors, and
Researchers integrating the fields of psychology and counseling.
They work in hospitals, correctional facilities, domestic violence centers, religious organizations and churches. They can specialize in:
addiction treatment
hospice ministers
mediation workers
pastoral associates
interfaith counselors
depression counselors
mental health counselors
marriage and family counselors
child counselors
pre-marriage counselors
Read more about pastoral counseling careers.
Certifications and Licensing in Pastoral Counseling
After going through a Master's program and completing a supervised internship, students can seek certification by the Association for Clinical Pastoral Education. The American Association for Marriage and Family Therapy is the official group for marriage and family therapists. For mental health counselors, the group is the American Mental Health Counselors Association. 
The supervised residency or internship can be one-on-one, group therapy, couples counseling or family counseling.
Six states have licensing for Pastoral Counselor. The other states offer licensure for Marriage and Family Therapist or Clinical Professional Counselor. As a rule, counselors in churches, private schools and religious organizations don't need to be licensed.
Online Pastoral Counseling Degree
There are several online degrees available for online Master of Arts in Pastoral Counseling and online Doctorate in Pastoral Community Counseling. These were developed to give religious workers greater flexibility. They can take classes when they have the time and from home.
For example, the University of St. Thomas in Minnesota offers a Masters of Arts in Pastoral Ministry. It is a 48-credit program that meets the National Certification Standards for Lay Ecclesial Ministers.
Luther Rice Bible College and Seminary has a Master of Arts in Biblical Counseling degree that is entirely online. It is 36 semester hours.
Grand Canyon University has a 48-credit Master of Science in Christian Counseling of Substance Use and Addictive Disorders.
<!- mfunc feat_school ->
Featured Programs:
Sponsored School(s)
<!- /mfunc feat_school ->