Saba Harouni, LMFT ATR BC
<!- mfunc search_box_body ->
<!- /mfunc search_box_body ->
<!- mfunc feat_school ->
Featured Programs:
Sponsored School(s)
<!- /mfunc feat_school ->
Therapist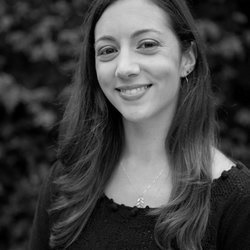 A well-known key to success is having passion for that which you do. The greatest career in the world is doing something that doesn't feel like work because it combines what you love with how you earn your income. Therapist Saba Harouni did exactly that when she combined her passion for art with her desire to become a therapist. As a licensed Marriage and Family Therapist and Board Certified Art Therapist, Harouni derives great satisfaction from working with clients at her Los Angeles-based private practice. Her specialty is helping adolescents and young adults who engage in risky behaviors by integrating art therapy, person-centered therapy, cognitive behavioral therapy, and psychodynamic therapy. Her daily goal is to create a safe and supportive therapeutic environment in which growth is fostered and change accelerated. Harouni's practice strives to help clients develop safe coping-skills and insights in order to find greater meaning and satisfaction in relationships and their daily lives.
What happened in your life that made you want to become a therapist?
I really wasn't sure which career path I wanted to take, or even which major to choose when I was a freshman in college. Fortunately for me, the college I was attending offered a class that helped individuals like me determine different possible careers that would suit our interests and values. This is where I first learned of art therapy and ultimately made a choice to pursue a career in psychology. As a troubled teenager, I had experienced both helpful and unhelpful therapy myself and knew I wanted to work in a helping field. I was also always interested in art as a way of self-expression. Learning about art therapy helped me finally put all the pieces together.
Were you academically driven as a young person?
I did not do very well in high school, and after high school I found myself enrolling in community college. This is not something I was happy about at the time, but I believe it was a blessing in disguise. From Santa Monica College I transferred to UC Berkeley, where I majored in psychology and minored in gender studies. After earning my B.A., I spent two years working and taking art classes because I needed both an art portfolio and a certain number of art units to apply to programs in art therapy. Ultimately, I decided to attend Loyola Marymount University, where I received a master's degree in marriage and family therapy specializing in art therapy. I really enjoyed the program and feel confident about the skills I gained there.
<!- mfunc search_btn -> <!- /mfunc search_btn ->
What was the hardest part about your educational experience?
There were two challenges I faced. One was continuing to push myself to pursue my educational goals. While I knew that I wanted to go to graduate school after earning my bachelor's degree, there were additional requirements that I needed prior to applying that meant really being committed to this pursuit. There were times when it was difficult to continue taking steps towards my objective of applying to and attending graduate school, due to financial limitations. Additionally, studying to be a therapist was sometimes difficult because so much of the focus was on self-reflection, and in our program it was mandatory to participate in individual therapy while learning how to be a therapist. While this was really helpful and assisted in my personal growth, there were times when it was also really challenging.
Do you have a special story from your practice?
I founded my practice after working at numerous community mental health agencies. When I began private practice, I was feeling quite burned out and was even unsure that I had chosen the right career path. Private practice was rejuvenating and affirmed that I had correctly chosen the right line of work. I am fortunate enough that I am able to work in private practice while also continuing to work at a community mental health agency. I bring new insights into both types of work and I'm feeling much more energized in the work that I do.
My understanding of art therapy is that it is an avenue through which a client can communicate. How does art therapy help clients?
Using art as a different method of communication can allow both the therapist and the client to explore patterns, insights, and issues in a dynamic way. Clients are sometimes better able to explore their feelings and increase self-awareness through the art.
I also believe that art interventions can be really powerful during the termination process. By encouraging the client to create art about termination, the client is invited to explore their feelings about saying goodbye to the therapist.
What advice would you give to someone thinking about embarking on a career as a therapist?
If it's possible, take the time to interview someone, or multiple people, who work as therapists. There are many different types of therapy and people practice in many different ways. This could help shed light on the type of work you want to do and if this really is the right field for you.
<!- mfunc search_btn -> <!- /mfunc search_btn ->