How to Become a Licensed Counselor in Colorado
<!- mfunc search_box_body ->
<!- /mfunc search_box_body ->
<!- mfunc feat_school ->
Featured Programs:
Sponsored School(s)
<!- /mfunc feat_school ->
How Do I Become a Licensed Professional Counselor in Colorado?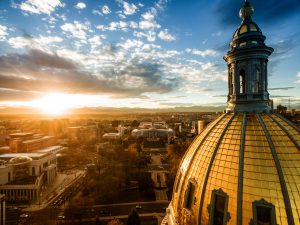 The Centennial State is home to sweeping vistas and gorgeous mountainous landscapes from the Rocky Mountains to the Mesa Verde National Park, the Great Sand Dunes to the Garden of the Gods. If you're considering a career in counseling, the state of Colorado is a good place to begin your career.
Helping people heal from trauma and discover their truest sense of self is a noble mission, one that will be yours if you pursue a career in counseling.
If you want to learn how to become a licensed professional counselor in Colorado, you'll want to start by familiarizing yourself with the education and licensing requirements set forth by the Colorado State Board of Licensed Professional Counselor Examiners.
Education Requirements for Becoming a Counselor in Colorado
Licensed professional counselors in Colorado must possess a strong educational background and on-the-job experience, including the completion of a master's program of at least 60 semester credit hours and a practicum of at least 700 hours. You can also qualify for licensure as a counselor by completing a doctorate. The state also requires a passing score on a board-approved examination.
You must complete a master's degree in counseling, human services, mental health and wellness, or a similar degree program that's accredited by the Council for Accreditation of Counseling and Related Educational Programs (CACREP) or meets CACREP equivalency.
A master's program typically takes around two years to complete, and there are several factors beyond accreditation to consider when you're choosing a school, such as a school's tuition rates and proximity to where you live, which can affect the overall cost and value of the education you receive. You may also benefit from the many CACREP-accredited programs that are offered in a hybrid and/or online format. These programs feature the rigor and quality of an on-campus program in a convenient and flexible online format to accommodate students with busy, professional lives and geographical limitations.
Find graduate counseling programs in Arizona.
<!- mfunc search_btn -> <!- /mfunc search_btn ->
Experience and Examination Requirements to Become a Counselor in Colorado
Upon graduating from an accredited master's or doctoral degree in counseling, you must apply with the Board to become a Colorado Licensed Professional Counselor Candidate (LPCC) to begin accruing the required experience hours needed for licensure as a Licensed Professional Counselor (LPC).
You must complete at least 2,000 hours of post-master's practice in a supervised setting. At least 1,500 hours of the 2,000-hour requirement must include face-to-face direct client contact under clinical supervision.
You must also take and pass the National Counselor Examination for Licensure and Certification (NCE) administered by the National Board for Certified Counselors (NBCC) at any point after completing your education.
You must show proof of the completion of your post-graduate experience hours, a passing score on the NCE, and a passing score on the state jurisprudence examination when applying for an initial LPC license in Colorado.
Colorado Licensed Addiction Counselors
Note that licensure of addiction counselors is separate from LPC licensure in Colorado. To earn a Licensed Addiction Counselor (LAC) license through the Colorado State Board of Addiction Counselors Examiners, you must complete a clinical behavioral health master's degree (e.g., community counseling, human services counseling, marriage and family therapy, clinical psychology, etc.), pass the Master Addiction Counselor (MAC) exam administered by the National Association for Alcoholism and Drug Abuse Counselors (NAADAC), and complete all experience requirements.
Learn more about how to become a Colorado LAC.
Which Type of Counselor Will You Become?
As you learn more about how to become a licensed counselor in Colorado and the many career opportunities in the counseling field, you may also be interested in learning more about similar professions:
Clinical, Counseling, and School Psychologists apply psychological principles and techniques to education disorders and developmental disorders to address student learning and behavioral problems; design and implement performance plans and evaluate performances; and counsel students and families. They tend to work at schools, health practitioner offices and outpatient care centers. As of May 2022, clinical and counseling psychologists, who must hold a PhD or PsyD, earned a median salary of $80,270 in Colorado and a top (90thpercentile) salary of $142,650. The median salary for school psychologists in the state was $102,380 while the top 10% of earners brought home about $132,050.  Learn more about how to become a psychologist in Colorado.
Educational, Guidance, and Career Counselors and Advisors help students develop academic and social skills to succeed in life. They also help people develop vocational skills and counsel individuals and groups. Educational and guidance counselors work in primary and secondary schools, colleges, and universities and for vocational and educational support services organizations. As of May 2022, these pros earned a median salary of $59,740 in Colorado. Those at the top of the pay scale (90th percentile) earned about $81,210 during this time.
Marriage & Family Therapists help clients process reactions to life-changing events and help them develop strategies to cope with difficult situations. They leverage cognitive behavioral therapy to help their clients and typically work in private practice. The median annual salary for Colorado's marriage and family therapists was $55,880 as of May 2022, while those at the top of the pay scale (90th percentile) earned about $80,800. Learn more about how to become a marriage and family therapist in Colorado.
Counseling Career Outlook and Licensed Counselor Salaries in Colorado
Between 2020 and 2030, jobs among Colorado's substance abuse, behavioral disorder, and mental health counselors are expected to soar. During this ten-year period leading to 2030, the number of jobs here is expected to increase by 36% - that's much higher than the national projected growth rate of 22% for this profession. The state expects to see about 1,260 annual job openings among counselors during this time due to a combination of new job growth, retirements, and natural job turnover.
As of May 2022, substance abuse, behavioral disorder, and mental health counselors earned a median salary of $50,860 in Colorado, which is higher than the national median for this profession of $49,710. If you're new to the profession, you can expect to earn a salary that's close to the 25th percentile in Colorado, which is $40,130. Once you've gained considerable experience and have established a solid reputation in the mental health community, you can expect to earn closer to the 90th percentile, which was $93,820 as of May 2022.
<!- mfunc search_btn -> <!- /mfunc search_btn ->
As of May 2022, rehabilitation counselors in Colorado working with clients with physical, mental, developmental, or emotional disabilities, earned a median salary of $45,350, while the top earners in this field (90th percentile) earned about $71,810. All other counseling pros in Colorado earned a median salary of $62,870 as of May 2022 and a top (90th percentile) of $82,570.
Schools with Degree Programs Accepting Students from Colorado
Additional Resources for Colorado Applicants
2022 US Bureau of Labor Statistics and O*NET (a website sponsored by the US Department of Labor) job market trends and salary figures for clinical and counseling psychologists, school psychologists, educational, guidance, and career counselors, marriage and family therapists, substance abuse, behavioral disorder, and mental health counselors, rehabilitation counselors, and counselors (all other) are based on national data, not school-specific information. Conditions in your area may vary. Data accessed August 2023.