How to Become a Licensed Professional Counselor in Louisiana
<!– mfunc feat_school –>
Featured Programs:
Sponsored School
<!– /mfunc feat_school –>
How Do I Become a Licensed Professional Counselor in Louisiana?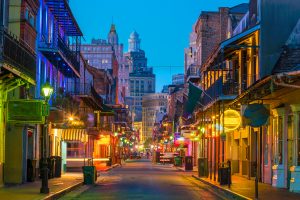 The steps to become a licensed professional counselor in Louisiana are very straightforward. To be licensed, you must meet the basic education and supervised experience requirements to be certified by the Louisiana Licensed Professional Counselor Board of Examiners.
What Are the Requirements to Become a Counselor in Louisiana?
You must hold a Master's Degree in counseling. Any coursework or additional coursework is required to be completed to ensure you are meeting the state standard. For your specific program to be considered as a counseling degree, the program must meet a minimum of the following: CACREP accreditation, in a field that is related, it includes all necessary content, or it has anything to do with counseling. You are required to have a minimum of 48 hours with counseling. Your program of study is required to have 100 practicum hours, as well as a 300-hour internship.
The practicum is required to have 40 hours of direct client services. On a weekly basis, there must also be one hour of individualized supervision. The internship you chose must have a minimum of 120 hours of direct counseling services.
What you will learn:
Counseling/theory of personalities
Human growth/development
Counseling Techniques
Abnormal Behavior
Individual Appraisal
Group Dynamics, counseling, and processes
Ethics
Career/lifestyle development
What Are the Supervised Experience Requirements to Become a Counselor in Louisiana?
If you have any post-master course work, this may make your supervised practice requirements to be less. If you have a counseling education that goes further than Master's Degree, you will be able to use that for approximately 500 hours of supervised practice. Regardless of how much education you already have, you will be required to put forth a minimum of 2,000 hours of supervised experience prior to you being licensed.
The supervision you will receive will be required to happen between two and seven years. The supervisor you will need is a clinical supervisor. The clinical supervisor will have the responsibility of mentoring you and documenting your performance to ensure that you have met all of the standards for the Louisiana Board.
Before commencing, six days prior you are required to provide a written proposal of all supervision. Then, you will get a letter that will either approve or reject the arrangement, as well as explaining what the problems are, if any. At the end of your supervision practices, your professional supervisor will be required to verify your hours, make recommendations, and evaluate you.
What Are the Examination Requirements to Become a Counselor in Louisiana?
In the state of Louisiana, you are required to take the National Counselor Exam prior to becoming a Licensed Professional Counselor. There is a downloadable version of the form registration.
You will need to send your application the NBCC. When you send in the application, you must include by original transcripts. A $195 fee must be attached when you send this in. When you receive approval, you may start to schedule your exam.
You can choose from three different testing centers; Baton Rouge, Louisiana, or Shreveport. The tests are typically taken Monday through Fridays, with occasional Saturdays The first two weeks of the month is when the tests are administered. You will need to wait for approval before making your appointment for the exam. The waiting period is approximately four weeks.
Counseling Career Outlook In Louisiana
The median salary for a Licensed Professional Counselor in Louisiana is estimated at $39,660 according to the Bureau of Labor Statistics. The hourly wage is $19.07. The type of licensure, as well as types of counseling services provided, may make a difference in the annual salary as well as the hourly wage.
Schools with Degree Programs Accepting Students from Louisiana
<!– mfunc search_box_body –>
<!– /mfunc search_box_body –>
Additional Resources for Louisiana Applicants: