<!- mfunc search_box_body ->
<!- /mfunc search_box_body ->
<!- mfunc feat_school ->
Featured Programs:
Sponsored School(s)
<!- /mfunc feat_school ->
Non-Profit Social Worker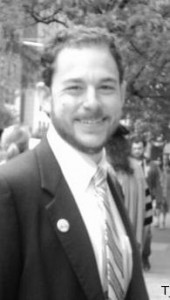 Believe it or not, very few students who major in psychology actually end up with jobs in the field. But Brian Rosenbaum had a job before he even graduate from UCLA and that has a lot to do with his early interest in psychology and helping others.
Of course, the first few jobs Rosenbaum had in the field didn't exactly work out the way he wanted to, but now he works for College Summit, a national non-profit helping low-income high school students get into colleges and further their education. He feels strongly that a college education is a big key to ending poverty and he has found his passion working towards that goal as a community engagement coordinator for a growing non-profit. He was also an honest and thoughtful interview with plenty of advice for students with interest in social work and new graduates as well.
How did you get into the field of non-profit organization?
I majored in Psychology at UCLA, knowing that I wanted to ultimately find a career that involved understanding people's motivations, conditions, and the broader social structures that influenced their life trajectories. During my senior year I got an internship through the Psychology department, where I was able to use my Spanish fluency to conduct surveys with parents of kindergarteners. Discovering these strengths led me into the non-profit field, where I knew that I could use my skills to contribute to a greater good. I got my first job even before I graduated, running the education department of a small community-based non-profit that worked with Latino children with cancer and their families. It was an incredibly rewarding (and taxing) position, and it was then that I realized that this is the work I'm meant to do.
What kind of education is required, and what kind of education would you recommend to be successful in a career such as yours?
My current position as Community Engagement Coordinator could be accessed a number of ways. I believe that a college student interested in non-profit management, psychology, sociology, communication, or even business could succeed in my role. This type of education helps because folks in these fields often wear a number of hats, as I do. My responsibilities range from volunteer engagement to public relations/marketing to alumni engagement to event planning.
<!- mfunc search_btn ->
Can you tell us a bit about your responsibilities at College Summit?   What exactly do you do for this non-profit?
College Summit is a national nonprofit organization that partners with low-income high schools to send more students to college and foster college-going cultures on high school campuses. We currently serve more than 4,000 students at 14 high schools across Los Angeles, and nearly 50,000 nation-wide. In my role I wear five major hats:
Volunteer Engagement: Each year we receive the support of 300+ volunteers who give a combined 4,400 hours of service helping our students complete the most critical steps in the college-going process (college application, FAFSA, etc.). I work to build our cadre of dedicated volunteers by retaining veteran volunteers and building relationships with new volunteers.
Alumni Engagement: Once students graduate from high school, they become Alumni. My role is to serve as their connection back to the organization that made a difference in their future, by keeping them engaged and giving them the skills and tools to be successful. Our Alumni also serve critical roles at our Summer Workshops – weekend-long college-going boot camps for our rising high school seniors, where they learn the ins and outs of the college-going process.
Public Relations and Communications: Increasing the visibility of our work helps build our brand and spreads the word about our work in Los Angeles and across the country. To meet this goal, I manage our social media platforms, and much more.
Event Planning: Through our program we hold a variety of events during the year, such as our College Summit Awards Ceremony, Fundraisers, Mixers, Trainings, and more. I lead the planning and coordination of all regional events.
Serving More Students: We currently serve 4,200 students in Southern California, and hope to serve 10,000 by 2014. I support this goal by reaching out to potential partner schools and through support of our development initiatives.
What is the goal of College Summit and how do you use your MSW to influence its growth? What have been the most important ways you have been able to build yourself and your brand in this industry?
College Summit supports high schools send more students to college, and build college-going cultures on high school campuses. For me, the ultimate goal is to eradicate poverty. We know that individuals with college degrees will earn $1.34 million more across their lifetimes, and their children will be more than twice as likely to go to college – virtually eliminating poverty from one's family lineage. My MSW education has primarily informed the values I bring into my work: the worth and dignity of every person; education as a fundamental human right and the key to lifelong success; and the knowledge that institutional racism, classism, sexism, and other isms contribute to an unjust society. More concretely, the program planning and evaluation skills I learn contribute to the design of our regional program to increase alumni success and persistence in college. The community organizing tools I gained inform my work with our volunteers, advisory board, and media contacts, with the knowledge that relationship building is the key to movement building. The leadership skills I learned through my involved with various groups and clubs has prepared me for a role where I'm often leading initiatives and individuals.
What are your favorite aspects of your job?
My favorite part of my job is working with our alumni. These young people, former College Summit Peer Leaders and participants, are busy college students. They take full course loads, often work full-time jobs, have complicated, intergenerational family lives (impacted by poverty, drugs, and absence of parents), and are in a period of their lives where they are fully discovering themselves, their passions, and the relationships that they will carry into their careers and beyond. Yet they find the time to stay active and engaged in College Summit. They come back to our schools to help our students finish their personal statements and apply to college, and fill out the FAFSA. They share their stories of success and what College Summit has meant to them. They give up full summers to serve as Alumni Leaders, Alumni Leader Coordinators, Tech Coordinators, and Rap Directors at our Peer Leader Workshops, investing their whole beings in an experience that changes the lives of our students. And they do all this with a passion and gratitude that surpasses my expectations, every time. They are my inspiration for getting up in the morning, and I know that my support gives them the confidence and tools to make it through college.
What are some of the hurdles you have faced in this career that others interested in working for a non-profit should consider?
It took time to "find" my professional self. In my first two years out of college, I held jobs at three different non-profits, being supervised by overstressed managers, with limited resources (financial and otherwise), and in fields that were emotionally and physically draining. While working with youth and their families in "the system" who were at risk of being removed from the home, I found myself losing sleep over my cases. This speaks to the importance of self-care and finding a balance between work and life. I've also learned that not every manager has shared my values of supervisor as coach, and different supervisors employ different communication styles. I joined College Summit because, during my interview, I learned that my supervisor took a deeper approach to working together, seeing our relationship as both hierarchical and mentoring. She saw my gaps as opportunities for growth, while challenging me to strive for my best.
Can you give us some insight into some of your success stories while working for College Summit?
One success that I've helped College Summit achieve is around our alumni engagement. College Summit has always engaged our alumni, but never in Southern California had there been a robust plan that had clearly stated goals and objectives. With my passion for empowering and working with young people, I grabbed this task by the horns and built it into a comprehensive program. When I joined in 2011, we had fewer than 10 alumni engaging with the region. Today, more than 35 alumni are actively engaged in our events and schools. We've incorporated alumni into our Regional Advisory Board, to ensure that their voice is heard as we grow. We recognize that today's high school seniors are tomorrow's alumni, and have identified a pipeline for engaging students from the beginning of their College Summit experience through college graduation. We're supporting alumni in college and on their career paths through individual and ongoing professional development training, ensuring that they have the insights and tools needed to not only graduate, but find fulfilling employment after. We've recognized that our alumni are an incredibly valuable resource who deserve both our support and who can benefit from their continued participation.
Any final words of wisdom for people considering using their social work degree to support non-profit organizations?
The beauty of an MSW is that it can lead in so many directions. With a Masters in Social Work, you can go into clinical work, policy, program management, administration, community organizing, or any number of positions. There's also an alphabet of fields where intelligent and compassionate individuals are needed to ensure that vulnerable populations are being cared for and empowered, including aging, children's services, health services, international development, mental health, schools/education, veterans affairs, youth empowerment, and many more. Figure out where your passion lies, and dig into it. In each of these fields, there are untold numbers of ways to contribute to more just world. Take the time to identify your strengths and preferences. There's nothing worse than working hard to get a job, only to realize that your skills are not being utilized to their fullest potential. Interview companies as much as they interview you! If an organization's values or culture does not align with your values or needs, it will be much harder to get up in the morning.
<!- mfunc search_btn ->