Psychology Degrees, Schools, and Careers in Oregon
<!- mfunc search_box_body ->
<!- /mfunc search_box_body ->
<!- mfunc feat_school ->
Featured Programs:
Sponsored School(s)
<!- /mfunc feat_school ->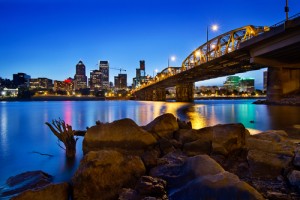 Despite its size, Oregon's postsecondary education system is smaller than some might think. Whereas its northern neighbor Washington had nearly 400,000 students enrolled in the fall of 2009-10, Oregon had fewer than 250,000 undergraduate and graduate students enrolled during that same time period. Also, according to the National Center for Education Statistics, Oregon is home to just 60 degree-granting institutions, which is only about two-thirds as many as the national average. But despite the surprisingly small size of its postsecondary education system, Oregon still offers many opportunities and excellent programs in which to study, and psychology is no exception. Data from the Integrated Postsecondary Education Data System showed that in 2009-10, Oregon schools conferred 1,105 bachelor's degrees in psychology and another 195 master's degrees in the subject as well. This proves that psychology is one of the most common and popular fields of study for students in Oregon and it also proves that the schools in Oregon have a wealth of psychology degree programs of differing sizes and specialties for students to choose from.
Oregon is not unlike any other state in the sense that if you want to be called a licensed psychologist in Oregon, you better be prepared to put in the work and the studying it will take to achieve that title. Oregon takes its psychology licensure very serious and ensures that each potential psychologist is well-qualified and experienced before they start accepting responsibility for the well-being of others in the community. What this means is that if you have only a cursory interest in psychology and just want to get a bachelor's degree in the subject, that is fine, but you won't get to be a psychologist. In order to become a psychologist in Oregon, you need to have received a doctoral degree and completed a vast number of experiential hours under the supervision of a professional psychologist.
<!- mfunc search_btn -> <!- /mfunc search_btn ->
A bachelor's degree can help you become a psychologist assistant or work within the educational sector of the field, but only five percent of recipients of a bachelor's degree in psychology in 2008 were working in a psychology-related field, and 25 percent of those who receive a bachelor's degree in psychology continue their study of the subject at a graduate level according to the American Psychological Association. All of this information isn't meant to dissuade students from following their dreams and becoming a psychologist, it is only meant to show that the road to becoming a psychologist is not easy and it is long, so you will want to make sure you know exactly what type of degree you wish to pursue and what career path you wish to go down before you make a big investment in any of Oregon's psychology degree programs.
Part of your due diligence should include in-depth research on the psychology schools in Oregon, the degree programs at these schools, and the different psychology specialties in different programs. Of course, with 60 schools to research, the task is daunting and nearly impossible, so we highlighted a number of schools in the Portland metropolitan area and a number of other schools around the state that should serve students with a glimpse of the offerings within the state. Keep in mind this isn't meant to be a comprehensive list and there are other schools out there that we didn't mention that are worth looking into, so make sure to do your own research as well.
The big schools outside of Portland with excellent psychology programs are the University of Oregon, which offers bachelor's degrees and has a nationally ranked clinical psychology doctoral program, and Oregon State University, which offers similar degree programs as well. Of course they aren't the only schools outside of Portland worth considering. Pacific University in Forest Grove also has a number of nationally ranked clinical psychology degree programs and George Fox University in Newberg offers a slew of undergraduate and graduate degree programs. Also, schools like Linfield College and Marylhurst University have strong and respected bachelor's degree programs in psychology as well.
Portland Psychology Degrees, Schools, and Careers
Portland is somewhat of a hidden gem of the West Coast. It is a cultural hub of the Pacific Northwest that combines a thriving local economy with a laid-back vibe that has made it a popular place for transplants looking to start a career in a new city, or keep the old career in a new city. It is also has a handful of excellent colleges and universities that offer a wide variety of psychology degree programs and a booming but small psychology industry that offers exciting opportunities for aspiring psychologists looking to work in the Portland area.
The school in the area with the most options is Portland State University, which offers psychology programs of every level and in multiple specialties. The University of Portland and Reed College are smaller universities with excellent reputations that have bachelor's degree programs in psychology, and Lewis & Clark College and Warner Pacific College are lesser known universities in Portland that also offer bachelor's degree programs in psychology. Concordia University is also located in Portland and the school offers three separate bachelor's degree programs in different psychology subjects.
It is no coincidence that, thanks to the impressive collection of colleges and universities that call Portland home, psychology is a popular career choice in Portland as well and that the metropolitan area is full of professional psychologists and opportunities for aspiring psychologists to network and job-hunt. The U.S. Bureau of Labor Statistics reported that as of May 2022, the Portland-Vancouver-Hillsboro metropolitan area had at least 860 professional psychologists and that those psychologists made an annual average wage between $100,600 and $144,170 depending on what type of psychology they practice and the type of employer they work for.
Online Psychology Schools in Oregon
Criticize the lack of postsecondary education options in Oregon all you want, but if you are looking for a diverse set of online psychology options, Oregon has an impressive number of colleges and universities that offer online psychology degrees as well as a number of national online psychology education providers that serve Oregon students. Corban University in Salem offers four separate online bachelor's degree programs in different types of psychology, and Eastern Oregon University in La Grande also offers four online bachelor's degree programs in psychology-related subjects. Also, Northwest Christian University in Eugene offers an online bachelor's degree program in psychology and Linfield College offers an online master's degree in counseling, which contains plenty of psychological education.
If none of those programs suit your needs or fit what you are looking for from an online program, there are a number of for-profit, online psychology schools that offer everything from fully online doctoral degrees to a myriad of online bachelor's degree programs. Schools like Northcentral University, Grand Canyon University, and Capella University are just a few of the online doctoral degree providers Oregon students can choose from. If students are just looking for online bachelor's degrees in psychology, the University of Phoenix, Keiser University, the University of Texas Permian Basin and Post University are a few of the providers that serve Oregon students with those types of degrees. Make sure to check out all of the different national psychology education providers individually to find the right fit for you.
<!- mfunc search_btn -> <!- /mfunc search_btn ->
Career Opportunities for Psychologists in Oregon
Those looking for a state to start their psychology career could definitely choose a lot worse than Oregon. Portland may be the cultural hub of the state, but there are plenty of other small cities and towns that have need for psychologists. In fact, according to the BLS, the state of Oregon had close to 1,600 professional psychologists employed within its borders in May of 2022 and those psychologists made an annual average wage of between $97,180 and $134,830 depending on the specialty and the employer. This means there is a lot of earning potential for aspiring psychologists looking to start their careers in Oregon.
There is more good news for psychology professionals in Oregon and aspiring psychology professionals looking in Oregon. The Department of Labor estimates that employment of clinical and counseling psychologists will grow a whopping 11% (about 230 new psychologists) from 2020 to 2030 and the center also expects the state will see 150 new job openings each year over that same time frame, making Oregon a very alluring place for a recent graduate looking to jump start his or her psychology career.
2022 US Bureau of Labor Statistics and O*NET (a website sponsored by the US Department of Labor) job market trends and salary figures for clinical and counseling psychologists, school psychologists, and psychologists (all other) are based on national data, not school-specific information. Conditions in your area may vary. Data accessed July 2023.
Psychologist Salary in Oregon
| Location | 10% | 25% | Median | 75% | 90% |
| --- | --- | --- | --- | --- | --- |
| United States | $44,500 | $76,730 | $105,780 | $119,460 | $133,470 |
| Oregon | $46,300 | $68,290 | $100,610 | $118,620 | $140,830 |
| Portland-Vancouver-Hillsboro, OR-WA | $25,290 | $73,260 | $92,920 | $98,750 | $110,360 |
Table data taken from 2020 BLS (http://www.bls.gov/oes/current/oes193039.htm)
Featured Oregon Schools with Psychology Degree Programs
<!- mfunc feat_school -><!- /mfunc feat_school ->