Psychology Degrees, Schools, and Careers in Illinois
<!- mfunc search_box_body ->
<!- /mfunc search_box_body ->
<!- mfunc feat_school ->
Featured Programs:
Sponsored School(s)
<!- /mfunc feat_school ->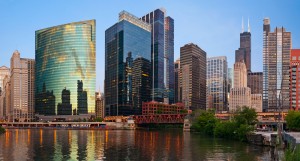 It might be surprising to know that Illinois is one of the largest producers of psychology graduates in the entire country and it can thank its biggest city, Chicago, for much of that. Despite the vastness of the state, Illinois has just one city with a population of more than 200,000. Luckily for students interested in postsecondary education in Illinois, that city is Chicago, one of the largest industrial centers in the entire country. But the state's higher education system is not defined by the city of Chicago. There are 235 degree-granting institutions in Illinois and those institutions enrolled more than 800,000 undergraduate and graduate students in 2014 according to the Illinois Commission on Higher Education. The majority of those students are actually enrolled in one of Illinois' many highly regarded community colleges but there were also more than 200,000 students enrolled in the state's public universities. In 2014, the state conferred more than 208,000 degrees ranging from Bachelor's degrees to PhDs and while subject-specific degree data isn't tracked by Illinois itself, it is safe to assume that the state conferred more than the  3,852 bachelor's degrees in psychology and 1,651 master's degrees in psychology they conferred in 2010.
Students who wish to study psychology in Illinois are afforded plenty of different choices and will also have plenty of like-minded people to meet and work and learn alongside. The state's postsecondary education institutions are not limited to Chicago and the range of choices can include some of the most prestigious universities in the country, to public research institutions with excellent reputations. Of course the large number of choices is a double-edged sword.
Narrowing down options through research can prove daunting and psychology is a subject where different degrees open different career doors, and it can be very hard to find other ways through the door. Add this to the fact that the average annual cost of enrollment for a full-time student in Illinois was $23,096 for in-state students attending public schools and $38,629 for students attending a private institution in the state in 2014 and one realizes why choosing the right psychology school for them should not be taken lightly.
We wanted to help organize the research process a little bit by mentioning a handful of the psychology schools in Illinois that are out there. We start with a number of fine institutions not considered part of the Chicago Metropolitan area, and then we will single out a number of fine institutions in close proximity to Chicago as well.
Understand that these will only be a sampling of the psychology schools, degree programs in Illinois and students should conduct their own thorough research before making a final choice.
<!- mfunc search_btn -> <!- /mfunc search_btn ->
In Champagne, the state's flagship school, the University of Illinois, is home to one of the finest clinical psychology degree programs in the entire country and one of the most prestigious psychology PhD programs as well. To the west of Chicago, the University of Northern Illinois is home to a nationally ranked clinical psychology degree program, as is the University of Southern Illinois down in Carbondale. Private universities such as Bradley University and Aurora University also have reputable psychology degree programs for students looking for a smaller school.
Chicago Psychology Degrees, Schools, and Careers
Chicago is one of the most education-rich cities in the entire country and its postsecondary psychology options do not disappoint. The University of Chicago and Northwestern University offer clinical psychology degree programs and psychology PhD programs from some of the most recognizable universities in the country. Not to be outdone, the University of Illinois at Chicago offers a highly touted clinical psychology degree program as well and the Illinois Institute of Technology has a similarly excellent clinical program too.  Chicago State University and DePaul University also offer students a variety of psychology degree programs.
Chicago is also home to one of the largest and most vibrant communities of professional psychologists. Just in the Chicago-Naperville-Elgin Metropolitan area the United States Bureau of Labor Statistics said there were more than 8,000 employed professional psychologists in 2022. Also, these psychologists made an annual average salary between $78,020 and $104,190 depending on specialty.
Frankly put, there are few cities in the country that offer as much to aspiring psychologists as Chicago. Whether you come only for the education or whether you stay to start your career, Chicago offers an unparalleled combination of quality psychology schools, employment opportunities in the industry, and competitive salaries.
Online Psychology Schools in Illinois
Illinois is home to one of the country's oldest professional psychology schools offering online psychology degrees in the Chicago School of Professional Psychology and the Adler School of Professional Psychology also offers fully online psychology degree programs. But other than that, true online psychology degree programs in Illinois and even just online psychology classes can be hard to find. The University of Illinois in Champagne offers only online psychology courses and DePaul University allows transfer students who have met the prerequisites to complete their bachelor's degree in psychology online as well.
If you can't find a state-specific university to meet your needs, you can also consider researching some of the national online psychology education providers that work with students in Chicago. University of Phoenix, Keiser University, and Robert Morris University all offer online psychology degree programs to students in Chicago. And they aren't the only national online psychology schools in Illinois either.
If you are looking for more options, check out our school listings for a more expansive and detailed look at online psychology schools in Illinois and programs in your area.
Just remember as you are choosing, that the school you select should offer the right type of programs and classes for you to ultimately open the career door you desire. A bachelor's degree will be easier and cheaper to get, but it doesn't qualify students to become a licensed psychologist, only a psychologist assistant and maybe some research positions. In fact, according to a survey from O*NET Online, 84 percent of respondents thought clinical psychologists needed a doctoral or professional degree to work in the field and in Illinois students will need a doctoral degree from a clinical, counseling or school psychologist to apply for licensure according to state law.
Career Opportunities for Psychologists in Illinois
Thanks in large part to the great psychology presence in Chicago, the state of Illinois employs the second-most clinical and counseling psychologists in the country at 5,170 as of May 2022 according to the BLS. The range in compensation for these psychologists varies and the average annual wage for a professional psychologist in Illinois in May of 2022 was anywhere from $76,170 for school psychologists and $102,400 for clinical and counseling psychologists.
O*NET, a partner of the US Department of Labor, expects employment for clinical and counseling psychologists in Illinois to grow 2% from 2020 to 2030. While that may seem slow, it equates to an average of 400 job openings each year, which is a lot of awesome opportunity for students aspiring to start their psychology careers in Illinois.
2022 US Bureau of Labor Statistics and O*NET (a website sponsored by the US Department of Labor) job market trends and salary figures for clinical and counseling psychologists, school psychologists, and psychologists (all other) are based on national data, not school-specific information. Conditions in your area may vary. Data accessed July 2023.
<!- mfunc search_btn -> <!- /mfunc search_btn ->
Psychologist Salary in Illinois
| Location | 10% | 25% | Median | 75% | 90% |
| --- | --- | --- | --- | --- | --- |
| United States | $44,500 | $76,730 | $105,780 | $119,460 | $133,470 |
| Illinois | $61,400 | $93,420 | $106,050 | $121,420 | $141,510 |
| Lake County-Kenosha County, IL-WI Metropolitan Division | $33,180 | $50,800 | $91,610 | $108,660 | $117,740 |
Table data taken from 2020 BLS (http://www.bls.gov/oes/current/oes193039.htm)
Featured Illinois Schools with Psychology Degree Programs
<!- mfunc feat_school ->
Featured Programs:
Sponsored School(s)
<!- /mfunc feat_school ->