Psychology Degrees, Schools, and Careers in Michigan
<!- mfunc search_box_body ->
<!- /mfunc search_box_body ->
<!- mfunc feat_school ->
Featured Programs:
Sponsored School(s)
<!- /mfunc feat_school ->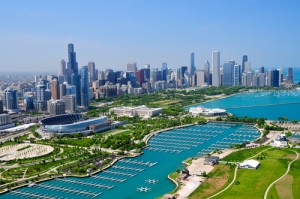 Let's put it bluntly, post-secondary education is a big deal in Michigan. Not only does the school have more than 100 degree-granting institutions within its borders, but according to data from the Michigan Department of Education, there were more than 250,00 students enrolled in a four-year college or university in the state for the start of the 2013-14 school year. It should come as no surprise that with so many schools and students interested in a subject as popular as psychology that there are a wealth of degree options available to interested students. In fact, in the 2012-13 school year, Michigan conferred more than 30,000 associate's degrees, almost 60,000 bachelor's degrees, more than 21,000 master's degrees and more than 6,000 doctoral degrees. Considering psychology remains one of the most popular degrees in any state in the country, it is safe to assume that Michigan produces a lot of graduates from traditional and online psychology degree programs.
There are many factors to consider when you are looking into psychology programs, particularly at the graduate level. As an undergraduate, your curriculum is fairly predetermined, but at higher levels, there are many more options. Even within the same discipline, each master's or doctoral program have different areas of focus. There are also different research opportunities and teaching philosophies from school to school. Think about what kind of job you want after graduation. Then, try to look into the schools that offer the programs best suited for this field. If you want to work in research, look more into programs that emphasize research and experimental methods. Though there are excellent options for the study of psychology in every state, Michigan has more going for it than most others.
It is important that you enroll into the program that best fits your career goals. The reason this is so important because different degrees in psychology will open different career doors in the field of psychology. It is also important to pick the right program because as Michigan's Student Financial Services Bureau from 2014-15 shows, annual tuition for students in and out of state can range from $5,000 for some community colleges to more than $50,000 for some of the state's most prestigious private institutions. That is a large financial commitment for anyone to make and so it is important to be right about the decision.
An undergraduate degree in psychology will give you a strong foundation of knowledge in the subject and may help you find work as a psychologist assistant or psychologist research assistant, but most students who earn an undergraduate degree in the subject don't actually end up working in psychology. In fact, the American Psychological Association found that only 5 percent of graduates with bachelor's degrees in psychology were working in the field of psychology. If you are truly committed to working as a psychologist, then you will likely need a graduate degree at the very least and more than likely a doctoral degree. According to psychology licensure requirements in Michigan, psychologists need to have earned a doctoral degree in the subject and completed rigorous on-the-job experience before they will be qualified to earn licensure in the field. The good news is that after all of that schooling, the chances you find a job in the field have increased exponentially.  The APA found that 72 percent of psychologists who finished their doctorates in 2009 were able to get their first choice when it came time to find a job and almost all found work in the field if they were looking for it.
<!- mfunc search_btn -> <!- /mfunc search_btn ->
The first thing that you should do is verify that the schools you are considering are accredited. This will ensure that the program meets certain standards and that you will receive a high quality education at this institution. If possible, inquire about the employment statistics of graduates of this program. Also, look for credible websites that present reviews of the program by students and alumni. It is important that you will both get a quality education and enjoy your time at the institution as much as possible. You can find schools in Michigan where all your educational needs can be fulfilled.
There are many great schools in Michigan that offer degree programs in this discipline and somewhat surprisingly, the best schools in the state for psychology aren't located in or near Detroit. Both the University of Michigan in Ann Arbor and Michigan State University in East Lansing boast nationally ranked clinical psychology degree programs and the University of Michigan is widely considered one of the best psychology schools in the country. After the big names, there are also a number of other state schools with reputable psychology degree programs include  Central Michigan University, Eastern Michigan University, and Western Michigan University. If you are looking for a smaller, private school, Michigan has schools like Adrian College, Kalamazoo College, Andrews University, and Cornerstone University, all of which offer a variety of psychology degree programs to interested students.
Detroit Psychology Degrees, Schools, and Careers
Detroit is the largest city in Michigan in terms of population, with almost 714,000 residents. Surprisingly, the city is home to three different institutions that offer psychology degree programs, including Wayne State University, which offers one of Michigan's best college psychology programs, and is home to the largest population of psychology students in Detroit. In the year 2010, there were almost 260 psychology students who graduated from this school. Also of interest for psychology students in Detroit are University of Detroit Mercy and Marygrove College. There are several scholarships available to Detroit students who are studying psychology, as well as psychology students throughout the state of Michigan. Other than the scholarships offered by specific schools for students in this field, there are many sources of funding for these students that are offered statewide, including the Michigan Tuition Grant, the Michigan Educational Opportunity Grant, the Competitive Scholarship Program, and the Robert C. Byrd Honors Scholarship.
There are quite a few psychology professionals in the Detroit area. As of May 2014, there are more than 500 professional psychologists in the Detroit-Livonia-Dearborn metropolitan area. These professionals make an annual average salary of between $69, 070 and $76,230, which is quite a bit higher than the national average.
Online Psychology Schools & Degrees in Michigan
There are many institutions in the state of Michigan that offer degrees in psychology, 43 to be exact. However, among these, it is a relatively small proportion that offers online psychology degrees. The school that offers the most options is Central Michigan University; this school offers an online Bachelor of Science in Psychology, as well as a Master of Arts in both School Counseling and Professional Counseling and a Master of Science in General Experimental Psychology. In addition, Madonna University offers a psychology major with a concentration in Addiction Studies, and Lansing Community College offers an Associate of Arts in Psychology and it is the only community college that does so according to Michigan Colleges Online.
Even though there are not very many options for psychology degrees that you can obtain online in the state of Michigan, there are also schools that offer degrees to students all over the nation. There is Walden University, Capella University, Post University or Baker College Online. At these schools, you have a wide selection of bachelor's, master's, and even doctoral degrees that you can obtain online. Even though these are online programs, there are still some programs that will fit your particular needs better than others, and you would do well to look into all of your options before making a decision.
Choosing the Right School
The fact that Michigan has so many different options available for students interested in psychology can be a double-edged sword. On one hand, having options is always a good thing for someone making a big financial decision. But on the other hand, sorting the good fits from the bad ones can seem to be an overwhelming task. The curriculum is most of these psychology degree programs is pretty standard because it is regulated to some extent by the state, but that should allow students to focus on the other aspects of the schools to make the right choice. Here are some of the other traits about schools that students should look into generally.
School & Program Leadership– Talk to the faculty in the program. Ask to meet with faculty chairs or department members when you visit the school. What is their background? How much experience do they have and what is the experience in? Where did they work before becoming a teacher?
Job Prospects– How much help does the school provide in the job search? Do they have employers in the area that they funnel students towards? Do they have regular job fairs and advisers available for students? Can they help students find internships? Does the school report the employment rate of its graduates? The school's alumni office should be willing to give aspiring students accurate employment data.
Curriculum & Instruction- The state makes it very clear that in order to be a licensed psychologist, you need a degree from a school accredited by the state. That accreditation usually revolves around whether the school's curriculum meets the standards set for in law by the state. Does it also meet industry standards? Is the school recognized by approved accrediting bodies? Does the curriculum include of a good mix of lecture-based instruction with hands-on field work?
School Culture & Support for Student Academic & Personal Growth-  Student happiness will go a long way to ensuring a student's success and that is why making sure the school is a good culture fit and has a formal support system in place to help students struggling academically or socially. The school is in charge of your welfare while you are and so make sure they are doing everything they can for their students.
Career Opportunities for Psychologists in Michigan
There are many opportunities for people interested in a psychology career in the state of Michigan. A significant amount of job growth is expected for this profession in this state. In fact, the field of psychology is growing in the state of Michigan; it is estimated that employment of psychologists in Michigan will grow by about 10 percent between 2010 and 2020. Though this growth is lower than the national average, as it is thought that the rest of the country will experience a 22 percent growth, this 10 percent in Michigan still translates into an additional 350 jobs for psychologists. This is in addition to the already thriving population of psychology professionals in the state of Michigan. The Bureau of Labor Services reported that as of May 2014, there were at least 3,000 professional psychologists in Michigan. The average annual salary of these individuals was between $72,510 and $79,420 depending on the specialty of the psychologist. In addition, there were 570 psychiatrists in the state at the tie of this report, and their average annual median salary was $167,050. Becoming a part of the psychology community in the state of Michigan is definitely worth looking into; although it is not the state with the most expected growth in opportunities, it may well have the perfect opportunity for you.
<!- mfunc search_btn -> <!- /mfunc search_btn ->
Psychologist Salary in Michigan
| Location | 10% | 25% | Median | 75% | 90% |
| --- | --- | --- | --- | --- | --- |
| United States | $44,500 | $76,730 | $105,780 | $119,460 | $133,470 |
| Michigan | $40,680 | $50,670 | $91,200 | $112,510 | $121,260 |
| Detroit-Livonia-Dearborn, MI Metropolitan Division | $26,060 | $50,520 | $82,490 | $101,810 | $116,780 |
| Warren-Troy-Farmington Hills, MI Metropolitan Division | $82,960 | $89,710 | $99,020 | $109,710 | $119,550 |
Table data taken from 2020 BLS (http://www.bls.gov/oes/current/oes193039.htm)
Featured Michigan Schools with Psychology Degree Programs
<!- mfunc feat_school ->
Featured Programs:
Sponsored School(s)
<!- /mfunc feat_school ->