Psychology Degrees, Schools, and Careers in Rhode Island
<!- mfunc search_box_body ->
<!- /mfunc search_box_body ->
<!- mfunc feat_school ->
Featured Programs:
Sponsored School(s)
<!- /mfunc feat_school ->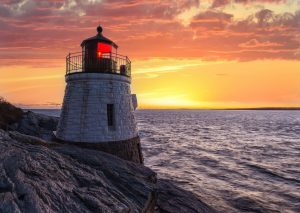 One of the smallest states in the entire country, Rhode Island has just 12 postsecondary degree-granting institutions across the state (Gibbs College shuttered in 2009, after this data was collected) but that doesn't mean you won't find excellent psychology programs in Rhode Island either. Four of those universities are public (including the Naval War College which is a federal school) and only two of them -- Brown University and the University of Rhode Island -- are research universities that offer doctoral degree programs. This doesn't mean a worthwhile psychology degree program isn't available to students. The Rhode Island Higher Education System reported more than 43,000 enrollments in its three colleges as of the Fall of 2011 and it is probably safe to assume that there are less than 100,000 students enrolled in universities across the state. In fact, in the last year that IPEDS tracked subject-specific degree data, Rhode Island granted 522 bachelor's degrees in psychology in 2009-10 and another 98 master's degrees in psychology as well. On a national level, those numbers may not stack up with similar information from the rest of the country, but considering how many students are actually in Rhode Island colleges, those numbers are pretty impressive.
Picking a school in any state is difficult but at least in Rhode Island it is easier to take a close look at each of the schools in the state and gather information so you can compare and contrast psychology programs. Higher education in Rhode Island isn't cheap – the annual average cost for a full-time in-state student at a public school in 2013-14 was $21,761 and the cost for a full-time student enrolled in a private school was 46,706 according to IPEDS – so a decision this important should not be taken lightly. That is why we wanted to help sift through the different choices so students can get an understanding of which schools offer psychology degree programs in Rhode Island.
<!- mfunc search_btn -> <!- /mfunc search_btn ->
There are just three schools in the state that don't offer true psychology degrees; the Naval War College, the New England Institute of Technology, and the Rhode School of Design. However, the Naval War College and NEIT both have psychology courses in various subjects as part of their core curriculum. The other nine schools are; Brown University; Bryant University; Community College of Rhode Island; Johnson & Wales University; Providence College; Rhode Island College; Roger Williams University; Salve Regina University; and the University of Rhode Island.  Both Brown and URI have prestigious psychology PhD programs and with the exception of the community colleges which grant two-year degrees, the rest grant four-year psychology degrees that most employers across the state are likely familiar with. The reason it is important to do understand what each school offers is because different degrees open different professional doors in the industry. A bachelor's degree in psychology may very well help students get their feet in the door, but according to Rhode Island law, any student applying for licensure as a psychologist will need to earn a doctoral degree in the subject first. These aren't the only options for students interested in psychology schools in Rhode Island as there are also a sizable number of national online psychology degree providers who serve Rhode Island students and offer a variety of programs at different levels.
Online Psychology Schools in Rhode Island
Before we get into some of the national online psychology schools that operate in Rhode Island, it is worth pointing out that some of the aforementioned state-specific institutions do offer online psychology courses, although none of them offer true online psychology degrees. Brown, URI, the Community College of Rhode Island, Johnson & Wales, and others offer online psychology courses in everything from introductory psychology to social psychology and even abnormal psychology. Some courses may be open to adult learners or professionals otherwise not enrolled at the university, or some of the courses may only be available to enrolled students as part of the tuition cost, so be sure to do thorough research before making any decisions. This should include checking out the state's guidelines for distance learning as students can match those guidelines with the programs to ensure that the education the student would receive is high-quality.
If students are looking for a fully online psychology degree in Rhode Island, their best bet is to consider of the many national online psychology education providers that work with Rhode Island students. Walden University, the University of the Rockies, and Grand Canyon University are a few of the online psychology schools in Rhode Island that offer doctoral degrees, and schools like the University of Liverpool, Post University, and the University of Phoenix offer online master's and bachelor's degrees in a handful of psychological subjects. There are a number of other online schools in Rhode Island, so if none of the above are what you are looking for, be sure to check out our full school listings page for a more expansive and in-depth look at online psychology schools in Rhode Island and programs in your area.
Career Opportunities for Psychologists in Rhode Island
For such a small state, one would think that the psychology industry in Rhode Island would be relatively small and unimpressive, but that person would be dead wrong. The U.S. Bureau of Labor Statistics reported as of May of 2022 that there were almost 900 professional psychologists employed across the state whose annual average salary ranged between $84,210 and $117,760 depending on specialty. In fact, if salary is an important factor in your decision, Rhode Island is a good place to be as it has the seventh-highest annual mean wage for clinical, school, and counseling psychologists in the country.
The state's psychology industry is growing at a notable rate as well. While national employment in the profession was expected to grow by 6% between 2021 and 2031, clinical and counseling psychologist employment in Rhode Island is expected to grow 7% between 2020 and 2030.
2022 US Bureau of Labor Statistics and O*NET (a website sponsored by the US Department of Labor) job market trends and salary figures for clinical and counseling psychologists, school psychologists, and psychologists (all other) are based on national data, not school-specific information. Conditions in your area may vary. Data accessed July 2023.
<!- mfunc search_btn -> <!- /mfunc search_btn ->
Psychologist Salary in Rhode Island
| Location | 10% | 25% | Median | 75% | 90% |
| --- | --- | --- | --- | --- | --- |
| United States | $44,500 | $76,730 | $105,780 | $119,460 | $133,470 |
| Rhode Island | $28,920 | $48,840 | $101,240 | $128,690 | $160,190 |
| Providence-Fall River-Warwick, RI-MA | $45,710 | $60,960 | $99,380 | $111,410 | $117,460 |
Table data taken from 2020 BLS (http://www.bls.gov/oes/current/oes193039.htm)
Featured Rhode Island Schools with Psychology Degree Programs
<!- mfunc feat_school ->
Featured Programs:
Sponsored School(s)
<!- /mfunc feat_school ->