Psychology Degrees, Schools, and Careers in Vermont
<!- mfunc search_box_body ->
<!- /mfunc search_box_body ->
<!- mfunc feat_school ->
Featured Programs:
Sponsored School(s)
<!- /mfunc feat_school ->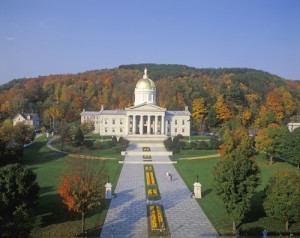 Despite being one of the smallest states in the entire country, Vermont actually boasts a surprising number of post-secondary options for students, including those considering psychology degree programs. One of the most popular degrees subjects in the state, psychology degrees are available at more than 10 of the state's institutions although most of the schools only offer bachelor's degree programs in the subject. For students interested in graduate degrees in psychology there are multiple options, as a few of the schools offer Master's degrees in the subject. But students interested in pursuing a career as a licensed psychologist and thus students interested in PhDs in the subject will find their options to be severely limited.
Perhaps one of the benefits of only having to choose between 25 different schools instead of 240 is that it is much easier for students to do thorough research on each of the options before they end up making a selection. And considering that the average annual total enrollment cost (including room and board) for a full-time student in Vermont in 2013-14 was $24,073 for an in-state student attending one of the state's public institutions and a whopping $47,909 for a student enrolled at a private institution, research on each program and school is heavily recommended. But before you start your research, students should have a good idea of what type of psychology career they wish to set in their sights.
Vermont, like every other state, requires aspiring psychologists to earn their license first, and in order to get their license, applicants will have to have a doctoral or professional degree. Read about VT licensure requirements. A bachelor's degree by itself could help people find work as a psychologist assistant or it could serve as an excellent foundation of knowledge as according to the American Psychological Association, 25 percent of baccalaureate recipients go on to study psychology at the graduate level (four to six percent doctoral; 20 or 22 percent master's). So what career path a student ultimately wishes to follow should have a big influence on what school and what type of psychology degree program they inevitably choose. The issue is that in Vermont, there is only one research university -- the University of Vermont -- and thus students interested in pursuing a PhD in psychology in Vermont are limited to the state's flagship university.
<!- mfunc search_btn -> <!- /mfunc search_btn ->
The state schools are essentially split into two groups. There is the aforementioned University of Vermont, which has a nationally ranked clinical PhD psychology program as well as offerings at the master's and bachelor's degree levels. Then there are the five state colleges, most of which offer psychology degree programs including Castleton State College, Johnson State College, and Lyndon State College. There are also a number of private colleges in the state that offer psychology majors and minors as well.  Middlebury College is one of the most prestigious liberal arts schools in the country and it offers a psychology degree program, as does Green Mountain College, Champlain College, Saint Michael's College and a number of other private colleges as well.
Online Psychology Schools & Degrees in Vermont
For students looking for a fully online psychology degree program in Vermont, there is some bad news, as the programs are rare or basically non-existent among state-specific schools. Johnson State College offers a bachelor's degree in psychology that can be completed mostly online, but you will need to take some classes. Other state-specific schools like Green Mountain College, the University of Vermont, Community College of Vermont, Champlain College, and Castleton State College all offer online psychology or psychology-related courses. Interested students should remember to check beforehand and make sure they understand whether these online courses are offered to anyone or whether they are only open to students that are already enrolled in the university.
There are other options for students in Vermont interested in online psychology schools and degree programs. There are a lot of national online education providers that serve Vermont students and, depending on the school these providers will offer everything from a fully online associate's degree to a fully online doctoral degree. Some of the schools that offer doctoral degrees online include Walden University and Northcentral University, while an example of a school that only offers a bachelor's or associate's degree online in the subject would be Liberty University.
Please remember, this is only meant to be a sampling of the available online psychology schools in Vermont, there are other schools that aren't listed that may offer fully online degrees, hybrid psychology degree programs, or just simple, introductory, online psychology courses, so students should check out each school individually and do more in-depth research before choosing the program they feel is right for them.
Career Opportunities for Psychologists in Vermont
It wouldn't be a stretch to assume that a state has small as Vermont would have little opportunity for an aspiring professional psychologist. But those who look closer might be surprised to find that not only are there plenty of opportunities, but they will get exposure to a small and close-knit professional community, access to a comfortable salary, and potential entrance into a state industry that is growing quite rapidly. According to the U.S. Bureau of Labor Statistics, in May 2022, Vermont was home to at least 350 professional psychologists -- up from 240 in May of 2020 -- and those psychologists earned an annual average wage of between $78,640 and $91,240 depending on the specialty of the psychologist. Those are impressive numbers given the state's smaller economy.
There are other positive signs as well as O*NET, a website sponsored by the US Department of Labor, estimates that employment of clinical, school, and counseling psychologists will grow 8% (approximately 80 new employed psychologists) between 2020 and 2030, and they also predict there will be approximately 20 job openings every year during that period. Vermont may not have the same set of diverse options as its larger brethren, but it still has a track record of producing excellent psychology degree holders and offers opportunity within the state for aspiring professional psychologists to start their careers as well.
2022 US Bureau of Labor Statistics and O*NET (a website sponsored by the US Department of Labor) job market trends and salary figures for clinical and counseling psychologists, school psychologists, and psychologists (all other) are based on national data, not school-specific information. Conditions in your area may vary. Data accessed August 2023.
<!- mfunc search_btn -> <!- /mfunc search_btn ->
Psychologist Salary in Vermont
| Location | 10% | 25% | Median | 75% | 90% |
| --- | --- | --- | --- | --- | --- |
| United States | $44,500 | $76,730 | $105,780 | $119,460 | $133,470 |
| Vermont | - | - | - | - | - |
Table data taken from 2020 BLS (http://www.bls.gov/oes/current/oes193039.htm)
Featured Vermont Schools with Psychology Degree Programs
<!- mfunc feat_school -><!- /mfunc feat_school ->