Clinical Psychology Degree Programs & Schools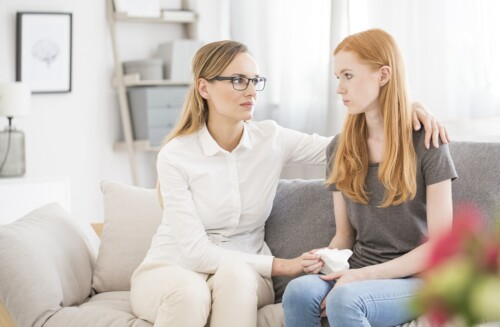 <!- mfunc search_box_body ->
<!- /mfunc search_box_body ->
<!- mfunc feat_school ->
Featured Programs:
Sponsored School(s)
<!- /mfunc feat_school ->
In times of emotional or mental crisis, many people turn to mental health experts, such as clinical psychologists, for assistance and treatment. Clinical psychologists are trained, educated professionals who provide comprehensive mental health care to those who suffer from emotional or mental disorders. These psychologists diagnose as well as treat individuals and their families. They provide treatment to people who are struggling with a variety of problems, including substance abuse, anxiety, learning disabilities, depression, and eating disorders.
Clinical psychologists provide mental and behavioral health care services at both the individual or group level, including clinical treatment, training, supervision, education, and research. They work in a variety of settings, ranging from clinics to agencies to doctors' offices and schools. These psychologists must feel comfortable working with people from any strata of society, since not only do they work with members of the general public, but they also consult with other professionals, organize and coordinate interventions, and conduct research — all in an every day's course of work.
Clinical psychology is a broad category in the psychology spectrum in which patients of all ages with many different types of mental disorders and problems are treated, including those suffering from severe psychopathy. Clinical psychologists must be well-educated and flexible, with the ability to synthesize knowledge from a variety of sources; in addition, they must possess a thorough understanding of a range of emotional and behavioral issues.
<!- mfunc feat_school ->
Featured Programs:
Sponsored School(s)
<!- /mfunc feat_school ->
Value of an Online Master's in Clinical Psychology Degree
A student seeking a master's degree in clinical psychology can study online or at a traditional bricks-and-mortar campus. Many students find that the online platform provides a degree of flexibility that they cannot obtain in the traditional classroom setting. Studying online allows students who are non-traditional, those who work full- or part-time, or who have families or other commitments to have the opportunity to receive the training necessary to pursue a career in clinical psychology.
Those who choose to enroll in online classes typically do so for a variety of reasons. Modern online courses allow students to participate in "hybrid" programs that feature a combination of courses in traditional classroom settings as well as online classes that the student can take at his or her convenience. These programs help students enjoy the benefits of both types of settings, including face-to-face classroom interactions with students and professors, as well as the flexibility, autonomy, and convenience of an online program.
Technological changes in recent years have altered the experience of taking an online course. Students find that today's programs have much more to offer than they did in the past: They are more demanding, more interactive, and more engaging. In addition, these classes are less expensive, because they require fewer resources and can be conducted more efficiently for students, as well as teachers, resulting in the student incurring less debt after graduation.
Online courses give students the ability to access classes at convenient, flexible locations and schedules, going about their daily lives while also pursuing a degree. In addition, online courses are now widely accepted by most organizations. Graduates of online programs find many employment options available to them after graduation, all of which can lead to viable careers at reputable organizations.
Online degrees present a practical avenue that students can take in pursuit of their career. As more students enroll and succeed in online programs, this type of education opportunity will continue to gain momentum in the academic world — and acceptance in the professional arena.
Program Objectives and Learning Goals
An online master's degree in clinical psychology opens doors to careers in multiple fields, including psychology, therapy, counseling, and social work. Following the standards set by the APA, or the American Psychological Association, online courses help students develop the skills necessary to navigate the complex challenges presented by patients experiencing a variety of emotional, mental, and behavioral problems.
Knowledge Base in Psychology
During their academic career, students are expected to develop a fundamental, comprehensive knowledge of all the nuances of psychology as well as an understanding of its major concepts and principles as applicable to a variety of real-life clinical situations. This knowledge base will inform all aspects of the student's career, ultimately helping the individual develop a solid understanding of the discipline, leading to the opportunity to acquire more specialized skills if the student desires.
Scientific Inquiry
Students must learn to develop critical thinking skills that will help them interpret patient behavior, draw conclusions about psychological phenomena, study and research patients and conditions, and solve problems in clinical settings. Scientific inquiry is the discipline that helps students engage with patients and apply psychological principles to real-life situations.
Ethical and Social Responsibility
During a clinical psychologist's career, real-life scenarios might include many situations that are ethically complex. Students must familiarize themselves with the formal regulations implemented by the APA that monitor the field of clinical psychology. Understanding the professional ethics of each situation helps the psychologist navigate increasingly complex real-world scenarios and work with patients from diverse cultural and societal backgrounds. Students must learn to apply ethical standards to everyday clinical scenarios and adopt a sense of responsibility for local and global communities.
Communication
Communication is part of the bedrock of clinical psychology. Students must learn to communicate with patients, cultivate their trust, and help them manage their often-complex mental health problems. To develop these skills, students are required to cultivate excellent written communication skills, clearly express their ideas verbally, explain scientific principles in a coherent, understandable manner to laypeople, and make presentations to audiences comprising all types of people, ranging from other professionals to students to patients. Students develop the required communication skills through interactions with other students, teachers, and professionals from outside academia.
Professional Development
Professional clinical psychologists must be self-motivated and highly organized. Professional development courses, which are integrated into coursework, extracurricular involvement, and internships, help the student continue to develop disciplined work habits. Students work with professionals who, by way of demonstration, help the student learn how to develop these same values and foster them in others.
Key Concepts, Overarching Themes, and Principles in Psychology
While studying for their online degree, students are expected to learn basic psychology terminology, how to interpret human behavior, master the psychological theories to help with the resulting interpretation, and know how to apply the scientific method to their patient interactions.
The most important skills and knowledge that students must have acquired upon graduation include:
The history of the profession
How sociocultural factors influence human behavior and thinking
Interaction of the mind and body and how this interaction changes mental health
Ability to interpret behaviors and thinking processes by analyzing personal experiences and psychological concepts
Overview of an MA/MS in Clinical Psychology
To obtain an online MA/MS in clinical psychology, students must complete a variety of core courses, including specialized electives and a clinical practicum. Students typically write a master's thesis as well. Most online master's degree programs take one to two years to complete, depending upon the student. Since online courses are flexible and the student can finish at his or her convenience, timelines vary.
During their studies, students learn how to diagnosis, treat, and prevent mental health disorders. Earning a master's degree is often viewed as the first step in the pursuit of a professional career as a clinical psychologist. Students who graduate with a master's in clinical psychology often decide to pursue a Ph.D. and go on to become a clinical psychologist. The master's degree prepares students to work with diverse populations, ranging from children to seniors, from a variety of ethnic-socioeconomic backgrounds.
What Students Learn
Students in an online master's of clinical psychology program develop a foundational understanding of psychology and learn the practical skills required for them to interact with patients of all different ages. Students learn how to listen to and relate to people from different backgrounds and cultures. They also begin to apply their academic knowledge to real-life scenarios and communicate with patients as to their diagnosis, treatment, and goals. In addition, clinical psychology students must learn how to teach the psychological principles and scientific theories that guide their profession.
Students also develop the skills required to conduct research and continue learning throughout the progression of their career. Students may concentrate in areas that provide the opportunity to specialize. Common concentrations include:
Family psychology
Child clinical psychology
Many students use their degree in clinical psychology to go on to pursue a Ph.D. and eventually go into teaching other clinical psychologists in university settings. In addition to the fundamental psychological principles, research and critical thinking skills, and practical knowledge that students acquire, they may also develop a variety of techniques that help them throughout their careers, including leadership skills. They also learn how to conduct community outreach, achieve a healthy work/life balance, and publish academic papers.
Curriculum and Degree Requirements
Students who pursue a master's degree in clinical psychology are required to take a number of core fundamental courses as well as electives. Core courses include:
Introduction to Clinical Psychology
Personality and Behavior Change
Emotional Development
Abnormal Psychology
Theories of Personality
Cognitive Development
Social Development
Fieldwork in Clinical Psychology
Qualitative Research
Statistics
Professional Ethics
Social Psychology of the Self
Clinical Work With Diverse Populations
Research Methods in Clinical Psychology
History of Psychology
In addition, students may take a range of elective courses, including:
Human Diversity
Child Psychopathology
Adult Psychopathology
Clinical Work With Children
Clinical Work With Adults
Online clinical psychology students typically pursue an internship and complete a master's thesis. The internship gives the students an opportunity to interact with patients, psychologists, and other professionals in the field. This experience is designed to help students form realistic expectations for their future careers, choose a potential specialty, and develop goals for life after graduation. In addition, the internship gives students the real-world experience they need to be able to apply theoretical knowledge to actual patient situations.
The master's thesis is a detailed, scholarly paper. Completing it helps students learn how to conduct in-depth research on relevant topics, convey ideas to readers in a clear, coherent manner, communicate the basic principles of clinical psychology, and organize their thoughts into logical order. Upon completion of the thesis, students should have acquired the knowledge and skills they need to determine the direction of their future career.
Clinical Psychology Master's Graduate: Career Opportunities & Employment
Most states require clinical psychologists to acquire licensure or certification to practice, but licensing certification requirements vary by state. Most students who graduate with an online master's degree will go on to seek a Ph.D. in Clinical Psychology, because many states require a Ph.D. for licensure. Students who wish to become a practicing clinical psychologist must determine the requirements of their state to ensure they can meet their career goals upon graduation. Other requirements may include one or two years of professional experience as well as a passing grade on the examination for professional practice in psychology.
After completing all the necessary requirements for practice, clinical psychologists may work in a variety of settings, including:
Schools and school districts
Group homes
Court systems
Community health agencies and organizations
Hospitals
Prison systems
Law enforcement agencies
Facilities for the elderly
Rehab facilities
Clinical settings
Academic settings
In academic settings, clinical psychologists may work with students with learning disabilities or emotional disorders to help them learn the coping skills required to navigate school and home life. In group homes, clinical psychologists help patients manage addictive behaviors. In facilities for the elderly, they help patients manage depression, anxiety, and a variety of other psychological problems common to the senior population. Clinical psychologists work in military settings to help military personnel manage emotional distress resulting from PTSD and combat injuries. For grieving relatives of wounded or deceased soldiers, clinical psychologists provide diagnosis and treatment for conditions such as depression.
Clinical psychology is a wide-ranging field, and professionals in it treat a variety of disorders. For students planning to pursue an online degree and embark upon a career in psychology, clinical psychology is a practical profession that is in demand in nearly all parts of the country.
Most clinical psychologists choose a specialty and work within that niche. The specialty may not be at the master's level, as many years of study must follow graduation with a master's degree. Some examples of specialties include:
Addiction
Post-traumatic stress disorder (PTSD)
Obsessive behavior
Learning disabilities
Some clinical psychologists work with specific segments of the population, such as children, adults, seniors, or families. Those who choose to work with specialized populations may study these populations during internships or practicum experiences. Clinical psychologists continue to take professional development courses upon graduation and entrance into the workforce. Doing so helps them grow as professionals and stay current on the most up-to-date treatment methods for their patients.
Learn more about the employment outlook for clinical psychologists.
The Importance of Accreditation
Attending a school with formal educational accreditation helps ensure that clinical psychology programs provide students with the tools they need to succeed after graduation. Accreditation implies excellence in a program. Students who seek a degree in a program that is not accredited may not garner the experience necessary to succeed in the workforce.
An online master's degree in clinical psychology is just one step on the path to a career in clinical psychology. Enrolling in an unaccredited program may endanger the student's ability to proceed to the next step, resulting in the student's failure to be accepted into a creditable Ph.D. program and negatively impact their ability to find desirable employment upon graduation.
Some well-known accrediting bodies for clinical psychology degrees include the Council for Accreditation of Counseling and Related Educational Programs and the National Association of School Psychologists. However, a variety of accrediting bodies work with universities. Students who are pursuing a degree should inquire as to each potential school's accreditation to decide whether the school meets the rigorous standards established by the accrediting bodies.
Choosing the right online school is just the first step a student must take to become a clinical psychologist. By working hard in a reputable online program, students can receive the training necessary to succeed after graduation.
<!- mfunc feat_school ->
Featured Programs:
Sponsored School(s)
<!- /mfunc feat_school ->