How to Become a Psychologist in Wyoming
<!– mfunc feat_school –>
Featured Programs:
Sponsored School
<!– /mfunc feat_school –>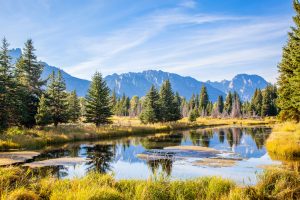 The "EqualityState" offers up a healthy job market for psychologists, so if you plan to study and practice psychology within the state, you're in luck. The Wyoming Labor Market Information states that employment in the industry will grow 25% through the year 2020, which is better than average when compared to other states in the US. Because there is competition between employers for qualified psychologists, those psychologists will be offered great positions with competitive pay.
The strict requirements in the state of Wyoming are in place to ensure that the licensed psychologists are highly qualified and ready to take on the responsibility of caring for patients. A psychologist is often a patient's greatest ally in battling or managing a mental or emotional disorder or illness, so the psychologist needs a sound foundation to pull from that includes adequate education and experience.
Education Requirements for Psychologist Licensing in Wyoming
The Wyoming Professions and Occupations Code states that men and women who possess an earned doctorate degree in psychology from an educational institution approved by the Wyoming Board of Psychology will meet the requirements for licensure. The University of Wyoming offers up a few great doctoral programs, but you can find a full list of campus-based and online doctoral programs available here.
Below is the complete educational path for the Psychologists:
An exception to this requirement is made for individuals performing duties as a school psychologist. To become a school psychologist in Wyoming, individuals must hold a Bachelor's degree or higher from an accredited college or university and satisfy the State of Wyoming basic skills requirement.
A doctoral program typically takes between 2 and 4 additional years to complete, once you've earned a Master's Degree. The actual length of time will depend upon how much education you currently have and which program you choose. Many include supervised residencies and internships which can help you accumulate the required supervised professional experience. Learn more about WY psychology degrees and schools.
Supervised Professional Experience Requirements for a Psychologist in Wyoming
Applicants for licensure in Wyoming also need to complete a minimum of 2 years of what the state calls "supervised professional experience." This may be completed prior and subsequent to obtaining the degree. At least one year (1,500 clock hours) must be completed after obtaining the doctorate degree. These hours must be uniformly distributed over not less than 12 months and not more than 24 months. This experience must include a post-doctoral training program registered with the Association of Psychology post-doctoral and internship centers, or post-doctoral work experience that meets the following criteria:
2 hours of supervision for every 40 clock hours of work experience.
Half of those 2 hours must be face to face supervision with a psychologist.
Examinations for the Psychologist License in Wyoming
Before taking the examination required, individuals must submit an application to the Wyoming Board of Psychology. Approval or rejection will be given in time for the next testing date. The examination required by the state of Wyoming is the Examination for Professional Practice in Psychology or EPPP. This is a nationally-recognized, 225-question, multiple-choice examination administered by the American Psychology Association. The tests are given at numerous testing sites throughout the country. Candidates must obtain a passing score and the scores and relevant information should be forwarded to the Wyoming Board of Psychology. Candidates will receive their approval or rejection from the Board after review.
Note: You may find additional information about how to earn a psychology license in Wyoming by visiting the Wyoming Board of Psychology.
Psychology Career Outlook in Wyoming
 The Bureau of Labor Statistics (BLS) reports that there are approximately 280 clinical, counseling and school psychologists in Wyoming. In May of 2011, it was reported that those psychologists were earning an annual median wage of $67,210. On a national level, the median annual wage of psychologists was $67,880 in May of 2011.
The BLS defines the median wage as the center line, meaning that "half the workers in an occupation earned more than that amount and half earned less." The lowest ten percent of psychologists on a national level earned an annual wage lower than $39,060 while the top ten percent earned an annual wage exceeding $110,410.
Find information regarding tuition, financial aid, enrollment dates, and curriculum by requesting information from the programs below:
<!– mfunc search_box_body –>
<!– /mfunc search_box_body –>
Additional Psychology Resources in Wyoming: