Psychology Degrees, Schools, and Careers in Colorado
<!- mfunc search_box_body ->
<!- /mfunc search_box_body ->
<!- mfunc feat_school ->
Featured Programs:
Sponsored School(s)
<!- /mfunc feat_school ->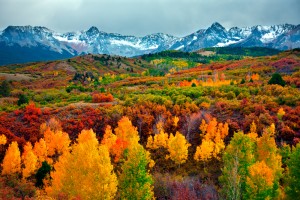 In the state of Colorado, there are many worthwhile post-secondary institutions to choose from. There are 134 colleges and universities in the state, a number that is well above the national average per state (90). Needless to say there are abundant opportunities for students interested in attending college in Colorado. Considering psychology is among the most popular degree programs in the country, it is safe to say that there are a number of great psychology-specific opportunities in the state as well. The state has more than 250,000 students enrolled at public institutions and countless more enrolled at the private institutions in the state. It is also safe to assume that the numbers haven't changed drastically since 2019-20, which is the last time the National Center for Education Statistics tracked the type of degrees granted by state. In that year, Colorado schools awarded over 2,000 bachelor's degrees in psychology, as well as 917 master's degrees in the same subject.
There are many different sub fields within psychology, and there are Colorado schools that will offer you programs for each one. However, you should not choose blindly; you should choose the school that has the programs best tailored to your specific interests. It would be smart to conduct a great deal of research on each of the schools that hold your interest, so that you can find the program that is best suited to your educational needs. In many cases, students who obtain bachelor's degrees in psychology do not go on to pursue careers in the field. The American Psychological Association recently found that only five percent of graduates with bachelor's degrees in psychology were working in the field of psychology. There are many applications for a bachelor's degree in psychology outside of the specific field. Employers often find this degree desirable, because it shows knowledge and insight on people, which is relevant in most fields.
If one does want to pursue a career in psychology, it would be most helpful to continue the education on a graduate level. People with master's, and especially doctoral, degrees have the largest range of job opportunities available to them upon graduation. In fact, 72 percent of psychologists who finished their doctorates in 2009 were able to get their first choice when it came time to find a job. Not only is this the case, but in many states, you actually have to have a doctorate in order to become a psychologist. If you follow psychology licensure guidelines in Colorado, students would know they will need to have a doctoral degree in order to call themselves a licensed psychologist. A bachelor's degree will, in most cases, allow people to become an assistant in psychology research, but if they want to reach the top of the field, they will most likely need to do graduate work.
<!- mfunc search_btn -> <!- /mfunc search_btn ->
There are many excellent schools with psychology departments in the state of Colorado and the state actually spends 20 percent more on higher education than they did even three years meaning there is a lot of chances. For example, the  University of Colorado – Boulder and Colorado State University are the two biggest names in post-secondary education in the state, and both offer a number of well-reputed doctoral degree programs in psychology as well as a variety of bachelor's and master's degrees as well. The University of Colorado – Colorado Springs also has respected psychology degree programs at every level and University of Northern Colorado isn't far behind. There are also a handful of smaller schools like Naropa University, Colorado College and Adams State College that fewer but still respected psychology education programs as well. There are several scholarships available specifically to Colorado students, including the College in Colorado Scholarship, the Colorado Council Volunteerism/Community Service Scholarship, and Colorado State University Aid. Additionally, there are merit-based scholarships available for high-achieving students.
Denver Psychology Degrees, Schools, and Careers
Denver is the biggest city in Colorado, as well as the state capital. There are many reasons to live in Denver; the cost of living is affordable, the people are very friendly, and there is a plethora of things to do no matter what your interests. In addition, Denver is a wonderful place to study psychology. There are six schools in the Denver area that offer psychology degree programs. The overall population of Denver is 554,636, and the student population is 111,017, showing how much of the city is centered around college environments. The University of Colorado – Denver has the largest psychology program in the city but the University of Denver also has a sizable psychology student population as respected programs as well. There is also Denver Seminary, a school with a small number of counseling and psychology degrees. The last two schools in the city that offer psychology degrees are Metropolitan State College of Denver and Regis University, both of which allow students to major in psychology and have other programs as well.
There are also quite a few psychologists working in Denver, when compared to other cities in the United States. According to the United States Bureau of Labor Statistics, in May 2022, there were 1,370 psychologists working in the Denver-Aurora-Broomfield metropolitan area. Depending on specialty, annual mean salaries for Denver psychologists landed between $92,520 and $107,460 at this time. If students are considering what cities would be great places in which to practice psychology, Denver is definitely worth a closer look.
Online Psychology Schools in Colorado
There is a fair number of online psychology degree programs in the state of Colorado. Considering that there are only 20 different schools that offer psychology programs, it is fairly impressive that six of them offer online degree programs in the discipline. Additionally, Adams State College offers an online Master of Arts in School Counseling, and Naropa University in Boulder offers a few different Master of Arts degrees in subfields of Transpersonal Psychology. The University of Northern Colorado offers a few different master's degrees as well, and at the University of Phoenix in Colorado Springs, you can pursue an online Doctor of Philosophy in Industrial/Organizational Psychology or Master of Science in Counseling.
Although these are already plenty, you have even more options if you are interested in a psychology degree in the state of Colorado. Some popular choices include Walden University, Capella University, and the Adler School of Professional Psychology; these schools offer both undergraduate and graduate degrees online, and they are open to students who live all over the United States. In addition, there are many other online psychology schools to which you have access in this state, and you should do the appropriate legwork in order to find the one that is best suited to your particular career goals.
Career Opportunities for Psychologists in Colorado
There are many opportunities for psychologists to find employment in the state of Colorado. Although Denver is home to a large proportion of the psychologists in the state, there is a multitude of job opportunities in the other cities of Colorado as well. According to the Bureau of Labor Services, in May 2022, there were almost 2,900 professional psychologists who were working in the state of Colorado. These professional psychologists earned an annual mean salary of between $91,820 and $104,810 per year. Of course, the salary varies with the specialty.
In addition, employment in the field of psychology is projected to grow quite a bit more in the coming years. It is estimated that of employment of clinical and counseling psychologists is going to grow 21% by 2030. Nationally, employment in this field is projected to grow by 10%. Additionally, there is to be an average of 320 jobs opening up every year. Colorado is thus a very promising location in which to pursue a thriving, successful career in the field of psychology.
2022 US Bureau of Labor Statistics and O*NET (a site sponsored by the Department of Labor) market trends for Colorado psychology professionals are based on national data, not school-specific information. Conditions in your area may vary. Data accessed July 2023.
<!- mfunc search_btn -> <!- /mfunc search_btn ->
Psychologist Salary in Colorado
| Location | 10% | 25% | Median | 75% | 90% |
| --- | --- | --- | --- | --- | --- |
| United States | $44,500 | $76,730 | $105,780 | $119,460 | $133,470 |
| Colorado | $71,200 | $93,530 | $110,070 | $120,480 | $128,940 |
| Colorado Springs, CO | $69,590 | $86,780 | $96,420 | $104,240 | $108,410 |
| Denver-Aurora-Broomfield, CO | $45,330 | $90,170 | $100,510 | $109,400 | $115,300 |
Table data taken from 2020 BLS (http://www.bls.gov/oes/current/oes193039.htm)
Featured Colorado Schools with Psychology Degree Programs
<!- mfunc feat_school -><!- /mfunc feat_school ->