Psychology Degrees, Schools, and Careers in Florida
<!- mfunc search_box_body ->
<!- /mfunc search_box_body ->
<!- mfunc feat_school ->
Featured Programs:
Sponsored School(s)
<!- /mfunc feat_school ->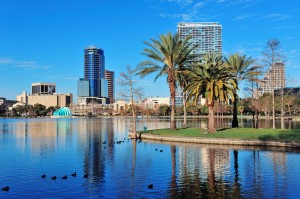 As one might expect from a state as large and populous as Florida, students interested in attending college in the state have a plethora of options to choose from. In addition to the 12 state universities and colleges that make up the State University System of Florida, there are more than 200 other private non-profit and for-profit universities stretched across the Sunshine State.
Psychology degrees are among the most popular and common choices for students, but there are few states where a formal education in psychology is more popular than Florida. According to the most recent subject-specific degree data from the Integrated Postsecondary Education Data System, psychology schools in Florida conferred 4,866 bachelor's degrees in psychology in 2009-10, which ranks fourth in the country in that category, and another 987 master's degrees in psychology, which also ranks in the top 10 nationally. It is difficult to say whether those numbers have risen or whether they plateaued but even so, psychology education makes up a healthy chunk of higher education in the state. With a wide range and variety of psychology schools in Florida and a number of major cities that boast active psychology communities for students to network in, Florida is an excellent choice for students looking for a psychology education.
Florida also happens to have cheaper higher education options, relative to the rest of the country at least. The average enrollment cost for a full-time student in Florida in 2013-14 was $14,372 for in-state students attending public schools, and $31,288 for students attending private institutions. That may seem like a lot of money and of course it is, but when one compares those prices to the prices of most other states in the country, Florida tuition actually stacks up quite favorably. Considering the quality of the in-state institutions and the wide array of prestigious and reputable private institutions, getting a psychology degree in Florida will not only be relatively cheap, but the degree will potentially stand out with potential employers. It is important to note that each school has different pricing and tuition costs so students should make sure to check with each school for details before committing to enrollment.
There are so many options for psychology education in Florida that we felt it would be smart to try and aid students in their search by pointing out some of the more prominent and reputable institutions in the state. Of course highlighting every psychology school in Florida would take forever and wouldn't be helpful, so instead we focused on schools near some of Florida's major cities – Miami, Jacksonville, Orlando, and Tampa Bay.
The State University System alone is home to almost 350,000 enrolled students as of the Fall of 2014 and its schools granted more than 42,000 undergraduate and graduate psychology degrees over the last ten years (click table below to dive further):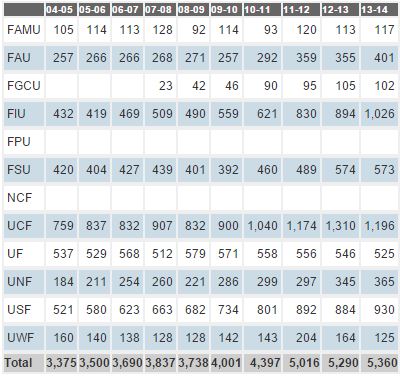 Realize that these will only be a sampling of the psychology schools, degree programs in Florida and students would be wise to conduct their own research before making the important choice of where they wish to attend college.
<!- mfunc search_btn -> <!- /mfunc search_btn ->
Jacksonville Psychology Degrees, Schools, and Careers
As Florida's largest city in terms of population, one would expect to find plenty of psychology schools in Jacksonville and plenty of employed psychologists too. But while there are a number of excellent psychology degree programs in Jacksonville to consider, there are fewer employed psychologists than one might expect. As of May 2014, the BLS reported that Jacksonville employed about 520 psychologists whose annual average wage ranged between $69,480 for clinical and school psychologists to $88,280 for psychologists with other specialties. The money is obviously enough to make a living, but the jobs are fewer and further between than one might expect for such a large city.
Luckily, psychology schools in Jacksonville are far easier to come by than professional employment in the industry. The largest and most recognizable psychology degree program in Jacksonville is actually at the University of Florida, in Gainesville, which is about 70 miles south of Jacksonville.  The Gators aren't the only ones with a recognized psychology program however; both Jacksonville University and the University of North Florida have established psychology degree programs. Community colleges like Florida State College at Jacksonville offer psychology classes for interested students and there are even national psychology degree program providers serving interested students such as University of Phoenix, which has a campus location in Jacksonville.
Miami Psychology Degrees, Schools, and Careers
Known for its glitz and its glamour, Miami is often considered one of the nightlife capitals of the country. But with more than 1,000 employed psychologists and a number of excellent psychology schools in Miami, the city has also earned the reputation as the psychology capital of Florida. According to the BLS, the Miami-Fort Lauderdale-Pompano Beach metropolitan area has 1,470 employed psychologists and those professionals earn an annual average wage of between $71,660 and 78,990 as of May 2014.
There are also a diverse set of choices when it comes to psychology degrees in Miami. The University of Miami has a prestigious psychology degree program and Florida International University has a psychology department that is not far behind in terms of prestige. There is also Nova Southeastern University in Fort Lauderdale that has an excellent clinical psychology program. For those looking for something different, nearby Florida Atlantic University has a reputable psychology department and Barry University combines a small-school feel with a rigorous psychology degree program.
There are also a few national psychology schools with campuses in the Miami area. The University of Phoenix is one university that maintains a strong campus presence in South Florida with campuses in Miami, Fort Lauderdale, Plantation, and Hollywood (Florida). Another school with campuses in Fort Lauderdale and Hollywood is Keiser University, which offers a respected bachelor's degree program in Psychology.
Tampa Bay Psychology Degrees, Schools, and Careers
On its own, Tampa Bay is only the third-largest city in the state of Florida but when you consider the close proximity of St. Petersburg and Clearwater, the Tampa-St. Petersburg-Clearwater Metropolitan area is a hive of activity, opportunity, and employment, and psychologists are no exception. The BLS said that in May of 2014, there were 790 employed psychologists in the area and they were earning an annual average wage of between $71,200 and $88,110 depending on the specialty of the psychologist.
There is also a number of excellent psychology school options in the Tampa Bay area that interested students would be wise to consider. You can start with the prestigious psychology program at the University of South Florida. If that isn't for you, consider the psychology program at the New School of Florida, which is primarily for graduate students, or programs at Eckerd College or of course the University of Tampa as well.
There are also a number of national psychology schools in Tampa Bay. University of Phoenix offers a number of psychology degrees and has a campus in Tampa Bay.
Orlando Psychology Degrees, Schools, and Careers
The home of Disney World is also a growing city with a number of employment options for interested psychologists and an even larger selection of psychology schools for interested students as well. The city and its surrounding metropolitan area doesn't employ as many psychologists as some of the other cities in Florida –the BLS said as of May of 2014 the Orlando-Kissimmee-Sanford metropolitan area roughly had 660 employed psychologists – but it offers excellent wages to those who can find work. The average annual wage of psychologists in the metropolitan area ranges from $77,400 for clinical, school, and counseling psychologists, to $89,390 for psychologists with other specialties.
As for schools, the city's flagship school, the University of Central Florida has a popular psychology degree program and the Florida Institute of Technology in nearby Melbourne has a prestigious clinical psychology program worth checking out as well. There are also some community colleges, such as Brevard Community College and Seminole State College of Florida that offer psychology degrees to students who can't attend a four-year university for whatever reason.
The collection of national psychology schools in Orlando is rather robust as well. The University of Phoenix, Keiser University, and DeVry University all offer a diverse set of psychology degrees and all have campuses in Orlando as well.
Online Psychology Schools in Florida
The national popularity of a psychology degree makes the subject a perfect place to implement fully online coursework. There are a number of online psychology schools in Florida that ensure that their programs are held to the same standards as traditional programs but also allow the student a measure of flexibility when it comes to class schedule and geographic constraints.
The online psychology school in Florida that you choose should reflect the level of education and career you wish to pursue. Doctoral degrees are can be rigorous and time-intensive, and so finding one that can be completed online is very rare. Online bachelor's degrees in psychology and online psychology courses are much more prevalent, popular, and easy to find. But a bachelor's degree in the subject doesn't qualify you to become licensed psychologist. In order to become a licensed psychologist in Florida, one will need a doctoral degree.
Those looking for online psychology schools in Florida should start with state universities and community colleges. Both the University of Florida and Florida State University have online psychology-related courses to choose from and Brevard Community College and Daytona State College are just two of the community colleges offering online psychology classes in Florida. Finding online psychology degrees from state-specific universities is even harder in Florida, so make sure to do your research before committing to a program.
That said there are a large number of national online psychology schools in Florida, including Baker College, Capella University, Kaplan University, and Walden University, that serve interested students with an array of online psychology degrees of different levels. These aren't the only online psychology programs in Florida either, so check out our school listings for a more expansive and detailed look at online psychology schools in Florida and programs in your area.
Career Opportunities for Psychologists in Florida
Believe it or not, but despite its size and large population, Florida isn't among the top five states employing psychologists. As of May 2014, the state of Florida employed 4,750 psychologists according to the BLS, a rise of more than 1,000 psychologists since 2011. The good news is that these psychologists in Florida are well-paid – they earn an annual average wage of between $74,040 and $87,910 depending on the specialty – and employment within the profession is growing statewide.
The BLS reported that between 2010 and 2020, employment in the profession was expected to grow by 22 percent nationally, and while growth in Florida won't be nearly as robust, the Florida Agency for Workforce Innovation estimates employment of clinical, counseling, and school psychologists will grow five percent between 2008 and 2018. That figure may not seem like much on the surface, but that is a healthy number of new job openings and opportunities for psychologists interested in practicing their craft in the Sunshine State. Demand for psychologists will grow as doctors and hospitals use psychologists to treat and diagnose mental issues and also as businesses try to stay organized and efficient and use new means to achieve that. Explore the psychologist license requirements in Florida.
<!- mfunc search_btn -> <!- /mfunc search_btn ->
Psychologist Salary in Florida
| Location | 10% | 25% | Median | 75% | 90% |
| --- | --- | --- | --- | --- | --- |
| United States | $44,500 | $76,730 | $105,780 | $119,460 | $133,470 |
| Florida | $46,110 | $76,720 | $100,340 | $115,560 | $126,330 |
| Fort Lauderdale-Pompano Beach-Deerfield Beach, FL Metropolitan Division | $30,130 | $50,220 | $64,730 | $77,550 | $123,830 |
| Gainesville, FL | $42,230 | $55,950 | $90,900 | $99,010 | $107,440 |
| Jacksonville, FL | $52,430 | $56,970 | $78,930 | $101,940 | $170,110 |
| Lakeland-Winter Haven, FL | $27,300 | $39,080 | $45,760 | $73,440 | $90,900 |
| Miami-Miami Beach-Kendall, FL Metropolitan Division | $41,150 | $56,950 | $96,200 | $158,070 | $177,620 |
| North Port-Bradenton-Sarasota, FL | $51,280 | $55,750 | $93,660 | $165,470 | - |
| Orlando-Kissimmee-Sanford, FL | $69,500 | $79,110 | $89,220 | $99,160 | $107,450 |
| Pensacola-Ferry Pass-Brent, FL | $63,780 | $69,510 | $83,400 | - | - |
| Tallahassee, FL | $50,340 | $53,850 | $59,680 | $83,160 | $96,810 |
| Tampa-St. Petersburg-Clearwater, FL | $53,730 | $74,220 | $89,680 | $99,170 | $107,450 |
| West Palm Beach-Boca Raton-Boynton Beach, FL Metropolitan Division | $52,580 | $59,300 | $73,530 | $102,010 | $113,680 |
Table data taken from 2020 BLS (http://www.bls.gov/oes/current/oes193039.htm)
Featured Florida Schools with Psychology Degree Programs
<!- mfunc feat_school ->
Featured Programs:
Sponsored School(s)
<!- /mfunc feat_school ->