Psychology Degrees, Schools, and Careers in Ohio
<!- mfunc search_box_body ->
<!- /mfunc search_box_body ->
<!- mfunc feat_school ->
Featured Programs:
Sponsored School(s)
<!- /mfunc feat_school ->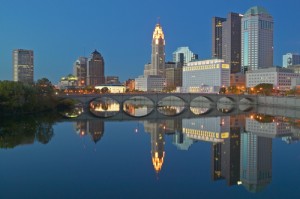 There aren't very many states in the entire country that have more higher education options to choose from than Ohio. The average state in the US has 90 degree-granting institutions, and Ohio has a whopping 210. The Ohio Department of Higher Education actually maintains a comprehensive list of both the public institutions in the state and the independent or private institutions operating in the state as well. Interestingly enough, enrollment across the state of Ohio has actually decreased slightly in the last two years and there were less than 700,000 students enrolled in public and private institutions across the state in 2014. Many of these schools offer the option to pursue a degree in psychology. In fact, according to data from the Ohio Department of Higher Education, in 2014 the state conferred more than 10,000 undergraduate and graduate degrees in social and behavioral sciences, making Ohio one of the largest producers of psychology graduates in the country.
There are various levels of degrees in this field, and they are all available in many different schools in the state of Ohio. The degree that students can obtain in the fastest amount of time is an associate's degree in psychology; this degree takes only two years to complete, but does not allow for many career options on its own. The minimum degree that people can typically expect to be marketable is a bachelor's degree, which typically takes four years. If students want to extend their education and do a master's degree, this will typically take an additional 2-3 years beyond the bachelor's degree. The highest-level degrees are the Ph.D. and Psy.D. These are doctoral level degrees that take 4-7 years after your bachelor's degree to finish. Given the Ohio psychologist licensure requirements, this is the level of degree that students need in order to become a licensed psychologist in any state and treat patients.
<!- mfunc search_btn -> <!- /mfunc search_btn ->
There are several choices that are available to students when opting to pursue their psychology degree. If they are only getting an associate's or a bachelor's degree, the options to focus on certain aspects of psychology are fairly, although not completely, limited. However, if they choose to continue their studies at the graduate level, they can choose from many different types of graduate degrees. These include clinical psychology, experimental psychology, and applied psychology. Generally, a student can also customize his or her curriculum to focus on a specific area of psychology such as abnormal psychology, social psychology, or neuropsychology. In the best Ohio schools, they can tailor their curriculum to include any of these options, or something entirely different.
There is a plethora of schools in Ohio that offer degree programs in psychology, and several of these are top notch. We want to focus on Ohio's three biggest and most recognizable cities, while also calling out a few of the best programs spread through the state. Miami University in Oxford has a recognized and nationally ranked clinical psychology degree program, as does Bowling Green State University in Bowling Green and Kent State University in Kent. There are also a number of less prestigious but still reputable universities around the state such as Denison University, Bluffton University, and Ashland University, all of which offer effective undergraduate psychology degree programs.  Since there are so many options in Ohio, students should do a lot of research to find out which one best suits their specific educational needs.
Columbus Psychology Degrees, Schools, and Careers
As the capital of Ohio, Columbus is a great location for anyone who is interested in psychology. Out of the general population of 711, 470, there are just over 113, 000 students. Among these, about 61,000 are enrolled in schools with psychology degree programs. The Ohio State University is the largest of these schools in Columbus, as well as the school that boasts the top psychology program in Ohio. In 2010, 601 students graduated with a psychology degree in Columbus. Other universities in the area that offer psychology degree programs include Capital University and Ohio Dominican University, which offers a number of different bachelor's degrees in different psychology specialties.
Although Columbus is home to great psychology programs, you may want to consider leaving after graduation. The job outlook is not very bright in Ohio at this point. Though there is expected increase of psychology jobs in Ohio within the next decade, this increase is not nearly as much as the increase expected in the rest of the country. However, Columbus is a major focal point of the psychology profession within Ohio. As of May 2022, the Columbus metropolitan area had more than 800 professional psychologists employed in the area and those psychologists earned an annual average wage between $79,050 and $108,820, making Columbus a potentially lucrative place to start a psychology career.
Cleveland Psychology Degrees, Schools, and Careers
Cleveland is the second most-populous city in the state of Ohio and it is a Midwestern hub of education and career opportunities for students interested in studying and then starting a career in psychology. The biggest names in postsecondary education for psychology in the Cleveland area are Case Western Reserve University, which boasts a nationally ranked clinical psychology program, and Cleveland State University, which offers a litany of psychology degrees at every level. The other three schools in the city that offer psychology degrees are John Carroll University, Ursuline College, and Notre Dame College, all of which offer a variety of undergraduate psychology degree programs.
As for employment of psychologists in the area, there are plenty of like-minded professionals to network with, which also means there are potentially a number of job opportunities worth pursuing if you are determined to jump-start your psychology career in Cleveland. According to the United States Bureau of Labor Statistics, as of May 2022, the Cleveland-Elyria-Mentor metropolitan area had about 800 professional psychologists employed in the area and those psychologists were earning a tidy annual average wage of between $85,250 and $100,080 depending on the specialty of the psychologist.
Cincinnati Psychology Degrees, Schools, and Careers
Cincinnati may be the state of Ohio's third-largest city in terms of population, but it is also one of the most recognizable cities in the state and a destination for many students looking for postsecondary education in psychology and career opportunities to enter the profession as well. The University of Cincinnati is the city's flagship university and it has a nationally ranked clinical psychology degree program for students committed to a doctoral degree. The Union Institute & University is a lesser known name that also boasts a wide range of excellent psychology degree programs at every level. Xavier University and College of Mount Saint Joseph also offer students psychology degree options and Cincinnati Christian University shouldn't be left off the list either.
The city's professional psychologist population is not as large as Columbus or Cleveland, but that doesn't mean it isn't a bustling community with plenty of opportunity for ambitious young psychologists looking to start a career. In May of 2022, the BLS reported that Cincinnati-Middletown metropolitan area had at least 900 professional psychologists and those professional psychologists were earning an annual average wage of between $94,230 and $109,330 depending on who the employer was and what sort of psychologist the professional was practicing.
Online Psychology Schools in Ohio
There are quite a few universities based in Ohio that offer online psychology degree programs. Although there are more than 65 schools in Ohio with psychology programs, it is a relatively small proportion of these that offer online degrees in psychology. Sinclair Community College offers an Associate of Arts in Psychology. There are schools that offer four-year degrees, and beyond, as well. The University of Cincinnati and the Union Institute & University offer Bachelors of Arts degrees in psychology online.
There are also various master's degrees in psychology offered, in schools such as Ashland University, The University of Toledo, Union Institute & University, and Wright State University. The University of Phoenix, in West Chester, Ohio, offers a Doctor of Philosophy in Industrial/Organizational Psychology, and The University of Toledo offer online options for doctorates in educational psychology. A background in industrial-organizational psychology can lead to great job prospects, particularly in Ohio.  Additionally, there are schools such as Cleveland State University, which offer courses in psychology online through distance learning, but do not at this point have full psychology degree programs online.
This is not the extent of your options for pursuing an online psychology degree. Schools such as Walden University, Capella University, and the Adler School of Professional Psychology are some popular online programs where you can get both an undergraduate and graduate psychology degree, and they accept students from all over the United States. There are many other schools that can be explored, and it would be wise to do the appropriate research to find the best option for you.
Career Opportunities for Psychologists in Ohio
The overall employment of psychologists in the United States is expected to grow a great deal from 2021 to 2031, faster than the average for all occupations. Employment growth will vary by specialty. Employment of clinical and counseling psychologists in the United States is expected to grow 10% between 2021 and 2031. However, in Ohio, the employment of these psychologists is only expected to grow 8% between 2020 and 2030, which is lower than the national average. However, this still equates to 310 extra jobs in this state alone.
There are many jobs for people with psychology backgrounds in Ohio. As. In May 2022, the U.S. Bureau of Labor Statistics reported that there was a minimum of 4,400 psychologists employed in Ohio, and those psychologists earn an annual average wage of between $90,040 and $108,320, depending on their specific specialties. Ohio is also one of the top five states for employment in industrial–organizational psychology. Overall, Ohio is a great state to pursue a career in psychology, particularly in these fields.
2022 US Bureau of Labor Statistics and O*NET (a website sponsored by the US Department of Labor) job market trends and salary figures for clinical and counseling psychologists, school psychologists, industrial-organizational psychologists and psychologists (all other) are based on national data, not school-specific information. Conditions in your area may vary. Data accessed July 2023.
<!- mfunc search_btn -> <!- /mfunc search_btn ->
Psychologist Salary in Ohio
| Location | 10% | 25% | Median | 75% | 90% |
| --- | --- | --- | --- | --- | --- |
| United States | $44,500 | $76,730 | $105,780 | $119,460 | $133,470 |
| Ohio | $29,270 | $82,410 | $104,580 | $117,220 | $131,030 |
| Cincinnati-Middletown, OH-KY-IN | $24,900 | $74,570 | $94,400 | $100,120 | $108,720 |
| Cleveland-Elyria-Mentor, OH | $24,930 | $43,930 | $91,640 | $97,380 | $103,100 |
| Dayton, OH | $68,470 | $90,500 | $103,780 | $113,590 | $132,980 |
Table data taken from 2020 BLS (http://www.bls.gov/oes/current/oes193039.htm)
Featured Ohio Schools with Psychology Degree Programs
<!- mfunc feat_school -><!- /mfunc feat_school ->