Psychology Degrees, Schools, and Careers in Washington
<!- mfunc search_box_body ->
<!- /mfunc search_box_body ->
<!- mfunc feat_school ->
Featured Programs:
Sponsored School(s)
<!- /mfunc feat_school ->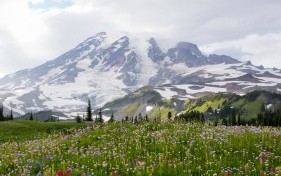 With nearly 400,000 students enrolled in college in the fall of 2009-10, it is plainly obvious that postsecondary education is a big deal in Washington. The state has 85 degree-granting institutions to choose from, which is right around the national average, and plenty of those institutions offer worthy psychology degree programs of different kinds. Psychology is very popular in Washington as the state is one of the largest producers of psychology degree-holders in the country. The Integrated Postsecondary Education Data System reported that in 2009-10, Washington gave out more than 1,500 bachelor's degrees in psychology and another 496 master's degrees in psychology during that same time period. These numbers prove that there are plenty of options for students in and out of Washington who are interested in the psychology offerings of schools in Washington.
No matter what type of degree and what psychology specialty you wish to pursue, there are schools in Washington that most likely offer something for everyone. But with so many different schools and programs to choose from, students would be wise to conduct thorough research on each program, especially because different degrees can open different doors within the psychology community. According to the American Psychological Association, in 2008, only five percent of psychology bachelor's degree recipients were actually working in a psychology-related field, and that is because to become a licensed psychologist in the United States, you need to earn a graduate degree (most likely doctoral) in psychology. See the licensure requirements for Washington.
A bachelor's degree can prepare students for a career in something else or qualify students to become psychologist assistants, but the reason that 25 percent of all students who receive a bachelor's degree in psychology continue on to study at the graduate level. They do that because in psychology, a bachelor's degree is not enough to be considered an actual psychologist. A bachelor's degree is still worthwhile because it can provide a strong foundation of knowledge for graduate work in the field and does qualify recipients for positions as psychologist assistants and potentially some research assistant work. But in almost every case in every state, in order to become a licensed psychologist, students will need to have a doctoral or professional degree in order to be qualified.
The biggest name outside of Seattle with a nationally ranked clinical psychology degree program is Washington State University in Pullman, which offers a number of PhD programs in the subject as well as a number of undergraduate degree programs. Other state schools like Western Washington and Eastern Washington offer master's degrees in psychology and schools such as Gonzaga University, Walla Walla University and the University of Puget Sound all offer bachelor's degree programs in a variety of psychology-related subjects and specialties. There are also a number of community colleges across the state that offer introductory psychology coursework and other institutions with degree programs in psychology so make sure to do thorough research on the subject.
<!- mfunc search_btn -> <!- /mfunc search_btn ->
Seattle Psychology Degrees, Schools, and Careers
Seattle is a cultural and artistic hub of the West Coast but it is also a city with a bustling economy and a sizable group of both excellent postsecondary schools with psychology degree programs and professional psychologists practicing their craft in the surrounding metropolitan area. The University of Washington is the most well-known school in the area and its nationally ranked clinical psychology program is just one of many psychology degree programs offered at the school. City University of Seattle in nearby Bellevue offers both bachelor's and master's degrees in the subject and both Seattle University and Seattle Pacific University offer undergraduate and graduate degree programs in a variety of psychology specialties. There is even the Seattle School of Theology and Psychology which offers a degree in counseling psychology for students looking for a smaller and more focused school.
Seattle also supports one of the largest populations of professional psychologists in any metropolitan area across the country. In fact, the United States Bureau of Labor Statistics reported that as of May 2011, there were nearly 1,500 professional psychologists employed in the Seattle-Tacoma-Bellevue metropolitan area and that these psychologists were earning an annual average wage of between $78,180 and $80,560. This means psychologists looking to practice in the Seattle area will find plenty of like-minded professionals, career opportunities, and excellent compensation.
Online Psychology Schools & Degrees in Washington
There are only a few state-specific online psychology schools in Washington, but the state does allow a number of the national, for-profit, psychology schools work with interested students in Washington and so there remain a number of different routes to take for students with their heart set on studying psychology online in Washington. One of the for-profit providers, Antioch University offers a multitude of online psychology degrees at the graduate and undergraduate level and both have campuses in Seattle. The only other state-specific school that offers fully online psychology degrees in Washington is the City University of Seattle which offers four different fully online bachelor's degrees in applied psychology. Some of the state schools like Eastern Washington and Washington state offer psychology-related courses through distance learning but don't have fully online psychology degree programs available yet.
As for the rest of the national online psychology education providers, there are schools like Walden University and Northcentral University and Keiser University Graduate School that offer a range of different fully online doctoral degrees in psychology. Then there are also schools like Kaplan University, the University of Texas Permian Basin, Baker College Online and Post University that offer bachelor's degrees in psychology entirely over the Internet. These are only a sampling of the national providers out there for students in Washington so interested students should do thorough research on the subject as well.
Career Opportunities for Psychologists in Washington
Seattle may be the epicenter for professional psychologists looking to start or continue their career in Washington, but the rest of the state has need for psychologists as well and there are plenty of opportunities in all four corners of the state for accomplished and qualified psychologists looking for work. As of May 2011, the BLS reported that there were at least 2,350 professional psychologists employed within Washington's borders and those professional psychologists earned an annual median salary of $90,000 depending on the specialty of the psychologist.
Also, employment within the profession is expected to continue growing over the better part of the decade and that growth will be rapid. The Washington State Employment Security Department predicted that employment of professional clinical, school, and counseling psychologists will grow 18 percent from 2008 to 2018. That equates to roughly 600 new psychologists employed across the state by 2018 and the department also predicted there would be 150 new job openings during that time frame, making Washington a psychology city on the rise and an appealing place for recent graduates looking to get a jumpstart on their psychology careers.
<!- mfunc search_btn -> <!- /mfunc search_btn ->
Psychologist Salary in Washington
| Location | 10% | 25% | Median | 75% | 90% |
| --- | --- | --- | --- | --- | --- |
| United States | $44,500 | $76,730 | $105,780 | $119,460 | $133,470 |
| Washington | $50,000 | $87,680 | $106,620 | $119,930 | $129,920 |
| Seattle-Bellevue-Everett, WA Metropolitan Division | $45,060 | $74,160 | $94,550 | $110,430 | $121,950 |
| Tacoma, WA Metropolitan Division | $70,100 | $78,360 | $96,990 | $102,880 | $114,630 |
Table data taken from 2020 BLS (http://www.bls.gov/oes/current/oes193039.htm)
Featured Washington Schools with Psychology Degree Programs
<!- mfunc feat_school ->
Featured Programs:
Sponsored School(s)
<!- /mfunc feat_school ->