Psychology Degrees, Schools, and Careers in Massachusetts
<!- mfunc search_box_body ->
<!- /mfunc search_box_body ->
<!- mfunc feat_school ->
Featured Programs:
Sponsored School(s)
<!- /mfunc feat_school ->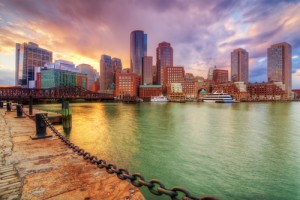 Massachusetts is known across the country for its incredible concentration of prestigious and respected private colleges and universities. According to a recent report using data from the Bureau of Labor Statistics, there are more than 85 private colleges and universities in the Boston metropolitan area and those universities are home to more than 350,000 students. According to the National Center for Education Statistics, the small state has a staggering 124 degree-granting institutions within its borders. As one might expect given the staggering number of options available to students in Boston, there is a vast array of psychology schools and degree programs for aspiring psychologists and healthcare professionals.
The plethora of degree-granting institutions is one of the reasons why Massachusetts, despite being outside the top-10 nationally in terms of population, had more than 514,000 students enrolled in college in the Fall of 2013. Also, the state conferred more than 57,000 Bachelor's degrees, 35,000 Master's degrees and 8,200 Doctoral degrees through 2012-2013. Considering data shows that psychology remains one of the most popular and common degrees awarded across the country, it is safe to say that aspiring psychologists can get an excellent and varied education in the subject. Of course the number of psychology degrees granted and number of students enrolled shouldn't be an important consideration for students considering for psychology degree programs in Massachusetts.
It's not all great news for students considering psychology schools in Massachusetts as the Bay State is also one of the most expensive states to attend college in. The average annual cost for a full-time student in Massachusetts in 2013-14 was $21,811 for in-state students attending public schools and a cringe-worthy $51,484 for students attending private schools, which ranks as the most expensive average tuition for private schools in the country. At those prices, earning your psychology degree in Massachusetts shouldn't be for the faint of heart and students should do thorough research on the schools they are interested in before committing to that type of investment. The silver lining is that the tuition costs are relatively indicative of the quality of schools that Massachusetts has to offer and each school has different tuition costs so make sure to check with each school before making a final decision.
<!- mfunc search_btn -> <!- /mfunc search_btn ->
With so many schools to choose from, we wanted to help students sift through the different choices by highlighting some of the excellent psychology schools in Massachusetts. Noting every school offering a psychology degree in Massachusetts wouldn't be beneficial, so instead we honed in on schools in and near the state's two largest cities – Boston and Worcester.
These are only a sampling of the psychology schools, degree programs in Massachusetts and students should conduct their own research as well before making any decision.
Boston Psychology Degrees, Schools, and Careers
Boston is the capital of Massachusetts, the largest city in the state by far, and a certified hub of excellent postsecondary psychology education options. The city and its surrounding metropolitan area are littered with name-brand universities with excellent psychology programs. Harvard University has one of the most prestigious psychology PhD programs in the country and the Massachusetts Institute of Technology offers a comparable option. Brandeis University, located in nearby Waltham, also boasts an excellent psychology program with both undergraduate and graduate degree options. Boston University is one of the better private schools in the city and offers a plethora of psychology degree options at every level. The William James College offers a more focused psychology curriculum while Boston College and Suffolk University, are more traditional institutions with respected psychology programs as well.
There are also plenty of employment opportunities for psychology students in Boston. The U.S. Bureau of Labor Statistics estimated that, as of May 2014, the state of Massachusetts employed 4,880 professional clinical, counseling or school psychologists, making it home to the fifth-most psychologists in the country. These psychologists earned an annual average salary of $78,220. You don't need to be a math major to add up all those employment opportunities and see that Massachusetts has a lot to offer recent graduates from psychology schools looking for work.
Worcester Psychology Degrees, Schools, and Careers
Worcester is the second-largest city in Massachusetts yet it is roughly one-sixth the size of Boston, so it doesn't have the same sheer volume of opportunities and psychology schools. But what it lacks in quantity it makes up for in quality, especially in terms of psychology degree programs. Clark University has a nationally-recognized clinical psychology program and its neighbor, College of the Holy Cross, has a respected psychology department and psychology degree program as well. Worcester State College and Assumption College may not have the same name-brand recognition that Clark and Holy Cross have, but they both offer a handful of different psychology degrees to interested students.
The BLS estimated that in May of 2014, the Worcester metropolitan area employed 380 clinical, school, or counseling psychologists and those psychologists earned an average annual wage of $$94,920, which is a very nice salary to live on. There are of course other types of psychologists employed in the Worcester area but unfortunately the BLS doesn't have information on those psychologists. Be sure to do your own research about employment opportunities for psychologists in Worcester to ensure you have a full picture of the options in the city and its surrounding metropolitan areas.
Online Psychology Schools in Massachusetts
Considering the sheer volume of postsecondary education options in Massachusetts, you had to assume that the state also boasted a diverse array of online psychology schools as well. Online psychology schools in Massachusetts can range from national for-profit psychology education providers, to more traditional universities that have adopted online psychology degree programs, but all of the programs are held to rigorous standards and maintain similar curriculums to programs at traditional universities.
The online psychology schools in Massachusetts that you consider should reflect the level of education you wish to attain the psychology specialty you wish to pursue. The more advanced the degree, the more rigorous and time-intensive the program will be. Online doctoral degrees are rare and difficult to find but online bachelor's degrees in psychology and online psychology courses in Massachusetts are more common and offer scheduling flexibility that cannot be matched by traditional universities. But, if you want to become a licensed psychologist, you will likely need an advanced degree in the subject because almost every state in the country requires that its licensed psychologists have at least a Master's degree in the field.
The Massachusetts state education system has a plethora of online degree programs but few in psychology-related fields. UMass-Lowell offers an online bachelor's degree in psychology and UMass-Boston offers a number of online degrees in psychology-related fields such as counseling and social work. Through its open course ware program, MIT offers a small handful of introductory psychology courses online and Fitchburg State is one of a handful of state universities that offer online psychology courses as well, including a number of the state's community colleges.
That said there are a large number of national online psychology schools in Massachusetts, including Northcentral University, Colorado Technical University Online, Western International University and Post University. These schools and others like it offer psychology students in Massachusetts fully online psychology degrees in a number of different specialties and levels. But they aren't the only online psychology programs in Massachusetts either, so check out our school listings for a more expansive and detailed look at online psychology schools in Massachusetts and programs in your area.
Choosing the Right School
As stated above, no matter what degree a student is pursuing, attending college in Massachusetts is not cheap. Cost shouldn't necessarily be a student's primary concern when they are picking a psychology degree program, but it will definitely play a role and it adds pressure to the decision-making process. Considering how expensive postsecondary education is in the Commonwealth State, it is important for students to know what to look for when they are choosing a psychology degree program. There are plenty of fly-by-night degree mills that offer degrees in the online field and so students should look for specific indicators that will help them determine whether a program is high quality. Some of those indicators include:
School & Program Leadership– Examine the faculty in the program. What is their background? Are they experienced and highly trained? Do they have extensive experience in the field? What do former students think of their former teachers? It is important that students do their homework on who will be teaching them. It makes a difference.
Employability– Does the school has established relationships with employers in the industry? Does the school report numbers of employment rate of its graduates? If they do report those figures, where are people working? The school's alumni office should be willing to give aspiring students accurate employment data, so they should take advantage.
Curriculum & Instruction- Does the school's curriculum meet state and federal standards? Does it also meet defined industry standards? Is the school recognized by approved accrediting bodies? Does the curriculum include of a good mix of hands-on and hands-off coursework? Does the school help students secure internships?
School Culture & Support for Student Academic & Personal Growth- The nuts and bolts of the curriculum are important, but it is equally as important for aspiring students to make sure that potential schools are good culture fits as well. Student happiness will go a long way to ensuring student success, so making sure they are a good fit is important.
Career Opportunities for Psychologists in Massachusetts
For a state without the inherent size benefits of California, New York, or Texas, Massachusetts still has an impressively large group of professional psychologists. According to the BLS, Massachusetts employed more than 4,800 professional psychologists of differing specialties and these psychologists made an annual average wage of between $78,220 as of May 2014. There are few states that offer the same breadth of employment opportunities and excellent salaries, which is why Massachusetts is an especially popular place for aspiring psychologists looking to start a career.
The BLS reported that between 2010 and 2020, employment in the profession was expected to grow by 22 percent nationally, and while growth in Massachusetts won't come close to matching that rapid growth, the Massachusetts Office of Labor and Workforce Development estimates that employment of clinical, counseling, and school psychologists will grow five percent between 2008 and 2018. With so many current opportunities for psychologists and more opportunities on the horizon, students would be wise to serious consider Massachusetts as a potential place to start their psychology careers. Read up on MA psychologist license requirements.
<!- mfunc search_btn -> <!- /mfunc search_btn ->
Psychologist Salary in Massachusetts
| Location | 10% | 25% | Median | 75% | 90% |
| --- | --- | --- | --- | --- | --- |
| United States | $44,500 | $76,730 | $105,780 | $119,460 | $133,470 |
| Massachusetts | $47,860 | $58,220 | $108,350 | $121,900 | $132,070 |
| Boston-Cambridge-Quincy, MA NECTA Division | $41,340 | $46,200 | $83,070 | $102,380 | $117,450 |
| Springfield, MA-CT | $26,470 | $42,110 | $76,590 | $103,230 | $115,370 |
Table data taken from 2020 BLS (http://www.bls.gov/oes/current/oes193039.htm)
Featured Massachusetts Schools with Psychology Degree Programs
<!- mfunc feat_school ->
Featured Programs:
Sponsored School(s)
<!- /mfunc feat_school ->