Psychology Degrees, Schools, and Careers in Alabama
<!- mfunc search_box_body ->
<!- /mfunc search_box_body ->
<!- mfunc feat_school ->
Featured Programs:
Sponsored School(s)
<!- /mfunc feat_school ->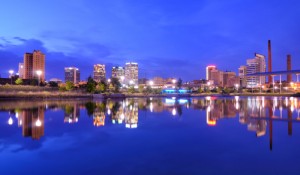 Although Alabama may not be the first place you think of when you consider post-secondary education, there are some quality psychology schools in this state. While the average state in the US has 90 degree-granting institutions, Alabama has 75 and an ample number of these schools have well-regarded psychology departments that offer degrees. According to the Alabama Department of Higher Education, there were more than 209,000 students enrolled in Alabama institutions as of the Fall of 2014 and a sizable portion of those students (4,757) were actually enrolled as psychology majors.
You can obtain any level of psychology degree in Alabama. Associate's degrees include only very basic psychology education and typically take just two years to complete. However, Alabama takes great care in ensuring the professional psychologists that they license are well-qualified, so an associate's degree doesn't open a lot of career doors in the field thanks to Alabama psychology licensure requirements. According to the Alabama Board of Examiners in Psychology, applicants must have a doctoral degree from a department or school of psychology from an "educational institution accredited and recognized by national and regional accrediting agencies as maintaining satisfactory standards." Bachelor's degrees are great for students interested in entering the field as a research assistant or social worker and Master's degrees serve as excellent foundations for the doctoral degrees. But in order to become a licensed clinical psychologist, students must get a PhD.
There are many options in Alabama that are available for studies in psychology. If students are getting an associate's or a bachelor's degree, they have a somewhat limited set of career options in the field of psychology. However, bachelor's degrees in psychology can often lead to successful careers in other fields, as many employers value these graduates for their knowledge on the human mind and behavior. If you do want to enjoy a successful career in psychology, your best bet is to pursue a graduate degree. At the graduate level, you can choose between different approaches of psychology study, such as experimental psychology, clinical psychology, and applied psychology. You can also focus your studies on a specific concentration within psychology, such as social psychology, cognitive psychology, or child psychology. In Alabama, you can find a graduate program where you will be able to obtain a quality education in one of these areas.
<!- mfunc search_btn -> <!- /mfunc search_btn ->
There are many options that you can choose from among schools in Alabama that offer degree programs in psychology. The state has nearly 30 degree-granting institutions that offer psychology education. The University of Alabama is the biggest school in the state and offers nationally ranked graduate-level psychology degree programs as well as undergraduate degrees in the subject as well. The University of Alabama – Birmingham and Auburn University are not far behind the Crimson Tide in terms of psychology degree offerings at every level. If you are looking for smaller schools, there are reputable undergraduate degree programs offered at universities like Troy University and Samford University, and also the University of Montevallo and the University of Mobile, both of which offer bachelors and master's degrees in psychology related subjects.
Montgomery Psychology Degrees, Schools, and Careers
As the capital of Alabama, Montgomery is a great city for anyone who is interested in psychology. Out of the 26 accredited psychology programs in this state, four are located in Montgomery; this is a higher number than in any other Alabama city. The largest college in Montgomery is Auburn University at Montgomery, a branch campus of a school that has one of the top psychology programs in the state, Auburn University. The other three schools in the city that offer psychology education are Faulkner University and Huntingdon College, both of which offer the opportunity to major in psychology, and Alabama State University, which offers graduate degrees in psychology related subjects as well
The job outlook for professional psychologists in Montgomery is not very bright at this point in time. The number of employed professional psychologists in the city has been in steady decline over the past five years and as of May 2014, the United States Bureau of Labor Statistics estimates that are just about 50 professional clinical and counseling psychologists left in the metropolitan area. The BLS also reports that those psychologists earn an annual mean salary of $55,970.
Online Psychology Schools in Alabama
<!- mfunc feat_school ->
Featured Programs:
Sponsored School(s)
<!- /mfunc feat_school ->
There are a handful of online psychology degree programs in Alabama-based schools. There are 26 accredited institutions in Alabama that offer psychology degrees, and a small proportion of these offer opportunities to get some of these degrees online. If you are interested in a bachelor's degree, you can look into Columbia Southern University, where you can get a Bachelor of Science in Psychology. The other Alabama-based schools only offer graduate degrees online. At Auburn University, you can pursue a Master of Education in Rehabilitation Counseling; with Auburn University at Montgomery, you have access to an online Master of Education in Community Counseling and Master of Education in School Counseling.
The University of Alabama offers a certification to become an Educational Specialist in Counselor Education, as well as the opportunity to earn a Master of Arts in Rehabilitation Counseling online. The widest variety of online options can be found with The University of West Alabama, where you can become an Education Specialist in School Counseling, as well as obtain the following online degrees: Master of Education in School Counseling, Master of Science in Continuing Education in Counseling/Psychology, and Master of Science in Continuing Education in Guidance and Counseling.
These are not your only options if you are an Alabama student who is interested in an online psychology degree. National online psychology degree providers also serve students in Alabama so whether you are interested in a doctoral degree in psychology – which schools like Walden University, Capella University, and Grand Canyon University offer – or just a bachelor's degree in psychology – which schools like the University of Phoenix, Keiser University, and Northcentral University offer – you can find an online psychology education program that fits well for you.
Career Opportunities for Psychologists in Alabama
According to the BLS, the overall rate of employment in the psychology professions of the United States is projected to increase significantly between 2021 and 2031, more so than the average for all occupations. Employment growth will vary by sub field in psychology. For example, overall employment of clinical and counseling psychologists in the United States is expected to grow 10% between 2021 and 2031. However, in Alabama, the employment within this sub field is only expected to grow 8% between 2020 and 2030, which is lower than the national average. This does still equate to 70 extra jobs in this state alone, so there are definitely opportunities available.
There are many jobs for people with psychology backgrounds in Alabama, although the job market might not be as strong as in other states. In May 2022, the BLS reported that there were at least 690 psychologists employed in this state, and those psychologists earn an annual mean wage between $65,320 and $100,190, depending on their specific specialties. Meaning there is a lot of lucrative psychology employment to be found in the Yellowhammer State.
2022 US Bureau of Labor Statistics and O*NET (a website sponsored by the US Department of Labor) job market trends and salary figures for clinical and counseling psychologists, school psychologists, and psychologists (all other) are based on national data, not school-specific information. Conditions in your area may vary. Data accessed July 2023.
<!- mfunc search_btn -> <!- /mfunc search_btn ->
Psychologist Salary in Alabama
| Location | 10% | 25% | Median | 75% | 90% |
| --- | --- | --- | --- | --- | --- |
| United States | $44,500 | $76,730 | $105,780 | $119,460 | $133,470 |
| Alabama | $33,550 | $81,060 | $103,390 | $115,560 | $118,930 |
Table data taken from 2020 BLS (http://www.bls.gov/oes/current/oes193039.htm)
Featured Alabama Schools with Psychology Degree Programs
<!- mfunc feat_school ->
Featured Programs:
Sponsored School(s)
<!- /mfunc feat_school ->