Psychology Degrees, Schools, and Careers in Arkansas
<!- mfunc search_box_body ->
<!- /mfunc search_box_body ->
<!- mfunc feat_school ->
Featured Programs:
Sponsored School(s)
<!- /mfunc feat_school ->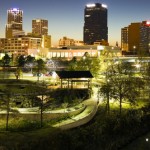 Although Arkansas is not a state that is particularly well known for what it has to offer in terms of education, there are several great options for students who wish to pursue psychology degrees in this state. According to the National Center for Education Statistics, there are 53 colleges and universities in the state of Arkansas, which is just more than half the national average. Also, according to the Arkansas Department of Higher Education, as of January of 2014, there were 170,505 students enrolled in institutions across the state and that was actually a 2.4 percent decrease from the year before. In fact, across all of the institutions in the state, Arkansas conferred less than 21,000 Bachelor's degrees, Master's degrees and PhDs for the 2012-13 school year.
The point of this information isn't to discourage interested students from looking for degree programs in Arkansas. It is just important to point out that students, especially those interested in psychology, don't have as many options as they would in other states. The state does have excellent options for those interested in psychology degree programs and it has also increased spending on higher education in the last five years according to a recent report from the State Higher Education Executive Officers Association. Another advantage of attending college in Arkansas is the tuition costs. Arkansas, compared to other states, boasts colleges with very cheap tuition rates. In the 2010-2011 school year, the average cost of full-time enrollment for a year was at the lower end, only $14,653 for in-state students enrolled in public schools, and at the higher end, $26,475 for students enrolled in private institutions. Clearly, there is a wide variety of schools to choose from. For this reason, it is imperative that students do a good amount of research so they can make informed decisions about what levels and types of psychology degrees to pursue. The minimum degree that you should aim for is a bachelor's in psychology, because this is the minimum degree that is likely to be able to get you a job in the field. However, with a bachelor's degree, you will likely only be able to acquire an assistant position. Psychology degree holders are fairly coveted in seemingly unrelated fields, however. Employers in the fields of marketing and accounting often like people with backgrounds in psychology, because they are thought to be able to deal well with people due to an enhanced understanding of their thoughts and behaviors.
<!- mfunc search_btn -> <!- /mfunc search_btn ->
If students would like to pursue a career in psychology, their best bet is to obtain a master's degree, or better yet, a doctorate. Due to rather restrictive psychology licensure requirements in Arkansas, in order to get licensed as a professional psychologist in the state, students will need to earn a doctoral degree and complete an extensive experience requirement. Because this field is growing so rapidly, there is always a need for people who possess doctoral degrees in psychology. In many cases, one needs a doctorate in order to be able to obtain a high status job in the field of psychology. In the state of Arkansas, you need to have received a doctorate in psychology and obtained a license from the Arkansas Psychology Board in order to be qualified to practice psychology in the state.
The majority of degree-granting institutions in Arkansas are public universities and the schools with psychology programs are no exception. The University of Arkansas in Fayetteville is the standard-bearer for psychology school in the state and boasts a nationally ranked clinical psychology degree program. The University of Central Arkansas is the only other school in the state that offers doctoral degrees in psychology. Other state schools like Henderson State University and Arkansas State University offer a variety of bachelor's and master's degrees in psychology, and smaller schools like the University of the Ozarks, Hendrix College, and Williams Baptist College all offer bachelor's degree programs in psychology that are highly regarded by potential employers around the state.
As financial aid is often an issue of great importance for college students, there are various sources of funding available for students in Arkansas. These include the ASHRAE Region VIII Scholarship, the R. Preston Woodruff, Jr. Scholarship, and the Arkansas Academic Challenge Scholarship. It would be a great idea to do research into any sources of financial aid that you can find in order to assist you with your education in this field.
Little Rock Psychology Degrees, Schools, and Careers
In terms of population, Little Rock, the state capital, is the largest city in Arkansas. Though there are a good number of degree-granting colleges and universities in Arkansas, there are two schools that offer psychology degree programs in the city of Little Rock. The University of Arkansas at Little Rock has a wealth of options to choose from and boasts a highly touted psychology program. The other school is Philander Smith College, which only offers a bachelor's degree in psychology. The school with the largest student population is the University of Arkansas at Little Rock. In 2010, 77 students graduated with psychology degrees in this city, 66 of who were from this university.
As in the rest of Arkansas, there are relatively few psychologists working in the city of Little Rock. The United States Bureau of Labor Statistics reported that, as of May 2022, there were 310 psychologists working in the Little Rock-North Little Rock-Conway metropolitan area. These psychology professionals made an annual mean wage of $64,560 per year. Though there are not a lot of opportunities in this state, there is a substantial community of psychologists in the city of Little Rock.
Online Psychology Schools & Degrees in Arkansas
There are relatively few online options as far as psychology degree programs in Arkansas. There are 19 schools in the state that offer psychology degree programs, and only two of the schools exclusive to Arkansas offer online psychology degree options. Additionally, these options only include degrees at the master's level. At John Brown University, you can obtain a variety of master's degrees in psychology-related fields. You can pursue a Master of Arts in Ministry – Pastoral Counseling, as well as a few different Master of Science degrees in various subfields within Counseling. At University of Arkansas at Little Rock, you have a few options if you want a Master of Arts degree, and you can also obtain a Master of Education in Counselor Education or a Certificate in Marriage and Family Counseling.
There are plenty of online options if you live in Arkansas and would like to obtain a degree in psychology online. Schools such as Walden University, Capella University offer fully online doctoral degrees in psychology while schools like the University of Phoenix, Post University, and Baker College Online offer a host of different bachelor's degree programs in psychology. In the case of Arkansas, there are more options open that are available to students who live anywhere than that are exclusive to students in Arkansas. These programs can vary quite a bit, and you should look into as many as you can, so that you choose the one that is right for you.
Career Opportunities for Psychologists in Arkansas
In terms of employment opportunities, Arkansas has options, although not quite as many as other states. In May 2022, the Bureau of Labor Services reported that there were at least 820 professional psychologists employed in Arkansas. Clinical, and counseling psychologists made an annual average mean wage of $128,130 per year, school psychologists made $66,720, and other psychologists made an annual mean wage of $88,370. The salary depends a great deal on the specialty within psychology. The fields of clinical, school, and counseling psychology is one of the fastest growing field categories in the country, as well as most states, not only within psychology but among all fields.
In Arkansas in particular, the growth in job opportunities in psychology is expected to grow faster than in the vast majority of states, and health care is one of the fastest growing fields in the state. An impressive 11% of growth in the employment of clinical, school, and counseling psychologists is expected between 2020 and 2030. This amounts to 90 new psychologists working in this state by the year 2030, which is quite a bit of growth considering the relatively small size of the state. In addition, there is expected to be 70 job openings each year due to needs for replacing people who leave the profession for reasons such as retirement. Arkansas is definitely worthy of consideration when making a decision as to where to start a career in psychology.
2022 US Bureau of Labor Statistics and O*NET (a website sponsored by the US Department of Labor) job market trends and salary figures for clinical and counseling psychologists, school psychologists, and psychologists (all other) are based on national data, not school-specific information. Conditions in your area may vary. Data accessed August 2023.
<!- mfunc search_btn -> <!- /mfunc search_btn ->
Psychologist Salary in Arkansas
| Location | 10% | 25% | Median | 75% | 90% |
| --- | --- | --- | --- | --- | --- |
| United States | $44,500 | $76,730 | $105,780 | $119,460 | $133,470 |
| Arkansas | $32,390 | $69,600 | $94,280 | $112,520 | $118,620 |
Table data taken from 2020 BLS (http://www.bls.gov/oes/current/oes193039.htm)
Featured Arkansas Schools with Psychology Degree Programs
<!- mfunc feat_school -><!- /mfunc feat_school ->