Psychology Degrees, Schools, and Careers in New York
<!- mfunc search_box_body ->
<!- /mfunc search_box_body ->
<!- mfunc feat_school ->
Featured Programs:
Sponsored School(s)
<!- /mfunc feat_school ->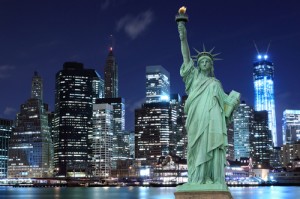 Home to one of the biggest cities in the world, it should come as no surprise that the state of New York of the nation's leaders in psychology education. In 2012-13, the state conferred more than 300,000 degrees, including more than 100,000 bachelor's degrees and 70,000 master's degrees. Only California granted more. The most recent IPEDS data that breaks down degrees conferred by subject in New York is from 2009-10, but it shows that psychology programs in New York granted nearly 9,000 bachelor's degrees in psychology and another 1,893 master's degrees in psychology as well. The state also has a bustling professional psychology industry with more than 11,000 employed psychologists as of May 2022 which trailed only California and Illinois. Needless to say, psychology and psychology education play an important role in the employment and educational landscape of New York and there are a large number of psychology schools and schools that offer recognized psychology degrees for students interested in studying in the Empire State to choose from.
Unfortunately for some, New York is not a cheap state to earn a college education in either. The average enrollment cost for a full-time student in New York for 2013-14 can range from $19,757 for an in-state student to $47,055 for private school students
There are schools with prestigious school psychology programs and there are others well-known for their excellent undergraduate psychology program. Choosing the right one for you depends on a lot of things, including what career path you intend to pursue and what sort of curriculum is included in the program. Chronicling every psychology school in New York and its various programs would be a fruitless endeavor, so instead we focused on the three major hot spots for psychology schools in New York – New York City, Buffalo, and Rochester. Each school has its own cost of enrollment and unique psychology degree programs, but considering the potential investment, students need to ensure they are choosing the school that fits best for them. New York has a wide array of psychology schools that specialize in a particular subset of the field.
<!- mfunc search_btn -> <!- /mfunc search_btn ->
It is also important to realize that these will only be a sampling of the psychology schools, degree programs in New York and it is important for students to do their own in-depth research before making the ever-important final choice.
New York City Psychology Degrees, Schools, and Careers
As one of the largest and most heavily populated cities in the entire world, it should come as no surprise that New York City boasts an impressive list of psychology schools and a bustling and large professional psychology community. In fact, as of May 2022, the New York-Newark- Jersey City, NY-NJ-PA Metropolitan Division employed the second-most clinical and counseling psychologists in the nation. In total, the metro employs over 11,000 psychologists who earn average salaries ranging from $94,840 to $145,390 depending on specialty.
There is no shortage of excellent psychology schools to choose from in the area either. One thing to note is that according to state legislation, in order to become a licensed psychologist in New York, the applicant must have a doctoral degree. Undergraduate and Master's degree programs serve as good stepping stones in the process, but they won't make the degree-holder a licensed psychologist in New York. New York University is home to one of the country's most prestigious psychology PhD programs and the PhD programs at the Graduate Center of City University of New York and at nearby Hofstra University on Long Island aren't far behind. There is also Columbia University of course, which is well-recognized in the psychological community for its undergraduate program and programs at Barnard College, Pace University, and Fordham University all have excellent reputations in the industry.
Buffalo Psychology Degrees, Schools, and Careers
New York's second-largest city doesn't have nearly the same number of psychology employment opportunities as the New York City-area has, but there are still plenty of options for people looking to start their psychology career in the Buffalo-Niagara Falls Metropolitan Division. According to the United States Bureau of Labor Statistics, as of May 2022, the Buffalo-Niagara Falls Metropolitan area had about 500 professional psychologists earning average annual wages between $81,760 and $111,550. These numbers show that while Buffalo's psychological community pales in comparison to the one in New York City, it still offers many chances to start a career and make a living in the field of psychology.
There are also a number of reputable psychology schools in Buffalo starting with the State University of New York at Buffalo, which has a renowned psychology PhD program. Canisius College and Niagara University are the next largest and most well-known universities in the Buffalo area and both have offer a variety of psychology degrees to interested students. Community colleges such as Erie Community College and Niagara County Community College don't receive as much attention or praise for their programs but both offer rigorous psychology classes that can help put a student on the right track towards a degree.
Rochester Psychology Degrees, Schools, and Careers
Despite being a slightly smaller city than Buffalo, the Rochester metropolitan area is home to about as many psychologists as its neighbor to the West. According to the BLS, as of May 2022, Rochester had 600 employed psychologists in the area and those psychologists were earning an annual average wage between $71,460 and $97,760 depending on specialty.
As for psychology schools in Rochester, a good place to start your search would be the renowned PhD program in psychology at the University of Rochester or the less heralded but equally worthwhile psychology programs at SUNY-Geneseo and SUNY-Brockport. If you are willing to consider school near Rochester but not in city limits, there is an excellent PhD program at Syracuse University to the East and an equally well-respected program at SUNY-Binghamton, which is 150 miles Southeast of Rochester but potentially worth the trip. Even the Rochester Institute of Technology, which is more well-known for its engineering pedigree, has a respected psychology program.
Online Psychology Schools in New York
As one of the country's most popular and prevalent majors, it is no wonder that many schools have begun to offer 100 percent online psychology degrees in addition to their traditional offerings and that more online psychology schools in New York appear every day. And while many have reservations about the quality of an entirely online psychology degree, so many places have begun to offer them that schools are making sure that their programs are rigorous and meet expectations in order to help stand out from the crowd.
The online psychology school in New York you choose will depend heavily on the level of psychology education you wish to pursue. Online doctoral degrees are very hard to find for good reason; while online bachelor's degrees in psychology are more prevalent and online courses and certificates in psychology-related courses are more common still. Remember, bachelor's degrees in the subject don't qualify you to become licensed psychologist. In New York, you will need an doctoral degree to earn that qualification.
The more advanced the degree, the more rigorous the coursework and training will be, and don't expect online programs to hand over an easy degree. Many of the online psychology programs in New York are just as stringent in their requirements and coursework in order to help fight the negative stigma surrounding online degrees.
The schools offering online psychology degrees and courses in New York aren't many, but they range in size and prestige, and that doesn't even include the for-profit national psychology schools in New York either. There are community colleges in the state such as Genesee Community College and Hudson Valley Community College that offer online courses in general psychology; there are schools like Empire State College that offer online psychology classes in counseling and other subjects; and then there are schools like New York University, which offers an online bachelor's degree in social science that has many aspects of psychology and behavioral study baked into the curriculum. These are not the only places where online psychology education exists in New York, so be sure to do thorough research before making a final selection.
There are also a large number of national online education providers who serve New York students with a variety of online psychology degrees. There is Keiser University where you can get a bachelor's degree in psychology online. There is  Capella University, where you can choose from a handful of different online psychology degrees. Ashford University offers online psychology degrees and courses to students in New York. These aren't the only online psychology programs in New York either, so be sure to check out our school listings for a more expansive and detailed look at online psychology schools in New York and programs in your area.
Choosing the Right School
There are almost too many options in New York for students interested in psychology. There is nothing wrong with having a lot of options, but when the choices number in the hundreds, it can feel overwhelming for interested students trying to do comprehensive research. Each school will have similarities and differences. It is important for students to start to think about qualities they value in a school that will help them make the right decision. But there are some general telltale characteristics that can help interested students weed out some programs early.
Accreditation: – The bottom line is that if a student wants to become a licensed psychologist in New York, he/she needs to get a doctoral degree from an accredited program that has been approved by the State Department of Education. Every school should be happy to talk about their accreditation. If it isn't forthcoming, that could be a red flag.
Job Prospects– The ultimate goal of college is to use the education to find a job and colleges know this. They shouldn't just be providing the education, they should offer job services, internship opportunities, job fairs, career counselors and much more. See if the school has any big relationships with local employers and look for data on the subject as well. It is, after all, why the student paid that much money for the experience in the first place.
Curriculum & Instruction-  The curriculum shouldn't just meet the state and industry standards mandatory for licensure, the schools should be going above and beyond. Look for opportunities to get real world experience in the field, do homework on the faculty, see what type of experience they have? The experience should be comprehensive and it should be unique. There are standard pieces of psychology curriculum that will be present in all programs. It is the other pieces that students should be looking carefully at.
Career Opportunities for Psychologists in New York
As we mentioned above, only California and Illinois employed more psychologists across the state than New York did according to Occupational Employment Statistics from May of 2022 provided by the U.S. Bureau of Labor Statistics. The BLS estimated that in May of 2022, New York employed more than 11,000 psychologists who earned an annual average wage of between $91,600 and $128,520 depending on the specialty of the field.
Fortunately, while the BLS reported that between 2021 and 2031, employment in the profession was expected to grow by 6% nationally, the clinical and counseling psychology sector in New York is expected to grow by 14%. Demand for psychologists will be determined based on medical staff's reliance on psychologists for mental issues and the increased use of psychologists by businesses looking to stay organized and efficient. Read about psychologist license requirements in New York.
2022 US Bureau of Labor Statistics and O*NET (a website sponsored by the US Department of Labor) job market trends and salary figures for clinical and counseling psychologists, school psychologists, and psychologists (all other) are based on national data, not school-specific information. Conditions in your area may vary. Data accessed July 2023.
<!- mfunc search_btn -> <!- /mfunc search_btn ->
Psychologist Salary in New York
| Location | 10% | 25% | Median | 75% | 90% |
| --- | --- | --- | --- | --- | --- |
| United States | $44,500 | $76,730 | $105,780 | $119,460 | $133,470 |
| New York | $46,560 | $75,980 | $108,210 | $122,990 | $137,030 |
| Nassau-Suffolk, NY Metropolitan Division | $41,060 | $67,940 | $78,370 | $105,620 | $121,130 |
| New York-White Plains-Wayne, NY-NJ Metropolitan Division | $36,700 | $53,880 | $102,500 | $121,130 | - |
Table data taken from 2020 BLS (http://www.bls.gov/oes/current/oes193039.htm)
Featured New York Schools with Psychology Degree Programs
<!- mfunc feat_school -><!- /mfunc feat_school ->