Psychology Degrees, Schools, and Careers in New Jersey
<!- mfunc search_box_body ->
<!- /mfunc search_box_body ->
<!- mfunc feat_school ->
Featured Programs:
Sponsored School(s)
<!- /mfunc feat_school ->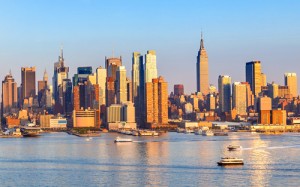 In terms of land mass, New Jersey is one of the smaller states in the country. But in terms of psychology degree programs and schools, the Garden State benefits greatly from existing between two of the largest cities in the country in New York City and Philadelphia. Location is the reason why the population is New Jersey is so high but students looking for a wide variety of psychology degree options shouldn't complain, because that large population also created inherent need and demand for postsecondary education options and psychology is no exception. The state has 66 degree-granting institutions within its border, which is less than the national average of 90, but still plenty considering the state doesn't exactly cover a lot of ground. At those institutions, psychology is a popular field of study as the Integrated Postsecondary Education Data System reported that in 2009-10, New Jersey conferred nearly 3,000 bachelor's degrees in psychology and another 379 master's degrees in the subject as well, making New Jersey one of go-to destinations for students looking for an array of quality psychology degree programs.
Anyone thinking about attending a psychology school in New Jersey should carefully consider whether it is in their best interest. New Jersey does have dozens of excellent psychology degree programs that offer different levels of education and different specialty focuses and degrees within the field. But is also one of the most expensive states in the country to attend college in. The average annual cost of enrollment for a full-time student in New Jersey in 2010-11 ranged from $22,592 for in-state students attending public universities (most expensive in the country) to $39,707 for students attending private institutions in New Jersey (eighth-most expensive enrollment cost nationally). These costs aren't meant to deter or dissuade potential students from considering schools in New Jersey, it is only meant to put a price tag on the important investment that each student is choosing whether or not to make. Spending the money may be well worth it given the reputation of some of the degree programs in New Jersey, but students should do their research first and they should have a clear idea of what sort of career path they wish to embark on, because in psychology, that matters.
<!- mfunc search_btn -> <!- /mfunc search_btn ->
Psychology is one of the few fields where education levels can be a potential barrier to entry. According to the American Psychological Association, 25 percent of students who earn a bachelor's degree in psychology go on to study psychology at the graduate level with four to six percent entering a doctorate program and 20 to 22 percent entering a master's degree program. The reason why is because a bachelor's degree in psychology may provide students with a solid foundation of psychological knowledge, but it won't qualify students to become licensed psychologists in any of the 50 states. In order to call yourself a psychologist, you will almost certainly need to obtain a professional or doctoral degree. That isn't to say that a doctorate degree is for everyone. Some students are just interested in the field of psychology and want to have a career in the field without necessarily putting in the work needed to become a licensed psychologist. Those students should consider bachelor's degrees in psychology which may help them earn a job as a psychologist assistant or maybe a research position as well.
With so many options to choose from, it can be difficult for interested students to do all of the research themselves, which is why we tried to highlight some of the psychology degree programs at each level across the state. We focused specifically on schools and employment data for the state's biggest city – Newark – but we also wanted to take the time and mention some of the other worthwhile programs across the state.
Keep in mind these aren't the only schools that offer psychology degree programs, so make sure to do your own research in conjunction with this list so that you can ensure you are well-informed before you make such an important decision.
The obvious school to start with is Princeton University, which is home to a nationally ranked psychology PhD program and an undergraduate program in the subject as well. Rider University in Lawrenceville is another private institution that offers graduate and undergraduate degrees in psychology and Monmouth University and Drew University both offer distinguished bachelor's degree programs in psychology as well. If you are looking for a public school outside of Newark, consider Thomas Edison State College in Trenton or Rowan University in Camden, both offer public school prices and excellent psychology degree programs as well.
Newark Psychology Degrees, Schools, and Careers
For a city that often lives in the shadow of New York City, Newark doesn't lack for reputable psychology education options or employment opportunities for aspiring psychologists looking to start their career in the Garden State. According to the United States Bureau of Labor Statistics, as of May 2022, the New York-Newark-Jersey City metropolitan area is home to almost 7,500 psychology professionals, which is more than the population of professional psychologists in some entire states. The Newark-area psychologists earned an annual average salary of between $94,840 and $145,390 depending on the specialty of the psychologist, making Newark one of the highest-paying metropolitan areas in the country when it comes to psychology.
There is also no shortage of excellent education options for psychology as well. Rutgers University, Farleigh Dickinson University, and Seton Hall University all offer nationally ranked clinical psychology programs as well as other programs in the subject and they are all within a stone's throw of Newark. There are other public institutions like Montclair State University and Kean University that are very close by and offer perhaps less prestigious psychology degree programs but they also offer the programs at a reduced cost.
Online Psychology Schools in New Jersey
It is surprising given the number of sterling psychology degree programs that universities and colleges in New Jersey have to offer that their online psychology degree offerings can be described as spartan at best, especially at the state-specific institutions. Seton Hall offers master's degrees in counseling and school counseling, which is certainly psychology related and there are a few of the local community colleges and public universities that offer online courses in psychology-related fields. If students are looking for fully online degrees at each level in a multitude of psychological fields, their best bet is to consider one of the numerous national online psychology education providers that serve New Jersey students.
There are providers that offer fully online doctorate degrees in psychology such as Capella University, Walden University, or Keiser University Graduate School. And there are also providers that offer fully online bachelor's and associate's degrees in psychology such as the University of Phoenix, Kaplan University, and Colorado Technical University Online.
Career Opportunities for Psychologists in New Jersey
The close proximity to New York City and Philadelphia definitely has its benefits as New Jersey is home to one of the largest and most active populations of professional psychologists across the country. According to the BLS, as of May 2022, the state of New Jersey was home to more than 3,000 professional psychologists and it was also considered the top-paying state for clinical and counseling psychologists with an average annual wage of $164,110. If you don't want to be one of those psychologists, don't feel too bad as the school psychologists in the state have an average salary of $94,010. In various other subfields, the average is $103,470
O*NET, a partner of the US Department of Labor, estimates that employment in New Jersey's clinical and counseling psychology sector will grow by 11% (or about 400 psychologists) between 2020 and 2030. They also predict that there will be about 300 job openings for clinical and counseling psychologists every year in that same period. It is a competitive industry and a competitive state to choose to start your career, but considering the salary options as well as the opportunity to work within a large and bustling community, New Jersey should still be near or at the top of every aspiring psychologist's list of places to work. Read more about the NJ psychologist license requirements.
2022 US Bureau of Labor Statistics and O*NET (a website sponsored by the US Department of Labor) job market trends and salary figures for clinical and counseling psychologists, school psychologists, and psychologists (all other) are based on national data, not school-specific information. Conditions in your area may vary. Data accessed July 2023.
<!- mfunc search_btn -> <!- /mfunc search_btn ->
Psychologist Salary in New Jersey
| Location | 10% | 25% | Median | 75% | 90% |
| --- | --- | --- | --- | --- | --- |
| United States | $44,500 | $76,730 | $105,780 | $119,460 | $133,470 |
| New Jersey | - | - | - | - | - |
| Edison-New Brunswick, NJ Metropolitan Division | $93,170 | $102,480 | $105,610 | $114,930 | $121,130 |
| Newark-Union, NJ-PA Metropolitan Division | $27,030 | $34,670 | $96,290 | $108,700 | $121,130 |
Table data taken from 2020 BLS (http://www.bls.gov/oes/current/oes193039.htm)
Featured New Jersey Schools with Psychology Degree Programs
<!- mfunc feat_school -><!- /mfunc feat_school ->