How to Become a Social Worker in Maryland
<!- mfunc search_box_body ->
<!- /mfunc search_box_body ->
<!- mfunc feat_school ->
Featured Programs:
Sponsored School(s)
<!- /mfunc feat_school ->
Maryland Social Work Licensing Requirements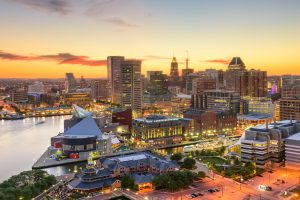 Social workers are professionals who advise, evaluate, treat and provide referrals for social services in a community. They work with individuals, families and even entire groups of people in this capacity, which can involve administrative, clinical, evaluation, treatment and referral services.
There are four social work license types available to professionals working in the field of social work in Maryland:
To to be eligible for a license, all applicants must meet the basic requirements established by the Maryland State Board of Social Work Licensure. Continue reading to learn more about the specific board rules and regulations for social work candidates, including the education, supervised experience, examination, and application requirements for each level of licensure.
Read more about social work degrees in Maryland.
<!- mfunc search_btn -> <!- /mfunc search_btn ->
LBSW Requirements in Maryland
The LBSW is the basic level of licensure, available to those who complete a four-year degree.
Education Requirements

: To obtain an LBSW in Maryland, you need to have a bachelor's degree in social work from an institute that has been accredited by the CSWE.

Exam Requirements

: After completing your bachelor's degree, you will need to successfully pass a bachelor's-level exam from the Association of Social Work Board (ASWB). You must apply to the state board to obtain permission to take this exam.

Application Package

: Following successful completion of the exam, you will submit an application package to the state board. This package will include:

Academic transcripts
ASWB exam results
Completed application with $100 application fee
Three professional references
Criminal history records check
LGSW Requirements in Maryland
A licensed General Social Worker, or LGSW, in Maryland is similar to an LMSW in other states. At this level you will be able to provide social services, teaching, consultation and other non-clinical social services to those in need.
Educational Requirements

: In order to obtain an LGSW, you must first complete a CSWE-accredited master's program in social work.

Exam Requirements

: All applicants must arrange with the state board to sit for the ASWB national Master's Level exam.

Application for Licensure

: You will then complete the application form and criminal background checks, and submit the package along with the appropriate application fee to the state board. This application package includes:

Academic transcripts
ASWB exam results
Completed application with $100 application fee
Three professional references
Criminal history records check
LCSW Requirements in Maryland
Education: All applicants must complete a Master's Degree in Social Work from a CSWE-accredited program.
Prior Licensure: You will need to have an LGSW license to enter the LCSW application process. Details for the specific requirements are available at the Maryland Board of Social Work Examiners website.
Supervised Work Experience: All candidates for licensure must work under the supervision of an LCSW or LCSW-C for a minimum of two years, accruing a minimum of 3,000 hours of work experience in the process. Supervision involves the following:

A formal contract with your supervisor
Minimum of 144 hours of supervision in a direct, face-to-face capacity over the entire course of the supervision period
Up to 72 of these hours may be completed in a group setting with up to six other candidates attending

Exam Requirements: Those who wish to work in non-clinical capacities such as administrative positions will take an advanced generalist exam from the Association of Social Work Boards (ASWB).
LCSW-C Requirements in Maryland
The LCSW-C is an advanced level of LCSW licensure which authorizes the licensee to perform additional clinical social work duties. Candidates who already hold an LCSW license may apply to become an LCSW-C after meeting the following requirements:
12 credit hours of clinical-based coursework in master's studies
Supervised practice under an LCSW-C with the assessment and treatment of mental issues, which includes diagnosis and application of psychotherapy techniques
At least half of the 3,000 hours of supervised work must include direct client care
Passing the ASWB Clinical level exam as opposed to the Generalist exam
The application process requires a complete application form, criminal background check, and application fee, along with a complete application which includes the following items:
Academic transcripts
ASWB exam results
Proof of prior licensure
Verification of supervised work experience
Contractual supervision agreement
Professional Resume
Completed application with $100 application fee
Three professional references, one of which must be from the applicant's supervisor
Criminal history records check
The Importance of CSWE Accreditation
It is essential for any person entering the field of social work to research programs accredited by the Council on Social Work Education. This professional association represents over 2,500 individuals and institutions, and sets the standards for educational programs in social work.  All fifty states uniformly require that applicants attend a CSWE- accredited program (or a program that is pending accreditation while the student was enrolled) to be eligible for licensure. Persons who graduate from a non-accredited program may have their license application denied, and find it difficult to gain experience in the field.
<!- mfunc search_btn -> <!- /mfunc search_btn ->
Search Accredited Social Work Programs
Social Worker Career Outlook In Maryland
The United States Bureau of Labor Statistics collected data for employment and wages in Maryland for all industries, including social workers, in May of 2014. According to report, there were more than 10,000 professional social workers operating across the state, with the vast majority of those social workers centered in either Baltimore or near Washington D.C. There were 4,810 child, family and school social workers and 3,430 social workers in a healthcare setting.
There were also more than 2,200 substance abuse social workers and another 1,050 specialty social workers in the state as well. The child, family and school social workers earned an annual average salary of $48,250 while those in a healthcare setting earned an annual average salary of $55,540. For more information on the state occupational employment and wage estimates, please visit the Maryland Occupational Employment Statistics page with the Bureau of Labor Statistics. Aspiring social workers in Maryland may also want to join the Maryland chapter of the NASW which provides continuing education and career resources to those looking.
Additional Resources for Social Workers in Maryland: