Psychology Degrees, Schools, and Careers in New Mexico
<!- mfunc search_box_body ->
<!- /mfunc search_box_body ->
<!- mfunc feat_school ->
Featured Programs:
Sponsored School(s)
<!- /mfunc feat_school ->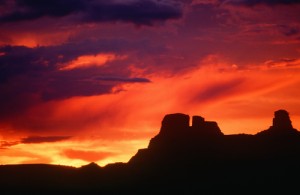 New Mexico may be a large state in terms of land mass, but admittedly, its postsecondary education options leave something to be desired. Data from the Integrated Postsecondary Education Data System shows that there just aren't that many students enrolled in colleges and universities, despite the size of the state. In 2009-10, the fall enrollment totals at degree-granting institutions in New Mexico was barely more than 150,000 students when you include graduate students. The state also has just 44 degree-granting institutions within its borders, which is less than half the national average of 90. That said, these 44 degree-granting institutions offer a wide variety of degrees in a variety of subjects, including psychology. Unfortunately, despite its national popularity, psychology degrees are not one of the most popular options in New Mexico. In fact, IPEDS (Integrated Postsecondary Education Data System) reported that for the 2009-2010 school year, New Mexico granted 418 bachelor's degrees in psychology and another 82 master's degrees in psychology as well.
The numbers may seem small, but there are still a number of colleges in New Mexico that provide psychology degrees of all shapes and sizes. The options may not be as plentiful as they are in other states, but if you are interested in studying psychology at a school in New Mexico, there are options that include everything from doctoral degrees to bachelor's degrees and different schools offer different sorts of psychology specialties such as degrees in school psychology or child psychology.
It would be wise for interested students to have a good idea of what sort of degree and psychology career field they wish to enter because becoming a psychologist in New Mexico or any state is not easy and will require extensive education and professional experience. Psychology licensure requirements in New Mexico are strict as the state wants to ensure that its professional psychologists, who are usually in charge of the mental and physical health of others, are well-qualified for the job. A bachelor's degree in psychology will look good if you are applying for a job in psychology research or psychology education or as a psychologist assistant, but if you intend to become a licensed psychologist in New Mexico, you will almost definitely need to obtain a doctoral or professional degree and you will also need to have extensive real-world work experience on your resume.
<!- mfunc search_btn -> <!- /mfunc search_btn ->
Considering most students who go into psychology eventually want to become a psychologist or work in the psychology industry, it makes plenty of sense that the American Psychological Association estimates that according to the APA, 25 percent of baccalaureate recipients in psychology go on to study psychology at the graduate level as well. In fact, as of 2008, only five percent of recipients of a bachelor's degree in psychology were actually employed in a psychology-related field.
We wanted to help interested students with the research, so we broke down some of the best schooling options spread across the rest of the state. Remember, these will only be a sampling of the education options in the state, so students are encouraged to do their own research as well. The state's flagship university, the University of New Mexico, boasts a nationally ranked clinical psychology degree program and also offers a slew of doctoral degrees, master's degrees, and bachelor's degrees in psychology as well. New Mexico State University has a reputable clinical psychology degree program as well and actually offers more degree specialties in psychology. University of the Southwest and Western New Mexico University also offer bachelor's degrees in psychology and master's degrees in psychology-related subjects as well. If students are looking for a smaller and more intimate school then the College of Santa Fe or New Mexico Highlands University might be better bets as they offer reputable psychology degree programs as well.
Online Psychology Schools in New Mexico
Of the 14 schools in New Mexico that have psychology degree programs, only a small handful offer online psychology coursework. But when viewed through a wider lens, it can be argued that New Mexico has a better selection of online psychology degree programs than some states with much larger and diverse sets of colleges and universities. There is only one school that offers an online doctoral degree in psychology and that is the University of Phoenix which maintains a campus in Albuquerque.  There are schools that offer master's degrees in the subject as New Mexico State University offers three online master's degrees in psychology and counseling, and the University of the Southwest also offers a pair of online master's degrees in mental health and counseling. Western New Mexico University offers an online bachelor's degree in rehabilitation services, which includes psychology coursework, and if you are still thinking about whether psychology is the right career for you, associate's degrees in psychology from either Clovis Community College or Eastern New Mexico University will be better fits as they cover only the introductory psychology coursework.
There are also a large group of online psychology education providers that operate nationally and serve New Mexico students with a variety of online psychology degrees at every level. Schools like Walden University, Keiser University Graduate School, and Capella University offer online doctoral degrees in psychology and specific psychology specialties as well. If you are just looking for a bachelor's degree in the subject online, consider the Post University, Rocky Mountain College, or the University of Texas-Permian Basin, which are just a few of the many schools that offer online bachelor's degrees in psychology.
Career Opportunities for Psychologists in New Mexico
One might think that New Mexico's relatively small population would paint a less than flattering picture of the psychology industry and employment opportunities as a psychologist in the state. But that is certainly not the case once you dig deeper and look at the numbers more closely. The BLS reported that in May of 2022, there were at least 980 professional psychologists employed in New Mexico, making it the state with the highest concentration of psychology jobs and those psychologists made an annual median wage of between $94,050 and $102,000 depending on the specialty of psychologist, showing that the psychology industry is New Mexico is booming and is full of lucrative opportunities to start a career in a number of psychology-related fields.
There is more good news for aspiring psychologists looking for work in New Mexico because the profession's employment is expected to grow rather quickly. The US Department of Labor estimates that between 2020 and 2030, employment of clinical and counseling psychologists will grow by 11%, which is equivalent to approximately 130 jobs. There will be an estimated 60 job openings per year in that period, making New Mexico a sneakily underrated place to start looking for psychology jobs.
2022 US Bureau of Labor Statistics and O*NET (a website sponsored by the US Department of Labor) job market trends and salary figures for clinical and counseling psychologists, school psychologists, and psychologists (all other) are based on national data, not school-specific information. Conditions in your area may vary. Data accessed August 2023.
<!- mfunc search_btn -> <!- /mfunc search_btn ->
Psychologist Salary in New Mexico
| Location | 10% | 25% | Median | 75% | 90% |
| --- | --- | --- | --- | --- | --- |
| United States | $44,500 | $76,730 | $105,780 | $119,460 | $133,470 |
| New Mexico | $26,260 | $46,260 | $99,740 | $113,220 | $119,330 |
| Albuquerque, NM | $42,230 | $84,840 | $96,420 | $107,440 | $114,100 |
Table data taken from 2020 BLS (http://www.bls.gov/oes/current/oes193039.htm)
Featured New Mexico Schools with Psychology Degree Programs
<!- mfunc feat_school -><!- /mfunc feat_school ->