<!- mfunc search_box_body ->
<!- /mfunc search_box_body ->
<!- mfunc feat_school ->
Featured Programs:
Sponsored School(s)
<!- /mfunc feat_school ->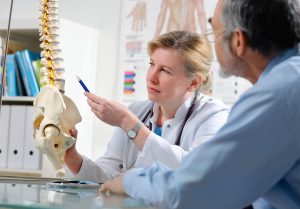 Although you may not have heard of this area of medicine, physiatry is an essential and necessary specialization. Physiatry, also referred to as "physical medicine and rehabilitation," involves enhancing and restoring both quality of life and functional ability to people who have disabilities or physical impairments.
A physiatrist is a physician, either a doctor of osteopathic medicine, D.O., or a medical doctor, an M.D., who practices in the field of physical medicine and rehabilitation. Physiatrists have been practicing for more than 70 years. During World War II, physiatrists helped soldiers suffering from neuromuscular disabilities improve their ability to function and, as a result, their overall sense of well-being. In 1947, the Advisory Board of Medical Specialties officially approved physiatry as a specialty of medicine. More than 6,000 physiatrists are practicing today.
Physiatrists typically focus on treating the joints, muscles, bones, nerves, tendons, and ligaments using non-surgical treatments, such as injections, pain medications, braces, and more. They also prescribe various types of therapies for patients, such as physical therapy.
A physiatrist can treat issues that range from complex problems such as spinal cord injury to simple back pain. The goal of treatment is to help the person live life in the most practical way possible and to minimize pain. The physiatrist achieves this goal by helping patients maximize the activities within their capabilities and adapt to those that are not possible.
Overview of Physiatry: What Does a Physiatrist Do?
A physiatrist performs a variety of tests and makes diagnoses based on the findings. Physiatrists prescribe the therapy conducted by physical, speech, or occupational therapists. In fact, an essential part of a psychiatrist's job is collaborating with various therapists and professionals from other disciplines. The physiatrist usually — but not always — serves as the leader of the treatment team. The physiatrist also manages physical issues to ensure the patient is medically able to participate in therapy.
Required Skills
Physiatrists should possess a variety of traits and skills to succeed in this career field. Those who exhibit the following characteristics and types of knowledge can usually command a higher salary:
Knowledge of a range of physical disabilities and medical problems — Physiatrists must have a background in science with a deep understanding of a variety of medical and physical conditions.
Excellent communication skills — Physiatrists often collaborate closely with other medical professionals to manage treatment; in fact, they are often members of a multi-disciplinary treatment team. The physiatrist must possess excellent written and oral communication skills to communicate efficiently and positively with the other team members.
First-rate interpersonal skills to interact effectively with patients, patient families, and their own colleagues.
Excellent analytical skills — Physiatrists must analyze complicated medical problems quickly and efficiently.
Ability to work well under pressure — A physiatrist may work in a fast-paced, stressful medical setting.
Comfortable with computers — Medical records are filed electronically in most practices.
Above average-to-excellent writing skills —Many insurance companies, payers, and others often require written, analytical medical reports.
<!- mfunc search_btn -> <!- /mfunc search_btn ->
Typical Work Environment & Occupational Challenges
Physiatrists work in a variety of settings, which can vary widely depending on the physiatrist's location and the area of specialization. Physiatrists may work nights, weekends, and holidays. Some of the most common work environments for physiatrists include:
Community health centers
Medical practices
Rehabilitation hospitals
Spine clinics
Academic settings —These typically provide a great deal of stability and benefits, such as health insurance, a retirement account, and paid time-off.
Private practices — Most physiatrists in private practice are self-employed, which carries a risk, but the reward is a higher salary.
Nursing homes — The number of nursing homes employing physiatrists is expected to increase as the aging population places a greater demand for doctors in this area of specialization.
Pharmaceutical companies
Non-profit organizations
Physiatry: Duties and Responsibilities
Physiatrists perform a variety of tests and tasks to help their patients achieve their desired level of functioning. Physiatrists' typical responsibilities include:
Examining patients and performing an array of diagnostic tests, including physical and neurological examinations, nerve conduction studies, and more. Use of assorted tools for diagnosis: MRIs, X-rays, electromyograms, nerve conduction study units, and CT scans.
Providing formal diagnosis based on the results of testing.
Analyzing patients' symptoms and adjusting treatment based on symptoms.
Prescribing a variety of therapies: hydrotherapy, occupational therapy, light therapy, cryotherapy, exercise therapy, and physical therapy.
Instructing physical therapists and other medical specialists in correctly performing therapies.
Helping patients enhance their lives through appropriate pain management strategies.
Ensuring that treatments are administered as prescribed.
Coordinating with a wide variety of medical practitioners, including nurses, speech therapists, psychiatrists, occupational therapists, orthopedists, and physical therapists. Collaborating with cardiologists, neurosurgeons, neurologists, and rheumatologists.
Physiatry: Occupational Challenges
The physiatrist must ensure that each patient receives the best possible treatment. The key to meeting this challenge is close collaboration with other medical professionals on the patient's treatment team.
Physiatry Salary & Job Outlook
The Bureau of Labor Statistics (BLS) doesn't track salary data for physiatrists specifically, but as of May 2022, they report that specialized physicians like physiatrists earn an average annual salary of $238,700.
Physiatry Degrees, Education, & Training
To become a physiatrist, the student must first obtain a bachelor's degree from an accredited university or college. Most individuals interested in physiatry major in pre-med, biology, or chemistry, although other majors can also apply. Regardless of the major, these undergraduate courses typically are required:
Biology with a laboratory component
Math, including calculus
Organic and inorganic chemistry with a laboratory component
Physics with a laboratory component
English composition
Medical School
After obtaining a bachelor's degree, the student must complete four years of medical school to become a physiatrist. To gain acceptance into medical school, admissions committees look at the following when evaluating candidates:
Undergraduate grades and GPA
Volunteer and extracurricular activities
Medical College Admissions Test, or MCAT, score
While in medical school, physiatrist candidates gain in-depth knowledge of pathology, anatomy, ethics, biochemistry, and more. Third- and fourth-year students typically complete clinical rotations during which they put into practice the knowledge they have learned in medical school.
Residency or Fellowship
Physiatrists also complete four additional years of postdoctoral residency training. During the first year of residency, physiatrists learn fundamental clinical skills. Throughout the next three years, physiatrists acquire the skills critical to the practice of physical medicine and rehabilitation. A large part of most residency programs focuses on learning correct patient diagnostic and treatment procedures.
Licensure
To practice as a physiatrist, the candidate first must pass an examination and become licensed. The requirements for licensure vary by state. After obtaining licensure, physiatrists can take a series of oral and written tests to become board certified.
Subspecialties
The field of physiatry holds a variety of interesting subspecialties, ranging from sports injury to stroke rehabilitation. Some of the most popular include:
Pain medicine — Physiatrists who specialize in pain medicine diagnose and treat various types of pain, from arthritis to chronic back pain. They usually have additional training in treatments specifically for pain management.
Musculoskeletal rehabilitation — These physiatrists specialize in musculoskeletal conditions, such as tendonitis, back pain, arthritis, and soft tissue injuries.
Spinal cord injury —Concentration on the care of patients with spinal cord injuries resulting from multiple sclerosis, spina bifida, spinal cord tumors, cerebral palsy, cauda equina syndrome, and more.
Traumatic brain injury — Treats and helps patients manage altered states after traumatic brain injury.
Sports medicine — This area of specialization focuses on the treatment of sports-related injuries.
Pediatrics — Specializes in the medical management and rehabilitation of children with spinal cord and brain injuries, musculoskeletal conditions, and neuromuscular conditions.
Job Outlook for Physiatrists
The physiatrist position falls under the broad category of physicians and surgeons, positions with exceptional job prospects. According to the U.S. Bureau of Labor Statistics, the projected employment for doctors and surgeons is expected to grow much faster than average through the year 2024. Board-certified physiatrists, who have an even better job outlook, also command higher salaries.
Demand for physicians is based, in part, on the aging baby boomer cohort, who comprise one of the nation's largest generations. Advances in medicine are helping people live longer. The number of interventions available to help people cope with severe spinal conditions, such as spina bifida and spinal tumors, is growing. Therefore, a grave need exists for physiatrists to treat these and other conditions.
<!- mfunc search_btn -> <!- /mfunc search_btn ->
As a career, physical medicine and rehabilitation gives the practitioner the opportunity to help patients achieve greater mobility and increase their level of adaptive functioning. A physiatrist can gain immense satisfaction from helping patients optimize their quality of life despite the limitations placed on them by their condition.
Physiatry Organizations & Associations
2022 US Bureau of Labor Statistics job market trends and salary figures for physicians (all other) are based on national data, not school-specific information. Conditions in your area may vary. Data accessed July 2023.